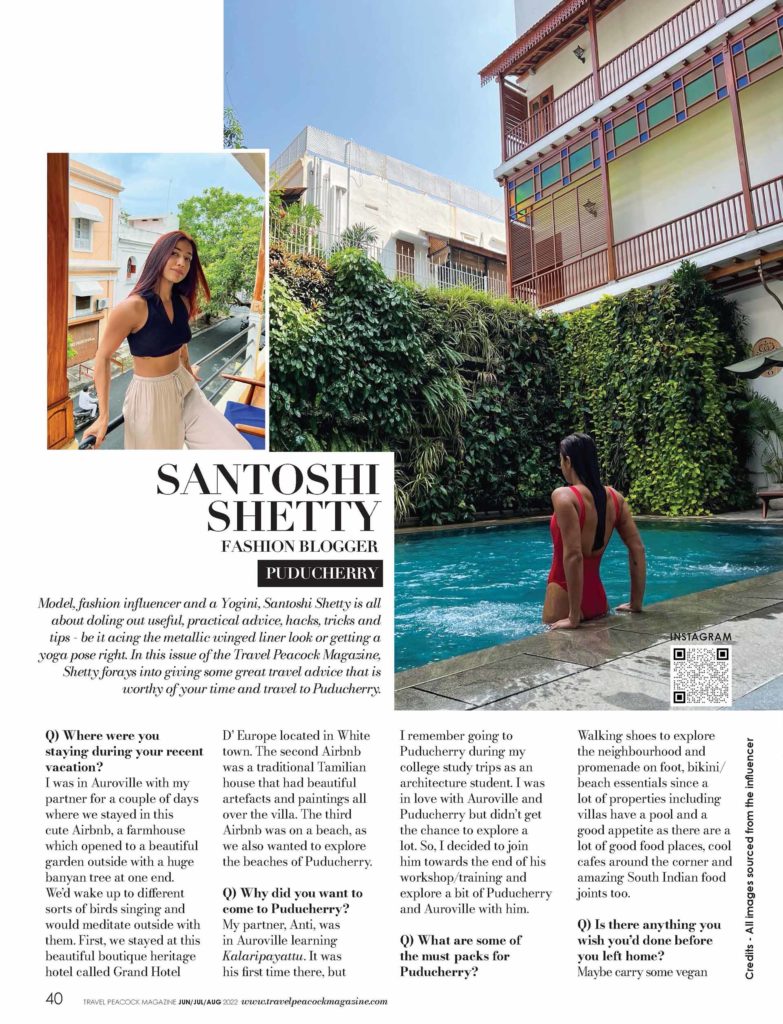 Credits – All images sourced from the influencer
Model, fashion influencer and a Yogini, Santoshi Shetty is all about doling out useful, practical advice, hacks, tricks and tips – be it acing the metallic winged liner look or getting a yoga pose right. In this issue of the Travel Peacock Magazine, Shetty forays into giving some great travel advice that is worthy of your time and travel to Puducherry.
[Q] Where were you staying during your recent vacation?
I was in Auroville with my partner for a couple of days where we stayed in this cute Airbnb, a farmhouse which opened to a beautiful garden outside with a huge banyan tree at one end. We'd wake up to different sorts of birds singing and would meditate outside with them. First, we stayed at this beautiful boutique heritage hotel called Grand Hotel D' Europe located in White town. The second Airbnb was a traditional Tamilian house that had beautiful artefacts and paintings all over the villa. The third Airbnb was on a beach, as we also wanted to explore the beaches of Puducherry.
[Q] Why did you want to come to Puducherry?
My partner, Anti, was in Auroville learning Kalaripayattu. It was his first time there, but I remember going to Puducherry during my college study trips as an architecture student. I was in love with Auroville and Puducherry but didn't get the chance to explore a lot. So, I decided to join him towards the end of his workshop/training and explore a bit of Puducherry and Auroville with him.
[Q] What are some of the must-packs for Puducherry?
Walking shoes to explore the neighbourhood and promenade on foot, bikini/beach essentials since a lot of properties including villas have a pool and a good appetite as there are a lot of good food places, cool cafes around the corner and amazing South Indian food joints too.
[Q] Is there anything you wish you'd done before you left home?
Maybe carry some vegan munchies since there aren't many vegan-friendly places that deliver, so it's good to carry some snacks from home.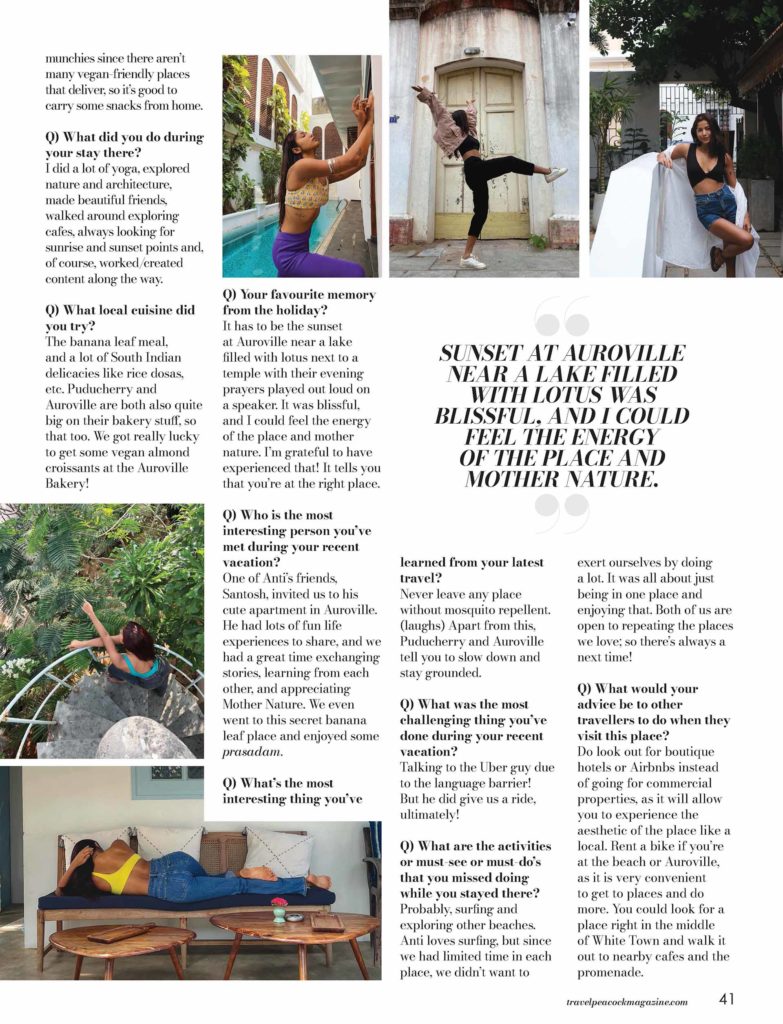 [Q] What did you do during your stay there?
I did a lot of yoga, explored nature and architecture, made beautiful friends, walked around exploring cafes, always looking for sunrise and sunset points and, of course, worked/created content along the way.
[Q] What local cuisine did you try?
The banana leaf meal, and a lot of South Indian delicacies like rice dosas, etc. Puducherry and Auroville are both also quite big on their bakery stuff, so that too. We got really lucky to get some vegan almond croissants at the Auroville Bakery!
[Q] Your favourite memory from the holiday?
It has to be the sunset at Auroville near a lake filled with lotus next to a temple with their evening prayers played out loud on a speaker. It was blissful, and I could feel the energy of the place and mother nature. I'm grateful to have experienced that! It tells you that you're at the right place.
[Q] Who is the most interesting person you've met during your recent vacation?
One of Anti's friends, Santosh, invited us to his cute apartment in Auroville. He had lots of fun life experiences to share, and we had a great time exchanging stories, learning from each other, and appreciating Mother Nature. We even went to this secret banana leaf place and enjoyed some prasadam.
[Q] What's the most interesting thing you've learned from your latest travel?
Never leave any place without mosquito repellent. (laughs) Apart from this, Puducherry and Auroville tell you to slow down and stay grounded.
[Q] What was the most challenging thing you've done during your recent vacation?
Talking to the Uber guy due to the language barrier! But he did give us a ride, ultimately!
[Q] What are the activities or must-see or must-do's that you missed doing while you stayed there?
Probably, surfing and exploring other beaches. Anti loves surfing, but since we had limited time in each place, we didn't want to exert ourselves by doing a lot. It was all about just being in one place and enjoying that. Both of us are open to repeating the places we love; so there's always a next time!
[Q] What would your advice be to other travellers to do when they visit this place?
Do look out for boutique hotels or Airbnbs instead of going for commercial properties, as it will allow you to experience the aesthetic of the place like a local. Rent a bike if you're at the beach or Auroville, as it is very convenient to get to places and do more. You could look for a place right in the middle of White Town and walk it out to nearby cafes and the promenade.