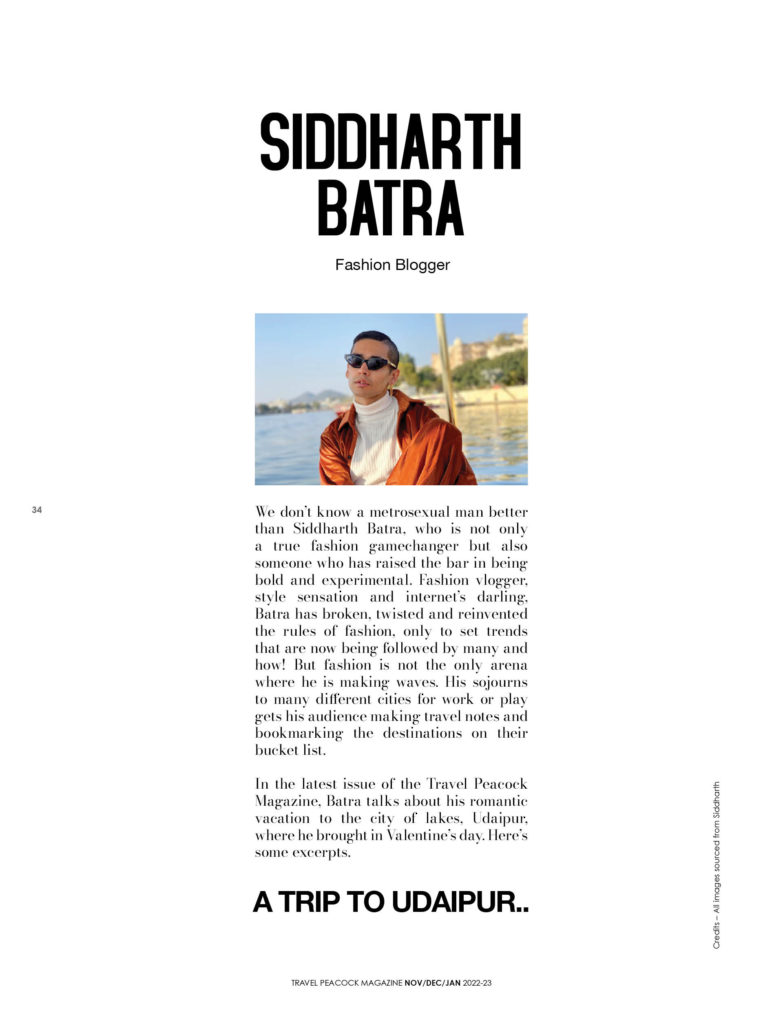 Credits – All images sourced from Siddharth
We don't know a metrosexual man better than Siddharth Batra, who is not only a true fashion gamechanger but also someone who has raised the bar in being bold and experimental. Fashion vlogger, style sensation and internet's darling, Batra has broken, twisted and reinvented the rules of fashion, only to set trends that are now being followed by many and how! But fashion is not the only arena where he is making waves. His sojourns to many different cities for work or play gets his audience making travel notes and bookmarking the destinations on their bucket list.
In the latest issue of the Travel Peacock Magazine, Batra talks about his romantic vacation to the city of lakes, Udaipur, where he brought in Valentine's day. Here's some excerpts.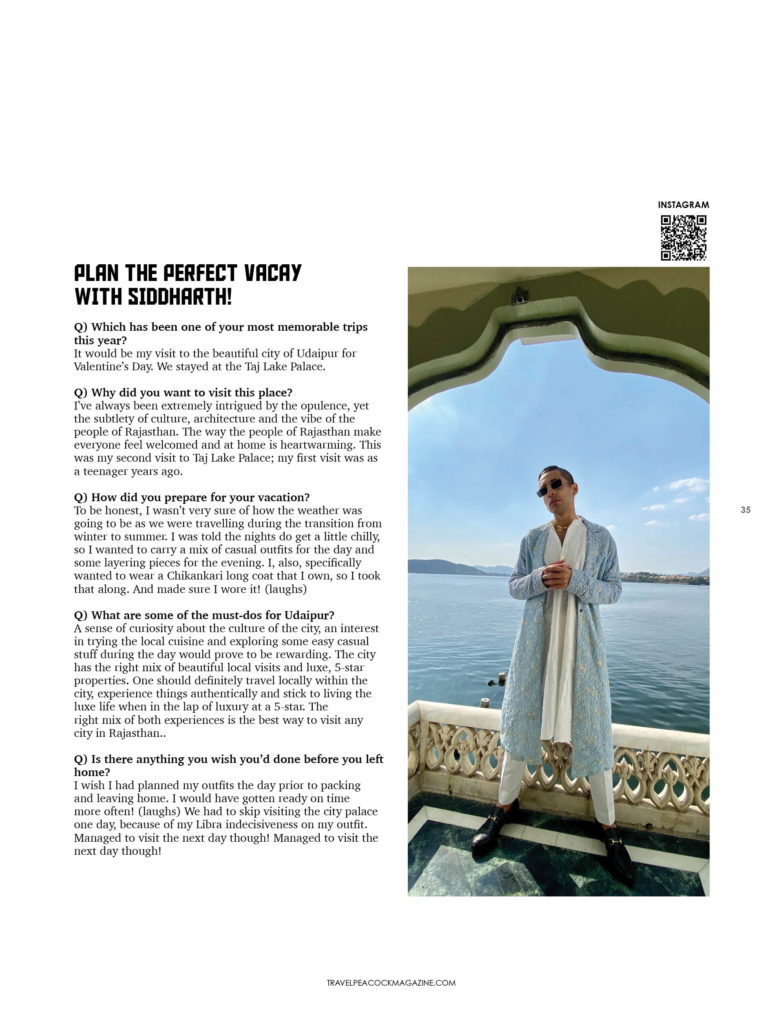 Q) Which has been one of your most memorable trips this year?
It would be my visit to the beautiful city of Udaipur for Valentine's Day. We stayed at the Taj Lake Palace.
Q) Why did you want to visit this place?
I've always been extremely intrigued by the opulence, yet the subtlety of culture, architecture and the vibe of the people of Rajasthan. The way the people of Rajasthan make everyone feel welcomed and at home is heartwarming. This was my second visit to Taj Lake Palace; my first visit was as a teenager years ago.
Q) How did you prepare for your vacation?
To be honest, I wasn't very sure of how the weather was going to be as we were travelling during the transition from winter to summer. I was told the nights do get a little chilly, so I wanted to carry a mix of casual outfits for the day and some layering pieces for the evening. I, also, specifically wanted to wear a Chikankari long coat that I own, so I took that along. And made sure I wore it! (laughs)
Q) What are some of the must-dos for Udaipur?
A sense of curiosity about the culture of the city, an interest in trying the local cuisine and exploring some easy casual stuff during the day would prove to be rewarding. The city has the right mix of beautiful local visits and luxe, 5-star properties. One should definitely travel locally within the city, experience things authentically and stick to living the luxe life when in the lap of luxury at a 5-star. The right mix of both experiences is the best way to visit any city in Rajasthan.
Q) Is there anything you wish you'd done before you left home?
I wish I had planned my outfits the day prior to packing and leaving home. I would have gotten ready on time more often! (laughs) We had to skip visiting the city palace one day, because of my Libra indecisiveness on my outfit. Managed to visit the next day though!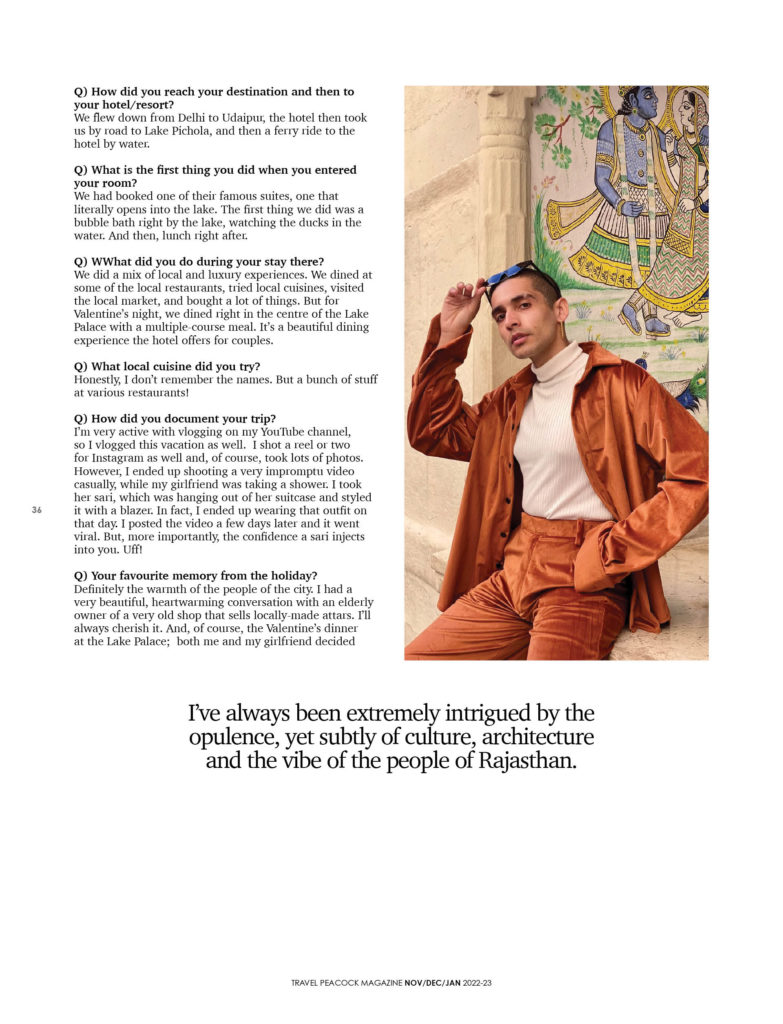 Q) How did you reach your destination and then to your hotel/resort?
We flew down from Delhi to Udaipur, the hotel then took us by road to Lake Pichola, and then a ferry ride to the hotel by water.
Q) What is the first thing you did when you entered your room?
We had booked one of their famous suites, one that literally opens into the lake. The first thing we did was a bubble bath right by the lake, watching the ducks in the water. And then, lunch right after.
Q) What did you do during your stay there?
We did a mix of local and luxury experiences. We dined at some of the local restaurants, tried local cuisines, visited the local market, and bought a lot of things. But for Valentine's night, we dined right in the centre of the Lake Palace with a multiple-course meal. It's a beautiful dining experience the hotel offers for couples.
Q) What local cuisine did you try?
Honestly, I don't remember the names. But a bunch of stuff at various restaurants!
Q) How did you document your trip?
I'm very active with vlogging on my YouTube channel, so I vlogged this vacation as well. I shot a reel or two for Instagram as well and, of course, took lots of photos. However, I ended up shooting a very impromptu video casually, while my girlfriend was taking a shower. I took her sari, which was hanging out of her suitcase and styled it with a blazer. In fact, I ended up wearing that outfit on that day. I posted the video a few days later and it went viral. But, more importantly, the confidence a sari injects into you. Uff!
Q) Your favourite memory from the holiday?
Definitely the warmth of the people of the city. I had a very beautiful, heartwarming conversation with an elderly owner of a very old shop that sells locally-made attars. I'll always cherish it. And, of course, the Valentine's dinner at the Lake Palace; both me and my girlfriend decided to dress up and dine. I gifted her a hot-red pair of Jimmy Choos that night. I think it was a peak Valentine's Day experience: the colour red, tuxedos and gowns and a candle-lit romantic dinner.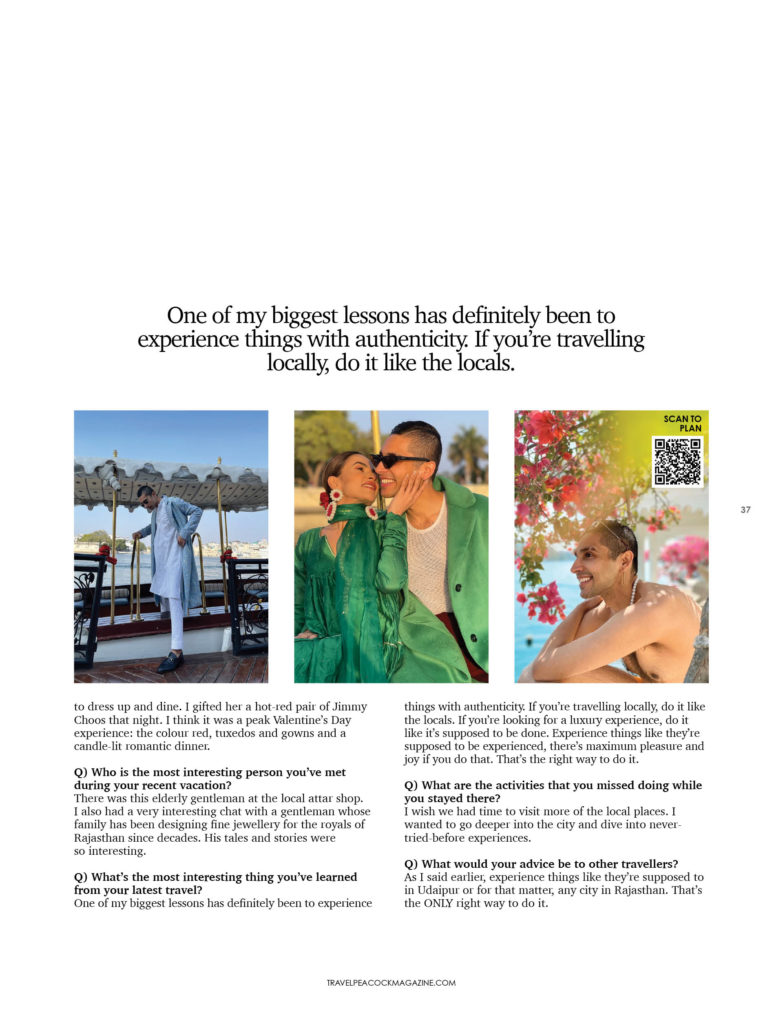 Q) Who is the most interesting person you've met during your recent vacation?
There was this elderly gentleman at the local attar shop. I also had a very interesting chat with a gentleman whose family has been designing fine jewellery for the royals of Rajasthan since decades. His tales and stories were so interesting.
Q) What's the most interesting thing you've learned from your latest travel?
One of my biggest lessons has definitely been to experience things with authenticity. If you're travelling locally, do it like the locals. If you're looking for a luxury experience, do it like it's supposed to be done. Experience things like they're supposed to be experienced, there's maximum pleasure and joy if you do that. That's the right way to do it.
Q) What are the activities that you missed doing while you stayed there?
I wish we had time to visit more of the local places. I wanted to go deeper into the city and dive into never-tried-before experiences.
Q) What would your advice be to other travellers?
As I said earlier, experience things like they're supposed to in Udaipur or for that matter, any city in Rajasthan. That's the ONLY right way to do it.