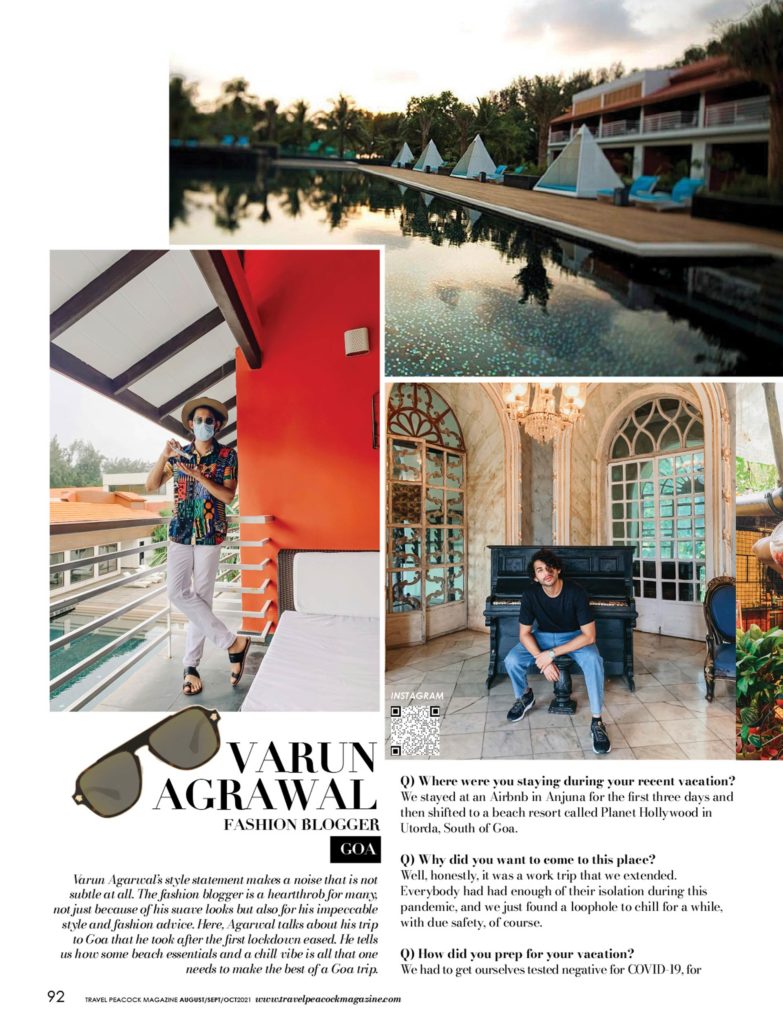 VARUN AGRAWAL IN GOA – FASHION BLOGGER
CREDITS – All images sourced from Varun
Varun Agarwal's style statement makes a noise that is not subtle at all. The fashion blogger is a heartthrob for many, not just because of his suave looks but also for his impeccable style and fashion advice. Here, Agarwal talks about his trip to Goa that he took after the first lockdown eased. He tells us how some beach essentials and a chill vibe is all that one needs to make the best of a Goa trip.
[Q] Where were you staying during your recent vacation?
We stayed at an Airbnb in Anjuna for the first three days and then shifted to a beach resort called Planet Hollywood in Utorda, South of Goa.
[Q] Why did you want to come to this place?
Well, honestly, it was a work trip that we extended. Everybody had had enough of their isolation during this pandemic, and we just found a loophole to chill for a while, with due safety, of course.
[Q] How did you prep for your vacation?
We had to get ourselves tested negative for COVID-19, for starters. We then found a private, decently secluded Airbnb and stocked ourselves with all the protective gear such as masks, sanitizers, and sun-screen!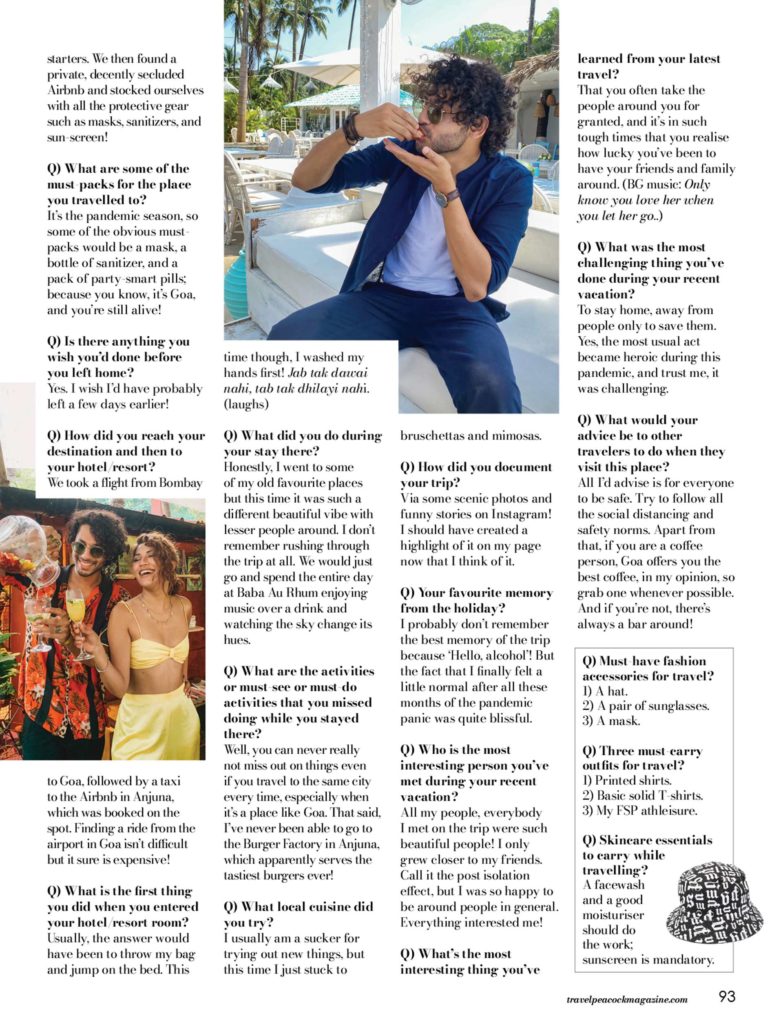 [Q] What are some of the must-packs for the place you travelled to?
It's the pandemic season, so some of the obvious must-packs would be a mask, a bottle of sanitizer, and a pack of party-smart pills; because you know, it's Goa, and you're still alive!
[Q] Is there anything you wish you'd done before you left home?
Yes. I wish I'd have probably left a few days earlier!
[Q] How did you reach your destination and then to your hotel/resort?
We took a flight from Bombay to Goa, followed by a taxi to the Airbnb in Anjuna, which was booked on the spot. Finding a ride from the airport in Goa isn't difficult but it sure is expensive!
[Q] What is the first thing you did when you entered your hotel/resort room?
Usually, the answer would have been to throw my bag and jump on the bed. This time though, I washed my hands first! Jab tak dawai nahi, tab tak dhilayi nahi. (laughs)
[Q] What did you do during your stay there?
Honestly, I went to some of my old favourite places but this time it was such a different beautiful vibe with lesser people around. I don't remember rushing through the trip at all. We would just go and spend the entire day at Baba Au Rhum enjoying music over a drink and watching the sky change its hues.
[Q] What are the activities or must-see or must-do activities that you missed doing while you stayed there?
Well, you can never really not miss out on things even if you travel to the same city every time, especially when it's a place like Goa. That said, I've never been able to go to the Burger Factory in Anjuna, which apparently serves the tastiest burgers ever!
[Q] What local cuisine did you try?
I usually am a sucker for trying out new things, but this time I just stuck to bruschettas and mimosas.
[Q] How did you document your trip?
Via some scenic photos and funny stories on Instagram! I should have created a highlight of it on my page now that I think of it.
[Q] Your favourite memory from the holiday?
I probably don't remember the best memory of the trip because 'Hello, alcohol'! But the fact that I finally felt a little normal after all these months of the pandemic panic was quite blissful.
[Q] Who is the most interesting person you've met during your recent vacation?
All my people, everybody I met on the trip were such beautiful people! I only grew closer to my friends. Call it the post isolation effect, but I was so happy to be around people in general. Everything interested me!
[Q] What's the most interesting thing you've learned from your latest travel?
That you often take the people around you for granted, and it's in such tough times that you realise how lucky you've been to have your friends and family around. (BG music: Only know you love her when you let her go..)
[Q] What was the most challenging thing you've done during your recent vacation?
To stay home, away from people only to save them. Yes, the most usual act became heroic during this pandemic, and trust me, it was challenging.
[Q] What would your advice be to other travelers to do when they visit this place?
All I'd advise is for everyone to be safe. Try to follow all the social distancing and safety norms. Apart from that, if you are a coffee person, Goa offers you the best coffee, in my opinion, so grab one whenever possible. And if you're not, there's always a bar around!
[Q] Must-have fashion accessories for travel?
1) A hat.
2) A pair of sunglasses.
3) A mask.
[Q] Three must-carry outfits for travel?
1) Printed shirts.
2) Basic solid T-shirts.
3) My FSP athleisure.
[Q] Skincare essentials to carry while travelling?
A facewash and a good moisturiser should do the work; sunscreen is mandatory.