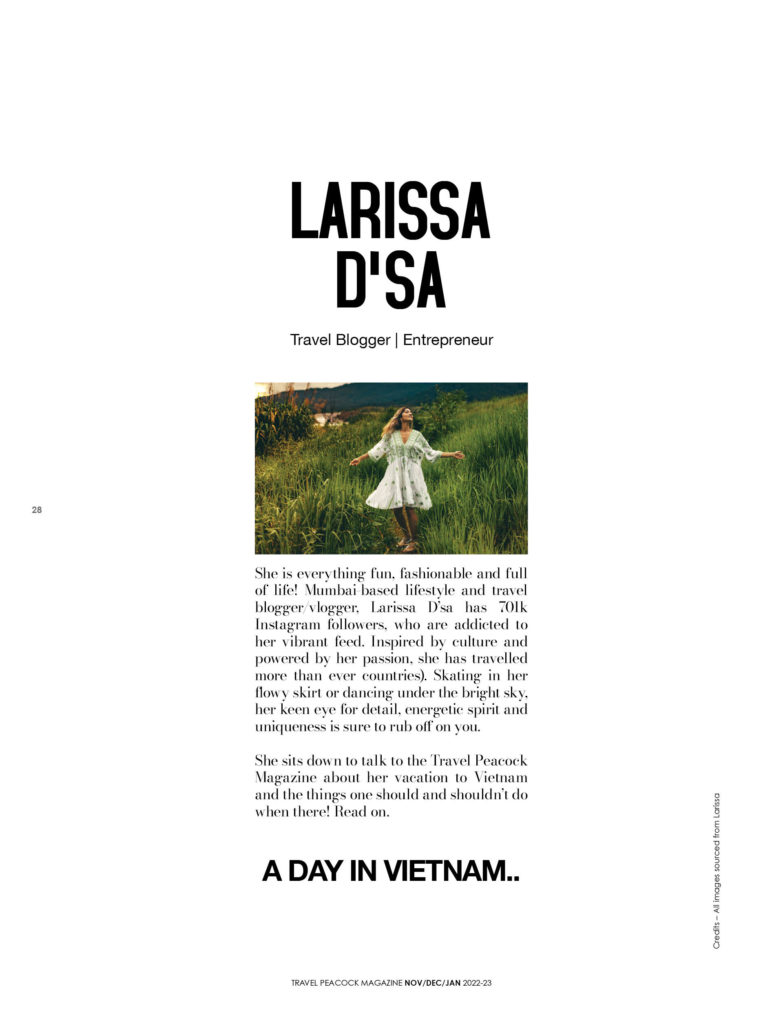 Credits – All images sourced from Larissa
She is everything fun, fashionable and full of life! Mumbai-based lifestyle and travel blogger/vlogger, Larissa D'sa has 701k Instagram followers, who are addicted to her vibrant feed. Inspired by culture and powered by her passion, she has travelled more than ever countries). Skating in her flowy skirt or dancing under the bright sky, her keen eye for detail, energetic spirit and uniqueness is sure to rub off on you.
She sits down to talk to the Travel Peacock Magazine about her vacation to Vietnam and the things one should and shouldn't do when there! Read on.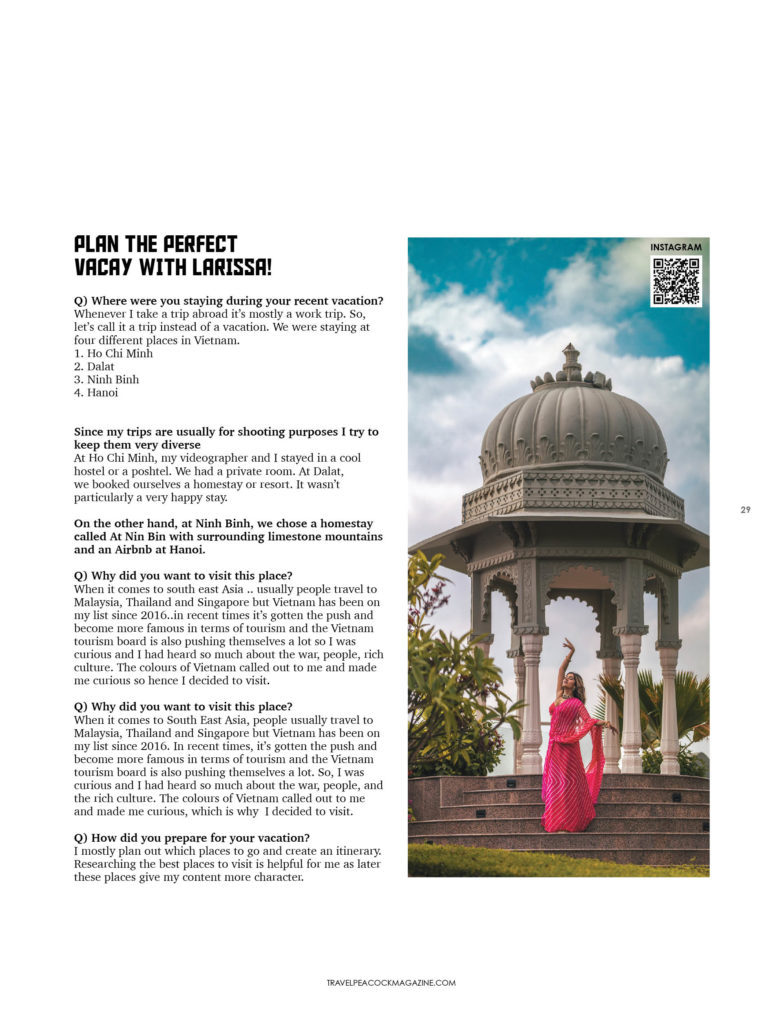 Q) Where were you staying during your recent vacation?
Whenever I take a trip abroad it's mostly a work trip. So, let's call it a trip instead of a vacation. We were staying at four different places in Vietnam.
Ho Chi Minh
Dalat
Ninh Binh
Hanoi
Since my trips are usually for shooting purposes I try to keep them very diverse.
At Ho Chi Minh, my videographer and I stayed in a cool hostel or a poshtel. We had a private room. At Dalat, we booked ourselves a homestay or resort. It wasn't particularly a very happy stay.
On the other hand, at Ninh Binh, we chose a homestay called At Nin Bin with surrounding limestone mountains and an Airbnb at Hanoi.
Q) Why did you want to visit this place?
When it comes to South East Asia, people usually travel to Malaysia, Thailand and Singapore but Vietnam has been on my list since 2016. In recent times, it's gotten the push and become more famous in terms of tourism and the Vietnam tourism board is also pushing themselves a lot. So, I was curious and I had heard so much about the war, people, and the rich culture. The colours of Vietnam called out to me and made me curious, which is why I decided to visit.
Q) How did you prepare for your vacation?
I mostly plan out which places to go and create an itinerary. Researching the best places to visit is helpful for me as later these places give my content more character.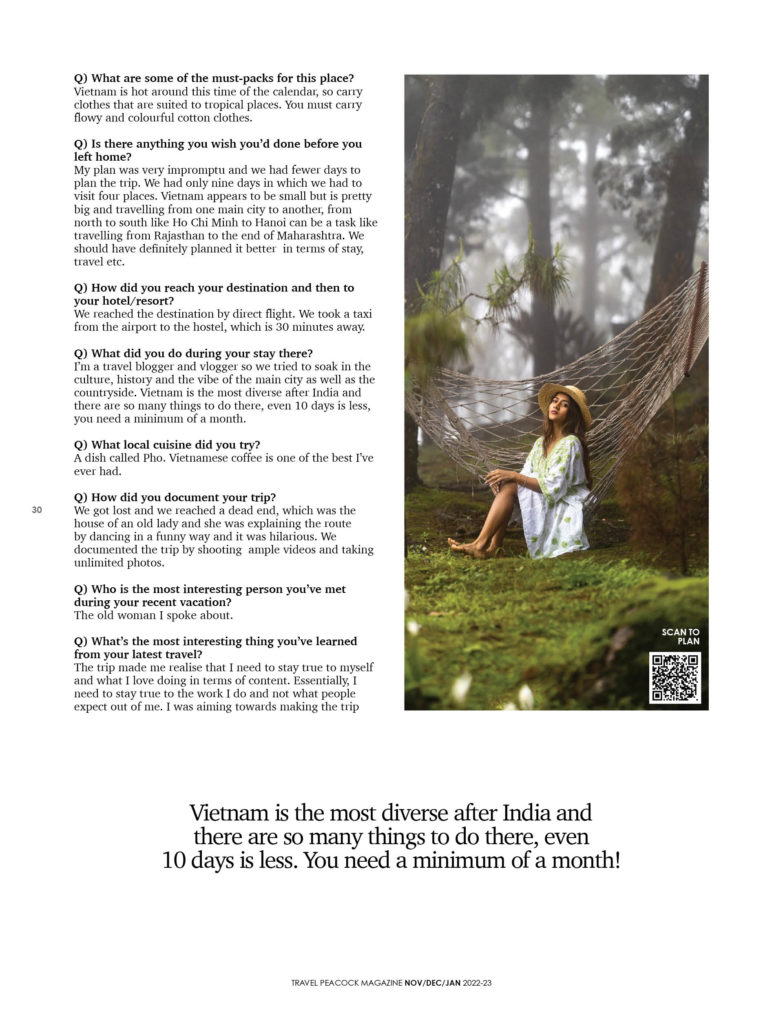 Q) What are some of the must-packs for this place?
Vietnam is hot around this time of the calendar, so carry clothes that are suited to tropical places. You must carry flowy and colourful cotton clothes.
Q) Is there anything you wish you'd done before you left home?
My plan was very impromptu and we had fewer days to plan the trip. We had only nine days in which we had to visit four places. Vietnam appears to be small but is pretty big and travelling from one main city to another, from north to south like Ho Chi Minh to Hanoi can be a task like travelling from Rajasthan to the end of Maharashtra. We should have definitely planned it better in terms of stay, travel etc.
Q) How did you reach your destination and then to your hotel/resort?
We reached the destination by direct flight. We took a taxi from the airport to the hostel, which is 30 minutes away.
Q) What did you do during your stay there?
I'm a travel blogger and vlogger so we tried to soak in the culture, history and the vibe of the main city as well as the countryside. Vietnam is the most diverse after India and there are so many things to do there, even 10 days is less, you need a minimum of a month.
Q) What local cuisine did you try?
A dish called Pho. Vietnamese coffee is one of the best I've ever had.
Q) How did you document your trip?
We got lost and we reached a dead end, which was the house of an old lady and she was explaining the route by dancing in a funny way and it was hilarious. We documented the trip by shooting ample videos and taking unlimited photos.
Q) Who is the most interesting person you've met during your recent vacation?
The old woman I spoke about.
Q) What's the most interesting thing you've learned from your latest travel?
The trip made me realise that I need to stay true to myself and what I love doing in terms of content. Essentially, I need to stay true to the work I do and not what people expect out of me. I was aiming towards making the trip about what people want to see but I realised it's important to stay true to yourself and do what you are passionate about or else it becomes a boring job.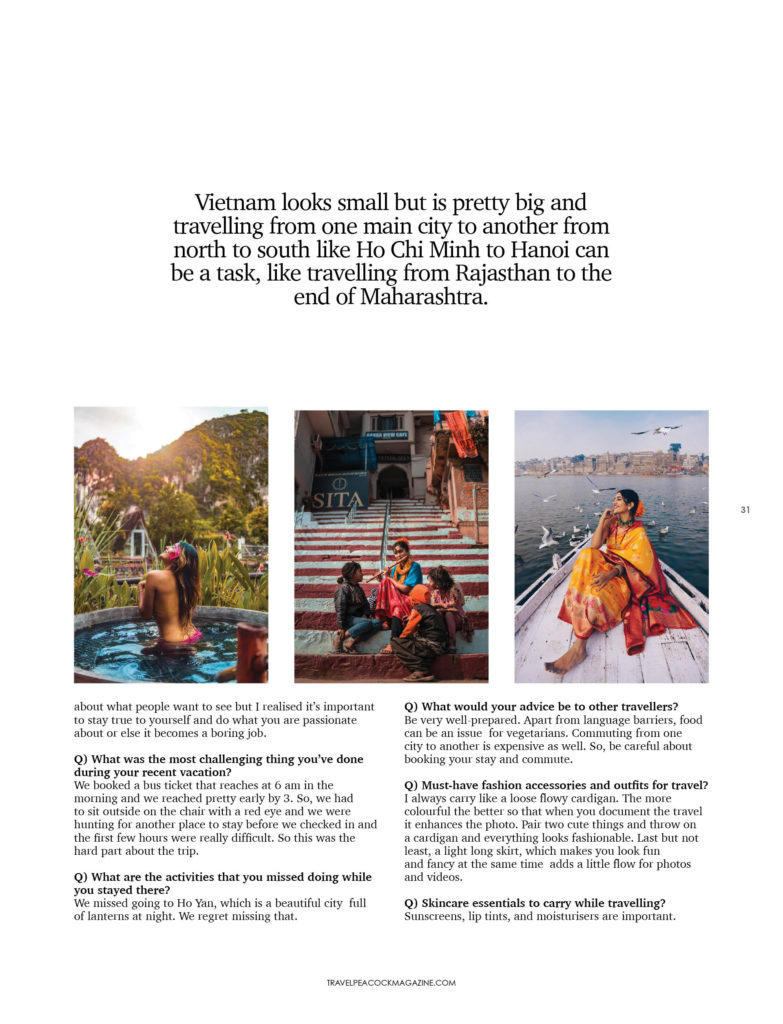 Q) What was the most challenging thing you've done during your recent vacation?
We booked a bus ticket that reaches at 6 am in the morning and we reached pretty early by 3. So, we had to sit outside on the chair with a red eye and we were hunting for another place to stay before we checked in and the first few hours were really difficult. So this was the hard part about the trip.
Q) What are the activities that you missed doing while you stayed there?
We missed going to Ho Yan, which is a beautiful city full of lanterns at night. We regret missing that.
Q) What would your advice be to other travellers?
Be very well-prepared. Apart from language barriers, food can be an issue for vegetarians. Commuting from one city to another is expensive as well. So, be careful about booking your stay and commute.
Q) Must-have fashion accessories and outfits for travel?
I always carry like a loose flowy cardigan. The more colourful the better so that when you document the travel it enhances the photo. Pair two cute things and throw on a cardigan and everything looks fashionable. Last but not least, a light long skirt, which makes you look fun and fancy at the same time adds a little flow for photos and videos.
Q) Skincare essentials to carry while travelling?
Sunscreens, lip tints, and moisturisers are important.