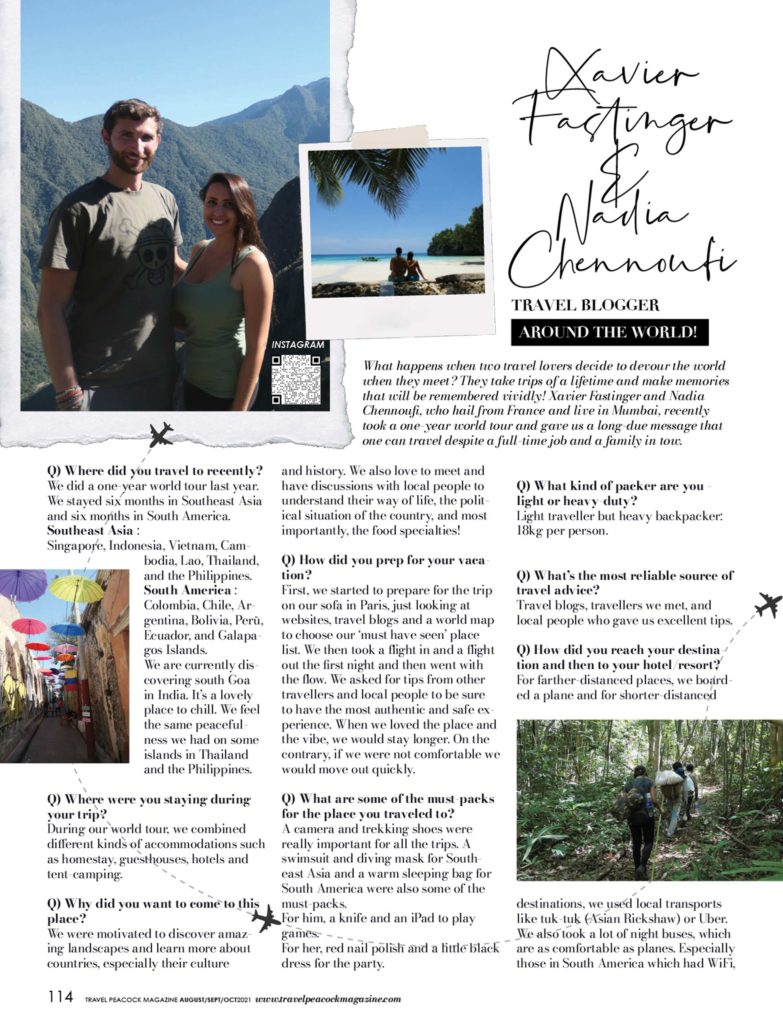 XAVIER FASTINGER & NADIA CHENNOUFI – TRAVEL BLOGGER
All images sourced from Les Mondivores
What happens when two travel lovers decide to devour the world when they meet? They take trips of a lifetime and make memories that will be remembered vividly! Xavier Fastinger and Nadia Chennoufi, who hail from France and live in Mumbai, recently took a one-year world tour and gave us a long-due message that one can travel despite a full-time job and a family in tow.
[Q] Where did you travel to recently?
We did a one-year world tour last year. We stayed six months in Southeast Asia and six months in South America.
Southeast Asia :
Singapore, Indonesia, Vietnam, Cambodia, Lao, Thailand, and the Philippines.
South America :
Colombia, Chile, Argentina, Bolivia, Perù, Ecuador, and Galapagos Islands.
We are currently discovering south Goa in India. It's a lovely place to chill. We feel the same peacefulness we had on some islands in Thailand and the Philippines.
[Q] Where were you staying during your trip?
During our world tour, we combined different kinds of accommodations such as homestay, guesthouses, hotels and tent-camping.
[Q] Why did you want to come to this place?
We were motivated to discover amazing landscapes and learn more about countries, especially their culture and history. We also love to meet and have discussions with local people to understand their way of life, the political situation of the country, and most importantly, the food specialties!
[Q] How did you prep for your vacation?
First, we started to prepare for the trip on our sofa in Paris, just looking at websites, travel blogs and a world map to choose our 'must have seen' place list. We then took a flight in and a flight out the first night and then went with the flow. We asked for tips from other travellers and local people to be sure to have the most authentic and safe experience. When we loved the place and the vibe, we would stay longer. On the contrary, if we were not comfortable we would move out quickly.
[Q] What are some of the must-packs for the place you traveled to?
A camera and trekking shoes were really important for all the trips. A swimsuit and diving mask for Southeast Asia and a warm sleeping bag for South America were also some of the must-packs.
For him, a knife and an iPad to play games.
For her, red nail polish and a little black dress for the party.
[Q] What kind of packer are you – light or heavy-duty?
Light traveller but heavy backpacker: 18kg per person.
[Q] Is there anything you wish you'd done before you left home?
We had a big party with friends and family in Paris. We had delicious French food with good wine and tons of cheese as we knew we would miss it during the trip.
[Q] What's the most reliable source of travel advice?
Travel blogs, travellers we met, and local people who gave us excellent tips.
[Q] How did you reach your destination and then to your hotel/resort?
For farther-distanced places, we boarded a plane and for shorter-distanced destinations, we used local transports like tuk-tuk (Asian Rickshaw) or Uber.
We also took a lot of night buses, which are as comfortable as planes. Especially those in South America which had WiFi, movies, and snacks service.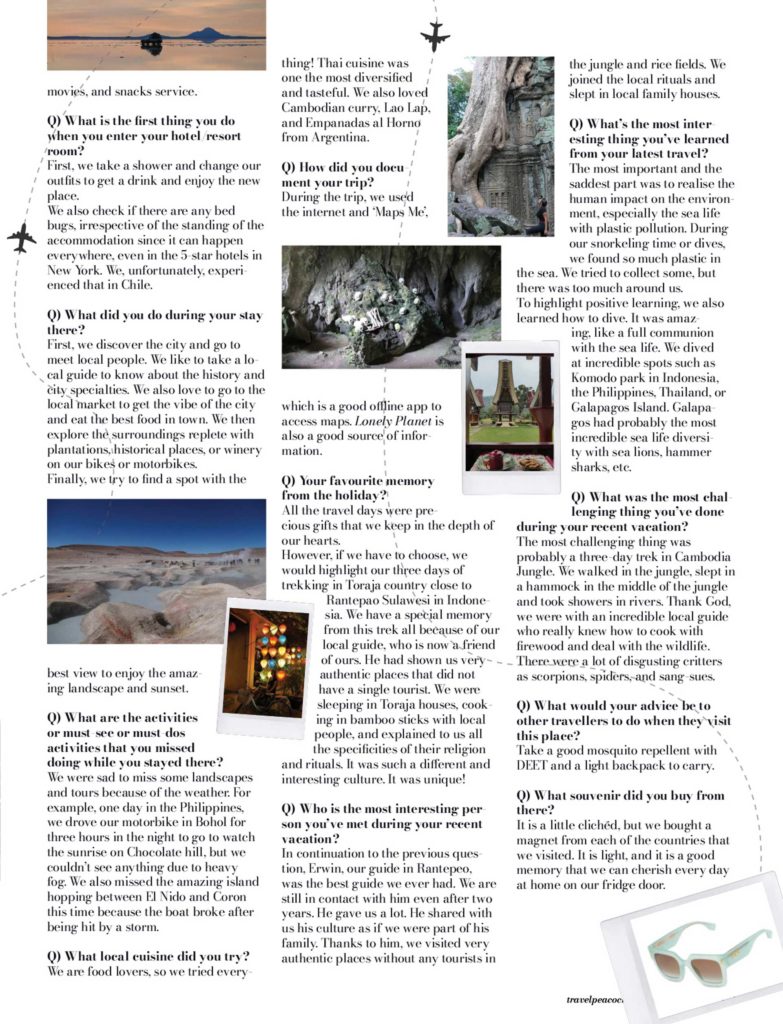 [Q] What is the first thing you do when you enter your hotel/resort room?
First, we take a shower and change our outfits to get a drink and enjoy the new place.
We also check if there are any bed bugs, irrespective of the standing of the accommodation since it can happen everywhere, even in the 5-star hotels in New York. We, unfortunately, experienced that in Chile.
[Q] What did you do during your stay there?
First, we discover the city and go to meet local people. We like to take a local guide to know about the history and city specialties. We also love to go to the local market to get the vibe of the city and eat the best food in town. We then explore the surroundings replete with plantations, historical places, or winery on our bikes or motorbikes.
Finally, we try to find a spot with the best view to enjoy the amazing landscape and sunset.
[Q] What are the activities or must-see or must-dos activities that you missed doing while you stayed there?
We were sad to miss some landscapes and tours because of the weather. For example, one day in the Philippines, we drove our motorbike in Bohol for three hours in the night to go to watch the sunrise on Chocolate hill, but we couldn't see anything due to heavy fog. We also missed the amazing island hopping between El Nido and Coron this time because the boat broke after being hit by a storm.
[Q] What local cuisine did you try?
We are food lovers, so we tried everything! Thai cuisine was one the most diversified and tasteful. We also loved Cambodian curry, Lao Lap, and Empanadas al Horno from Argentina.
[Q] How did you document your trip?
During the trip, we used the internet and 'Maps Me', which is a good offline app to access maps. Lonely Planet is also a good source of information.
[Q] Your favourite memory from the holiday?
All the travel days were precious gifts that we keep in the depth of our hearts.
However, if we have to choose, we would highlight our three days of trekking in Toraja country close to Rantepao Sulawesi in Indonesia. We have a special memory from this trek all because of our local guide, who is now a friend of ours. He had shown us very authentic places that did not have a single tourist. We were sleeping in Toraja houses, cooking in bamboo sticks with local people, and explained to us all the specificities of their religion and rituals. It was such a different and interesting culture. It was unique!
[Q] Who is the most interesting person you've met during your recent vacation?
In continuation to the previous question, Erwin, our guide in Rantepeo, was the best guide we ever had. We are still in contact with him even after two years. He gave us a lot. He shared with us his culture as if we were part of his family. Thanks to him, we visited very authentic places without any tourists in the jungle and rice fields. We joined the local rituals and slept in local family houses.
[Q] What's the most interesting thing you've learned from your latest travel?
The most important and the saddest part was to realise the human impact on the environment, especially the sea life with plastic pollution. During our snorkeling time or dives, we found so much plastic in the sea. We tried to collect some, but there was too much around us.
To highlight positive learning, we also learned how to dive. It was amazing, like a full communion with the sea life. We dived at incredible spots such as Komodo park in Indonesia, the Philippines, Thailand, or Galapagos Island. Galapagos had probably the most incredible sea life diversity with sea lions, hammer sharks, etc.
[Q] What was the most challenging thing you've done during your recent vacation?
The most challenging thing was probably a three-day trek in Cambodia Jungle. We walked in the jungle, slept in a hammock in the middle of the jungle and took showers in rivers. Thank God, we were with an incredible local guide who really knew how to cook with firewood and deal with the wildlife. There were a lot of disgusting critters as scorpions, spiders, and sang-sues.
[Q] What would your advice be to other travellers to do when they visit this place?
Take a good mosquito repellent with DEET and a light backpack to carry.
[Q] What souvenir did you buy from there?
It is a little clichéd, but we bought a magnet from each of the countries that we visited. It is light, and it is a good memory that we can cherish every day at home on our fridge door.
[Q] Would you want to visit any place again? Why?
If life gives us a chance to do a world tour again, we will not hesitate for a second even. We would firstly like to explore new countries, but we would, for sure, also come back to Indonesia or some other countries to meet our local friends again.
[Q] Must-have fashion accessories for travel?
For her: The little black dress that works for all occasions, right from casual parties to fancy dos. You can accessorise it with a collar, red nail polish, and lipstick.
For him: A denim shirt that is casual and stylish.
[Q] Three must-carry outfits for travel?
1) Beach combo: bikini/short/top/sunglasses.
2) Sporty/athletic outfit, which goes with hiking shoes.
3) A party outfit to enjoy dining at a good restaurant or cocktail bars.
[Q] Skincare essentials to carry while travelling?
Coconut oil and sunscreen.
[Q] How did you two meet?
We met on July 1st, 2016, during a farewell party of a mutual friend. She was working with Nadia and was an old friend of mine from Paris. It was a real crush, and since that moment, we never left each other.
[Q] When did you plan to go backpacking and travel extensively as a couple?
We always had the dream of travelling the world. But our decision to travel was taken during a trip to Japan in May 2018. Four months later, we were taking the plane with our backpacks.
[Q] For how long did you two travel recently?
We have been travelling for 11 months now, spending at least three weeks to one month per country to really take the time to discover it and meet people.
[Q] Why do you travel?
Our passion and curiosity to understand our world and experience breathtaking views of incredible nature make us want to travel.
[Q] Did you always want to document your travel experiences, or did you want to live in the moment?
Both. It was important for us to save memories with pictures and share them with family and friends through WhatsApp and Instagram. But it was also important to enjoy and live the moment. So, taking pictures and sharing them on social media is always after we make sure that we have enjoyed the moment and saved it in our minds.
[Q] What does your Instagram blog 'Les Mondivores' mean? What is it all about?
Our Instagram account is the first and foremost way to share our experience with our friends and family who stayed in France. Its secondary function is for us to have memories that we can easily watch and share with people we meet. Finally, we hope that it will inspire people to travel and follow their dreams. It is a taste of our travels.
[Q] How many cities have you travelled to until now?
We could not keep the count. There were so many cities and villages. During this trip, we visited 13 countries in 11 months. Before that, we were already used to travelling throughout Europe for weekends or throughout the rest of the world like Japan, Australia, Brazil, Morocco, etc. for two-three week holidays.
[Q] How do you select a place to travel?
It's always somewhere we have never been. A place where we will be able to discover a new culture and have a mix of chilling and taking on an adventure.
[Q] How do you prepare for every trip of yours?
Pack our passport, credit card, backpack, and say 'let's go.' We also try to discuss with people who have already been to the country to get some tips. After we land at our destination, we try to meet local people and check travel blogs to get the best tips.
[Q] What challenges do you face as a couple who is extensively travelling?
It's supporting each other 24/7. The first month is the easiest one as it is like a honeymoon but the second and the third month were the hardest. You learn to know the person better, getting to know their positive aspects and some negative ones too, which are nothing usually but can be very bothersome over a longer period of time. It is sometimes difficult to find time just for yourself even if it is magical to share these moments together. This trip taught us real communication as a couple, and it helped us a lot. We feel that we are stronger than ever.
[Q] How do the two of you tackle any differences arising while selecting a place or planning your travel itinerary?
Most of the time, we were aligned. Since it is about travelling, we ensure neither of us feels forced to do something. The aim is to share the maximum number of experiences together. However, from the beginning, we came up with a rule for ourselves that both of us were free to not participate in any activity they didn't want to or do something on their own whenever we were not aligned. That is how I ended up spending one week in the Peruvian mountain to trek while Nadia was waiting for me on the beach on the North coast of Peru.
[Q] What is the one surprising fact you discovered about each other during your travels?
Nadia discovered that I really need moments for myself and that I love to play games. I discovered that she would never be able to live in a cold place. She needs sun and crystal clear water. As a couple, we discovered that we need to be more patient.
[Q] One golden rule everyone should follow when traveling with your partner?
Transparency in your communication, having no taboo and always sharing your feelings with your partner, especially if you don't feel comfortable with something. Listen to each other and try to understand each others' point of view when you do not agree on something.
[Q] After being constantly on the go, how did you come to terms with being at a standstill during the lockdown?
Lockdown was a difficult time for everybody. For us, too, it was quite tough especially considering that we were separated for six months. I was in India, and Nadia was stuck in France. Of course, staying at home when you are used to travelling a lot is difficult, but it was even more difficult to be separated. We felt like we were in jail. We finally saw each other again in the countryside of France in September, and I almost cried while walking into nature with Nadia. We really need to rethink the meaning of freedom after this period. I'm relieved that Naida was finally able to come back with me to India.
[Q] What did the travellers in you do during the lockdown?
The travellers in us were terribly frustrated to be in a new country without being able to discover it. But we will now enjoy our time in this amazing country.
[Q] Which trip has been the most memorable for you and why?
Japan. It was our first big trip together for three weeks, filled with amazing food, culture, and landscapes. It was also the genesis of our world trip.
[Q] What's the strangest food you tried on your travels?
It's a tie between giant red ants and Llama.
[Q] What tips would you give to aspiring travellers?
Buy good shoes, a good backpack, a good camera, check if you have enough pages on your passport, follow your dreams, and go with the flow.
[Q] What tips would you give to travelers who are venturing out post-lockdown?
For starters, we would recommend discovering your own country. There are so many treasures around us, and because they are relatively close that we never go there. Now is the perfect opportunity. When the borders open again, we recommend going to wild places in the middle of nature. The ecosystem has enjoyed this resting period for itself, and you will probably be able to see more animals.
[Q] Which are the top three places on your bucket list for travelling as of now?
Not in any specific order, and apart from India, which we will discover soon, we have Mexico, New Zealand, and China on our bucket list.