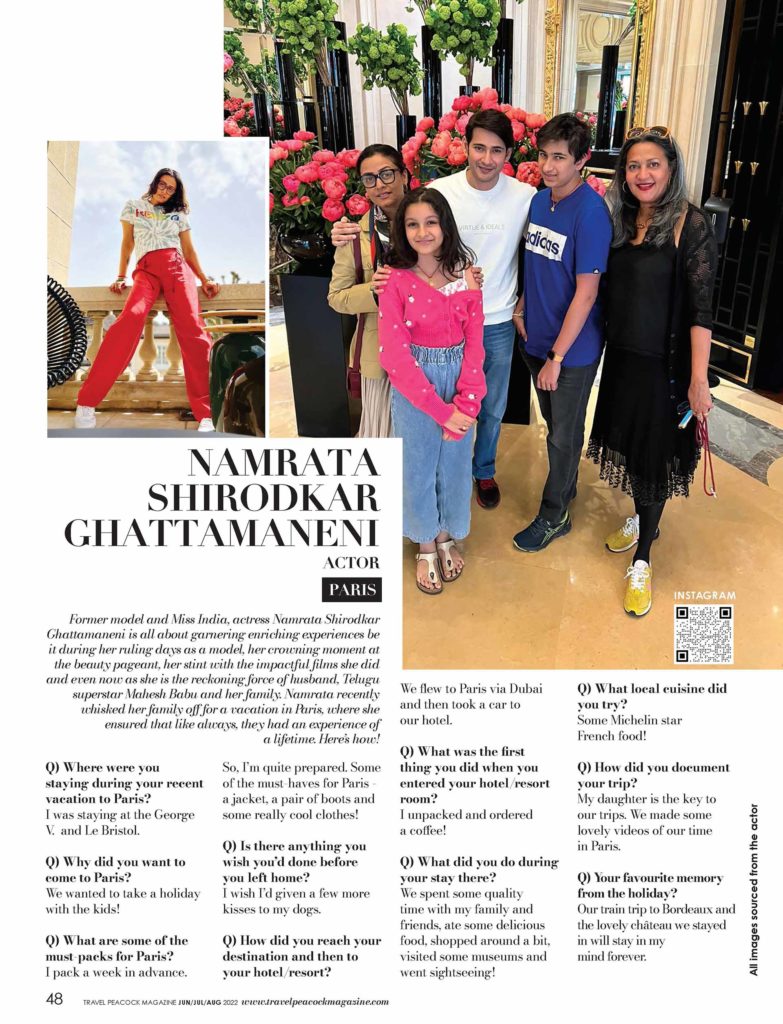 Credits – All images sourced from the actor
Former model and Miss India, actress Namrata Shirodkar Ghattamaneni is all about garnering enriching experiences be it during her ruling days as a model, her crowning moment at the beauty pageant, her stint with the impactful films she did and even now as she is the reckoning force of husband, Telugu superstar Mahesh Babu and her family. Namrata recently whisked her family off for a vacation in Paris, where she ensured that like always, they had an experience of a lifetime. Here's how!
[Q] Where were you staying during your recent vacation to Paris?
I was staying at the George V. and Le Bristol.
[Q] Why did you want to come to Paris?
We wanted to take a holiday with the kids!
[Q] What are some of the must-packs for Paris?
I pack a week in advance. So, I'm quite prepared. Some of the must-haves for Paris – a jacket, a pair of boots and some really cool clothes!
[Q] Is there anything you wish you'd done before you left home?
I wish I'd given a few more kisses to my dogs.
[Q] How did you reach your destination and then to your hotel/resort?
We flew to Paris via Dubai and then took a car to our hotel.
[Q] What was the first thing you did when you entered your hotel/resort room?
I unpacked and ordered a coffee!
[Q] What did you do during your stay there?
We spent some quality time with my family and friends, ate some delicious food, shopped around a bit, visited some museums and went sightseeing!
[Q] What local cuisine did you try?
Some Michelin star French food!
[Q] How did you document your trip?
My daughter is the key to our trips. We made some lovely videos of our time in Paris.
[Q] Your favourite memory from the holiday?
Our train trip to Bordeaux and the lovely château we stayed in will stay in my mind forever.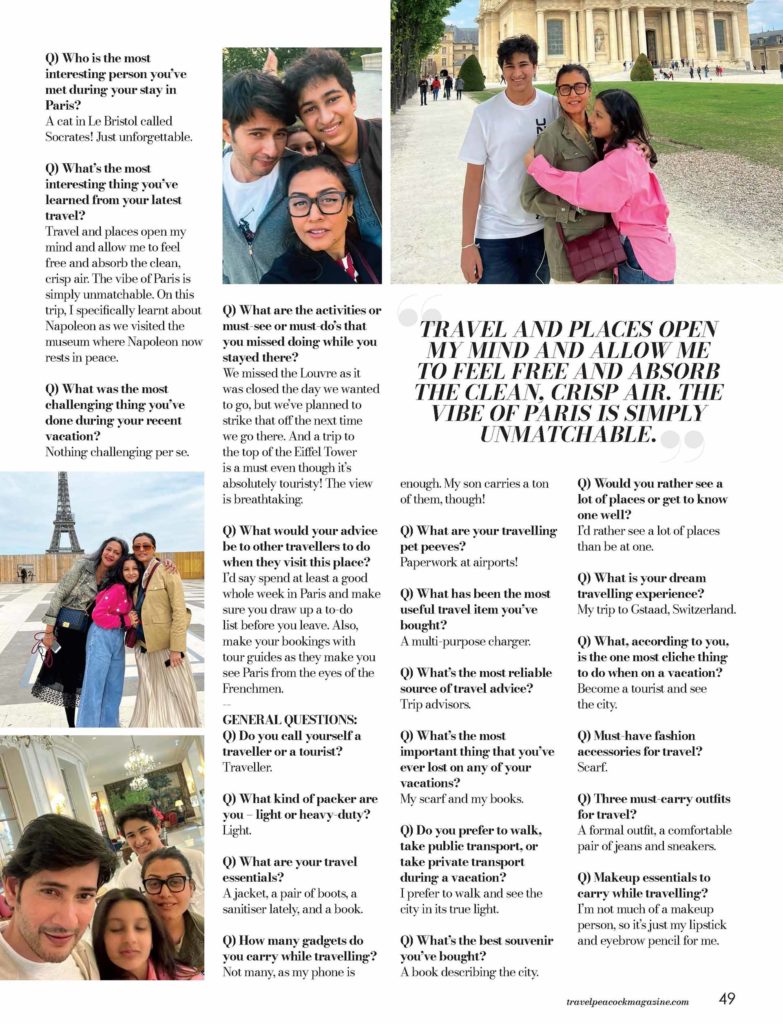 [Q] Who is the most interesting person you've met during your stay in Paris?
A cat in Le Bristol called Socrates! Just unforgettable.
[Q] What's the most interesting thing you've learned from your latest travel?
Travel and places open my mind and allow me to feel free and absorb the clean, crisp air. The vibe of Paris is simply unmatchable. On this trip, I specifically learnt about Napoleon as we visited the museum where Napoleon now rests in peace.
[Q] What was the most challenging thing you've done during your recent vacation?
Nothing challenging per se.
[Q] What are the activities or must-see or must-do's that you missed doing while you stayed there?
We missed the Louvre as it was closed the day we wanted to go, but we've planned to strike that off the next time we go there. And a trip to the top of the Eiffel Tower is a must even though it's absolutely touristy! The view is breathtaking.
[Q] What would your advice be to other travellers to do when they visit this place?
I'd say spend at least a good whole week in Paris and make sure you draw up a to-do list before you leave. Also, make your bookings with tour guides as they make you see Paris from the eyes of the Frenchmen.
[Q] Do you call yourself a traveller or a tourist?
Traveller.
[Q] What kind of packer are you – light or heavy-duty?
Light.
[Q] What are your travel essentials?
A jacket, a pair of boots, a sanitiser lately, and a book.
[Q] How many gadgets do you carry while travelling?
Not many, as my phone is enough. My son carries a ton of them, though!
[Q] What are your travelling pet peeves?
Paperwork at airports!
[Q] What has been the most useful travel item you've bought?
A multi-purpose charger.
[Q] What's the most reliable source of travel advice?
Trip advisors.
[Q] What's the most important thing that you've ever lost on any of your vacations?
My scarf and my books.
[Q] Do you prefer to walk, take public transport, or take private transport during a vacation?
I prefer to walk and see the city in its true light.
[Q] What's the best souvenir you've bought?
A book describing the city.
[Q] Would you rather see a lot of places or get to know one well?
I'd rather see a lot of places than be at one.
[Q] What is your dream travelling experience?
My trip to Gstaad, Switzerland.
[Q] What, according to you, is the one most cliche thing to do when on a vacation?
Become a tourist and see the city.
[Q] Must-have fashion accessories for travel?
Scarf.
[Q] Three must-carry outfits for travel?
A formal outfit, a comfortable pair of jeans and sneakers.
[Q] Makeup essentials to carry while travelling?
I'm not much of a makeup person, so it's just my lipstick and eyebrow pencil for me.


Add to favorites