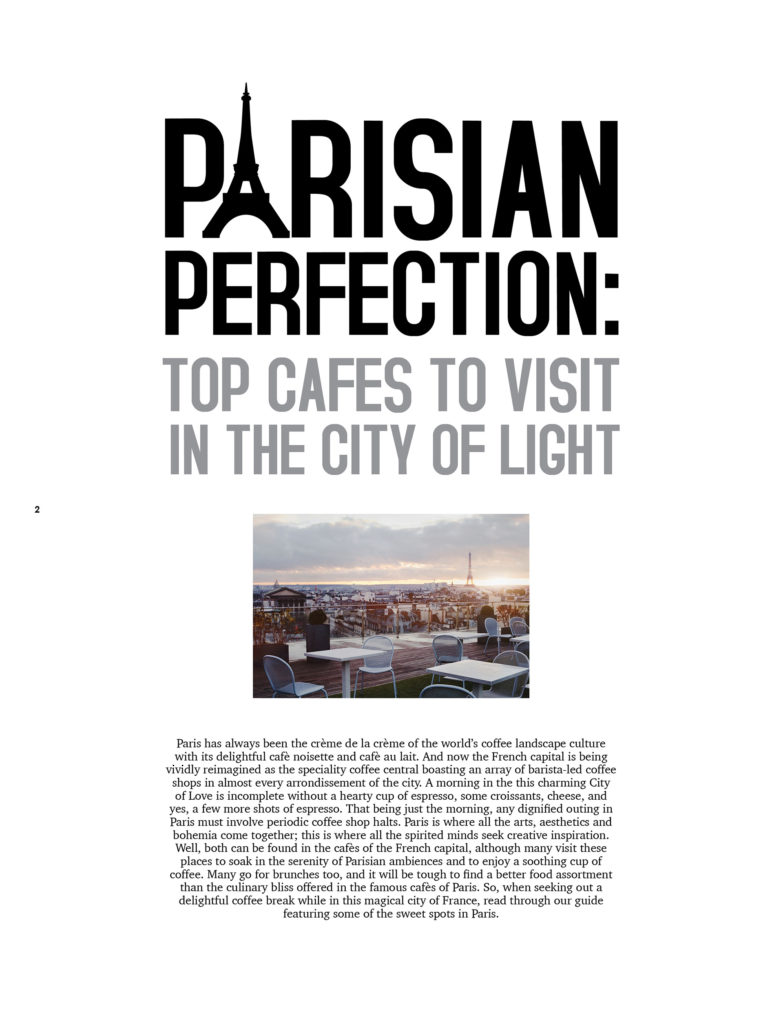 Paris has always been the crème de la crème of the world's coffee landscape culture with its delightful cafè noisette and cafè au lait. And now the French capital is being vividly reimagined as the speciality coffee central boasting an array of barista-led coffee shops in almost every arrondissement of the city. A morning in the this charming City of Love is incomplete without a hearty cup of espresso, some croissants, cheese, and yes, a few more shots of espresso. That being just the morning, any dignified outing in Paris must involve periodic coffee shop halts. Paris is where all the arts, aesthetics and bohemia come together; this is where all the spirited minds seek creative inspiration. Well, both can be found in the cafès of the French capital, although many visit these places to soak in the serenity of Parisian ambiences and to enjoy a soothing cup of coffee. Many go for brunches too, and it will be tough to find a better food assortment than the culinary bliss offered in the famous cafès of Paris. So, when seeking out a delightful coffee break while in this magical city of France, read through our guide featuring some of the sweet spots in Paris.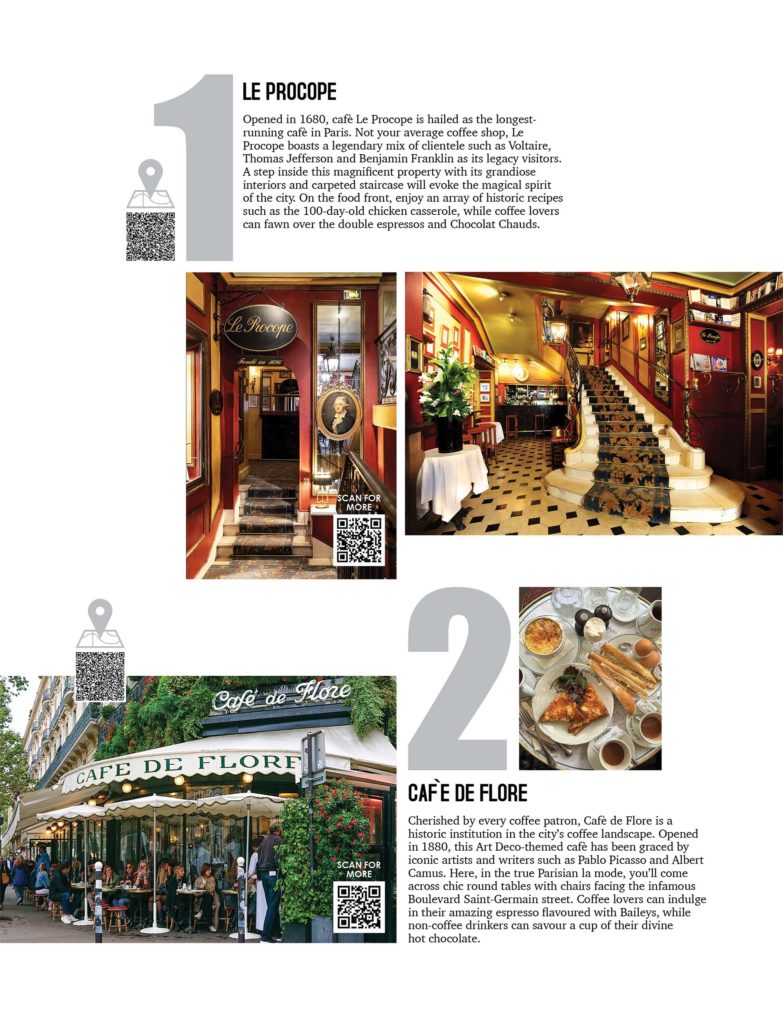 1. LE PROCOPE
Opened in 1680, cafè Le Procope is hailed as the longest-running cafè in Paris. Not your average coffee shop, Le Procope boasts a legendary mix of clientele such as Voltaire, Thomas Jefferson and Benjamin Franklin as its legacy visitors. A step inside this magnificent property with its grandiose interiors and carpeted staircase will evoke the magical spirit of the city. On the food front, enjoy an array of historic recipes such as the 100-day-old chicken casserole, while coffee lovers can fawn over the double espressos and Chocolat Chauds.
2. CAFÈ DE FLORE
Cherished by every coffee patron, Cafè de Flore is a historic institution in the city's coffee landscape. Opened in 1880, this Art Deco-themed cafè has been graced by iconic artists and writers such as Pablo Picasso and Albert Camus. Here, in the true Parisian la mode, you'll come across chic round tables with chairs facing the infamous Boulevard Saint-Germain street. Coffee lovers can indulge in their amazing espresso flavoured with Baileys, while non-coffee drinkers can savour a cup of their divine hot chocolate.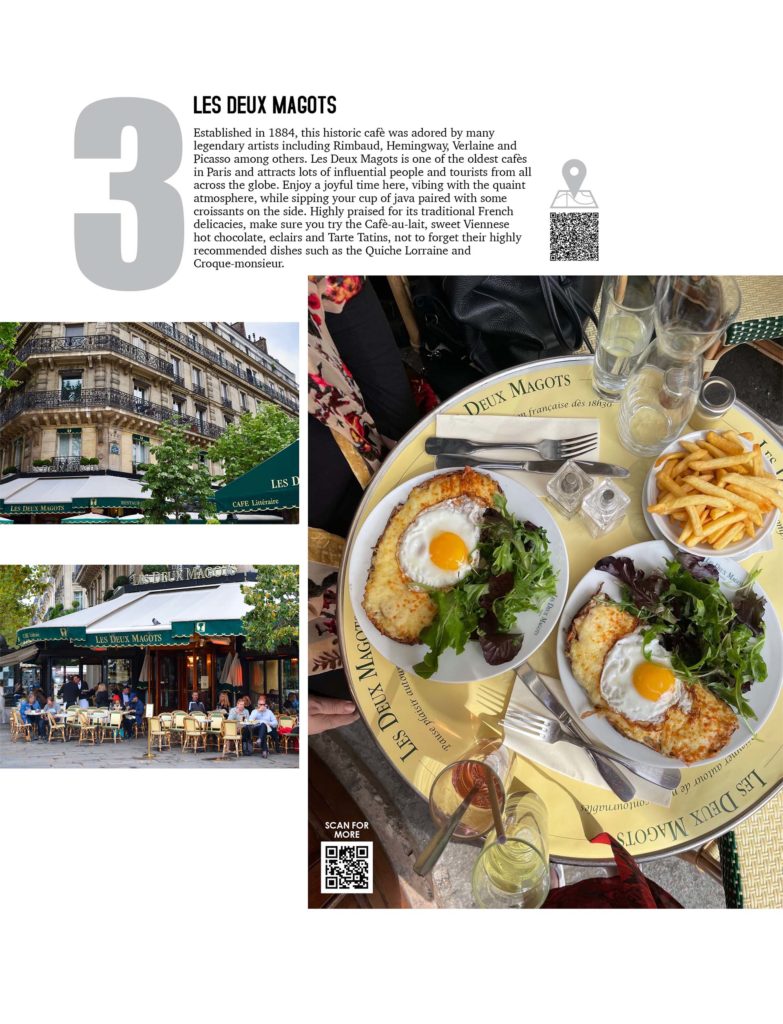 3. LES DEUX MAGOTS
Established in 1884, this historic cafè was adored by many legendary artists including Rimbaud, Hemingway, Verlaine and Picasso among others. Les Deux Magots is one of the oldest cafès in Paris and attracts lots of influential people and tourists from all across the globe. Enjoy a joyful time here, vibing with the quaint atmosphere, while sipping your cup of java paired with some croissants on the side. Highly praised for its traditional French delicacies, make sure you try the Cafè-au-lait, sweet Viennese hot chocolate, eclairs and Tarte Tatins, not to forget their highly recommended dishes such as the Quiche Lorraine and Croque-monsieur.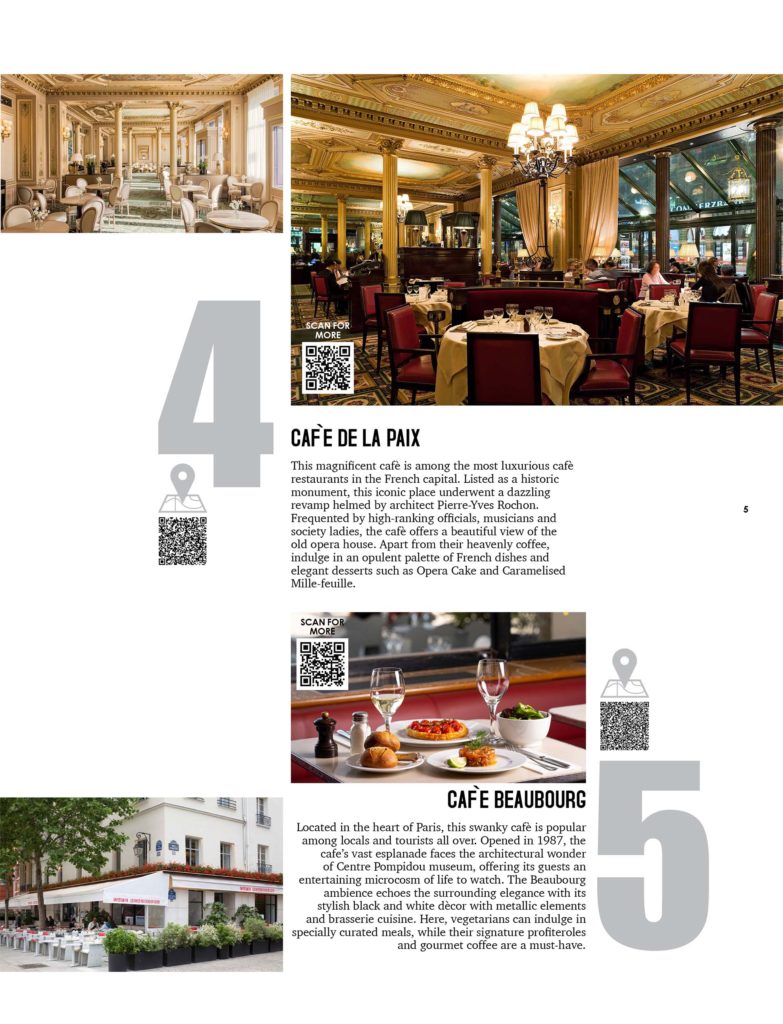 4. CAFÈ DE LA PAIX
This magnificent cafè is among the most luxurious cafè restaurants in the French capital. Listed as a historic monument, this iconic place underwent a dazzling revamp helmed by architect Pierre-Yves Rochon. Frequented by high-ranking officials, musicians and society ladies, the cafè offers a beautiful view of the old opera house. Apart from their heavenly coffee, indulge in an opulent palette of French dishes and elegant desserts such as Opera Cake and Caramelised Mille-feuille.
5. CAFÈ BEAUBOURG
Located in the heart of Paris, this swanky cafè is popular among locals and tourists all over. Opened in 1987, the cafe's vast esplanade faces the architectural wonder of Centre Pompidou museum, offering its guests an entertaining microcosm of life to watch. The Beaubourg ambience echoes the surrounding elegance with its stylish black and white dècor with metallic elements and brasserie cuisine. Here, vegetarians can indulge in specially curated meals, while their signature profiteroles and gourmet coffee are a must-have.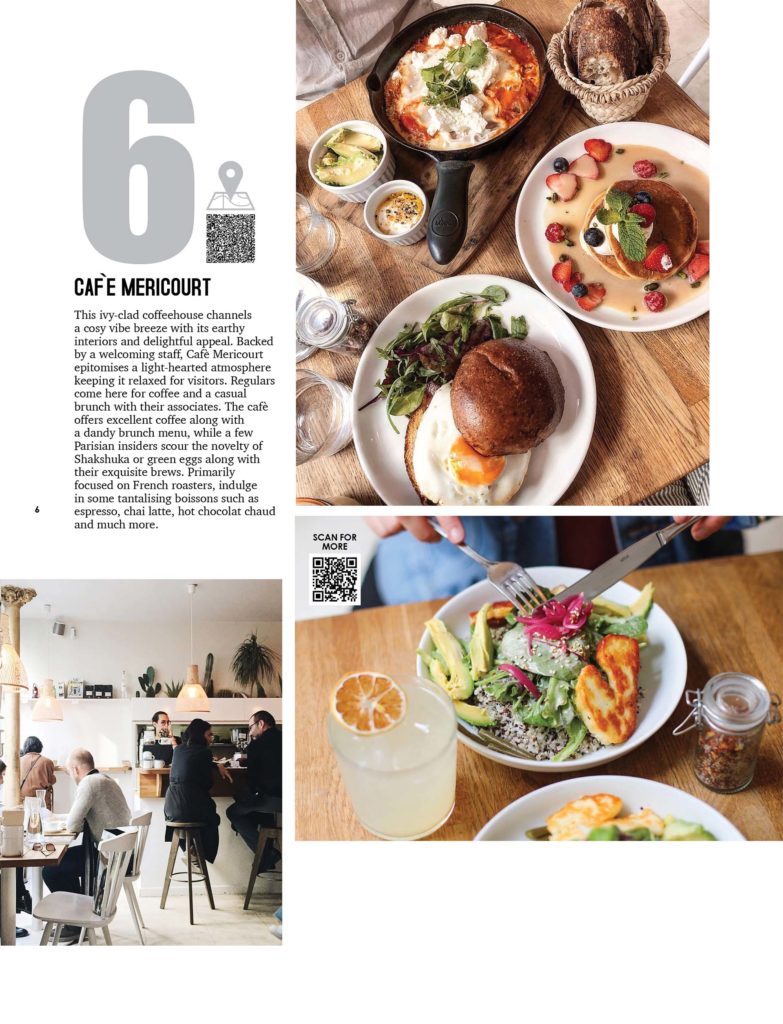 6. CAFÈ MERICOURT
This ivy-clad coffeehouse channels a cosy vibe breeze with its earthy interiors and delightful appeal. Backed by a welcoming staff, Cafè Mericourt epitomises a light-hearted atmosphere keeping it relaxed for visitors. Regulars come here for coffee and a casual brunch with their associates. The cafè offers excellent coffee along with a dandy brunch menu, while a few Parisian insiders scour the novelty of Shakshuka or green eggs along with their exquisite brews. Primarily focused on French roasters, indulge in some tantalising boissons such as espresso, chai latte, hot chocolat chaud and much more.



Add to favorites