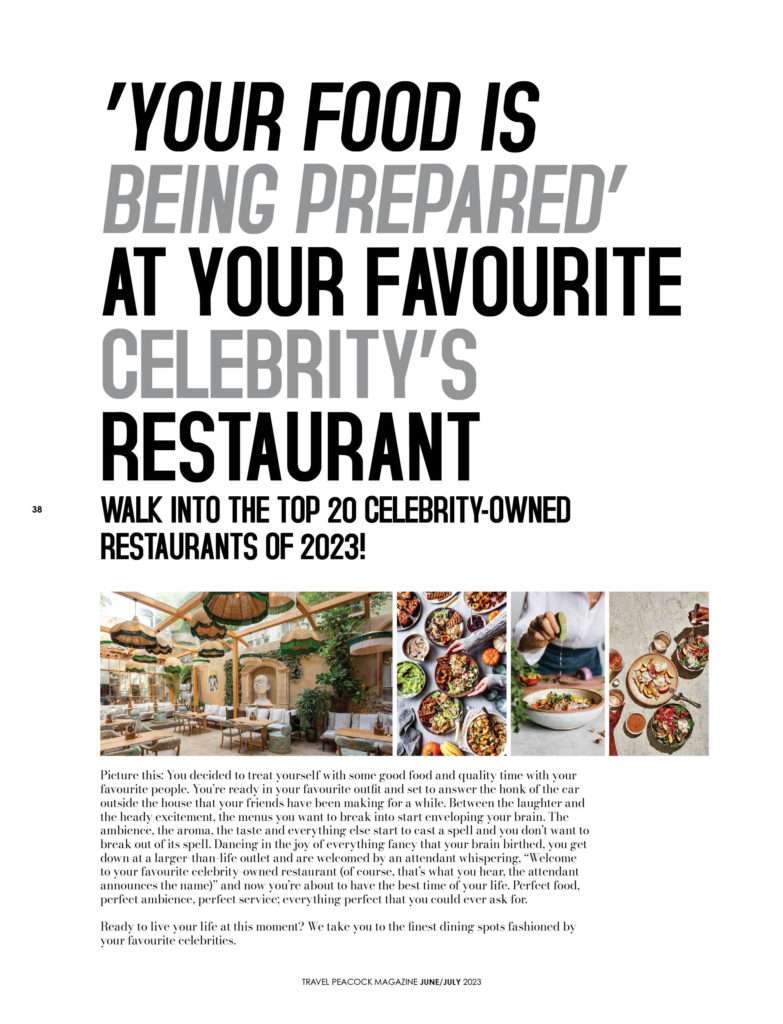 "Walk into the top 10 celebrity-owned restaurants of 2023."
Picture this: You decided to treat yourself with some good food and quality time with your favourite people. You're ready in your favourite outfit and set to answer the honk of the car outside the house that your friends have been making for a while. Between the laughter and the heady excitement, the menus you want to break into start enveloping your brain. The ambience, the aroma, the taste and everything else start to cast a spell and you don't want to break out of its spell. Dancing in the joy of everything fancy that your brain birthed, you get down at a larger-than-life outlet and are welcomed by an attendant whispering, "Welcome to your favourite celebrity-owned restaurant (of course, that's what you hear, the attendant announces the name)" and now you're about to have the best time of your life. Perfect food, perfect ambience, perfect service; everything perfect that you could ever ask for.
Ready to live your life at this moment? We take you to the finest dining spots fashioned by your favourite celebrities.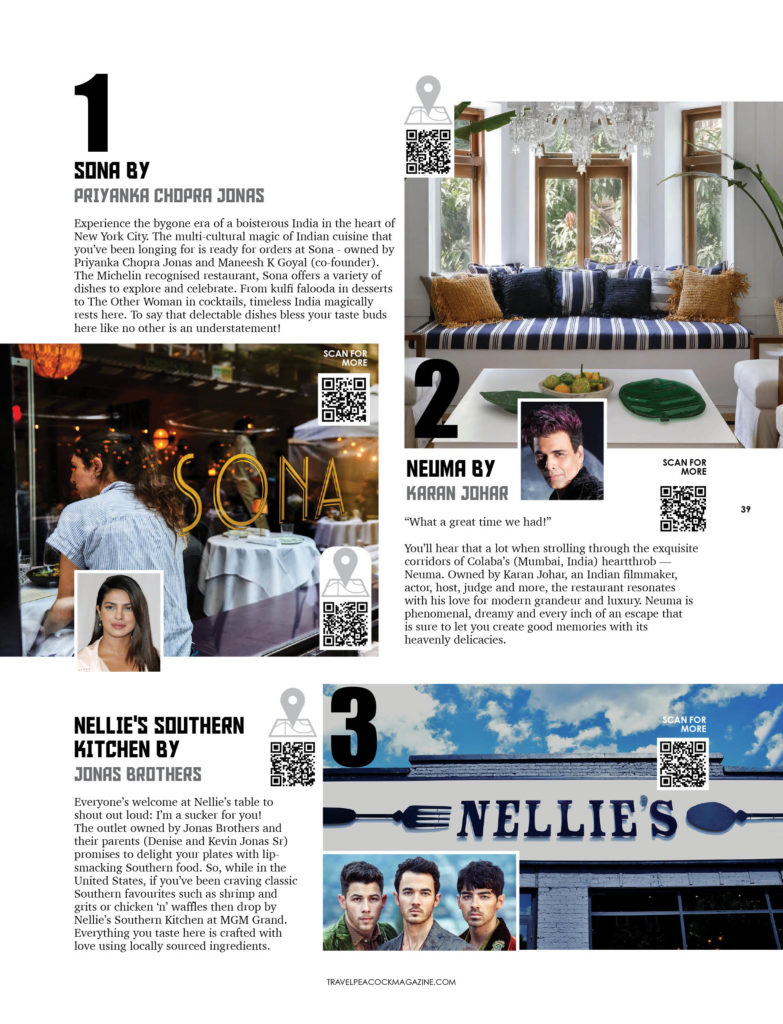 1. Sona by Priyanka Chopra Jonas
Experience the bygone era of a boisterous India in the heart of New York City. The multi-cultural magic of Indian cuisine that you've been longing for is ready for orders at Sona – owned by Priyanka Chopra Jonas and Maneesh K Goyal (co-founder). The Michelin recognised restaurant, Sona offers a variety of dishes to explore and celebrate. From kulfi falooda in desserts to The Other Woman in cocktails, timeless India magically rests here. To say that delectable dishes bless your taste buds here like no other is an understatement!
Website: https://www.sona-nyc.com/


2. Neuma by Karan Johar
"What a great time we had!"
You'll hear that a lot when strolling through the exquisite corridors of Colaba's (Mumbai, India) heartthrob —Neuma. Owned by Karan Johar, an Indian filmmaker, actor, host, judge and more, the restaurant resonates with his love for modern grandeur and luxury. Neuma is phenomenal, dreamy and every inch of an escape that is sure to let you create good memories with its heavenly delicacies.
Website: https://bookings.airmenus.in


3. Nellie's Southern Kitchen by the Jonas Brothers
Everyone's welcome at Nellie's table to shout out loud: I'm a sucker for you! The outlet owned by Jonas Brothers and their parents (Denise and Kevin Jonas Sr) promises to delight your plates with lip-smacking Southern food. So, while in the United States, if you've been craving classic Southern favourites such as shrimp and grits or chicken 'n' waffles then drop by Nellie's Southern Kitchen at MGM Grand. Everything you taste here is crafted with love using locally sourced ingredients.
Website: https://www.nelliessouthernkitchen.com/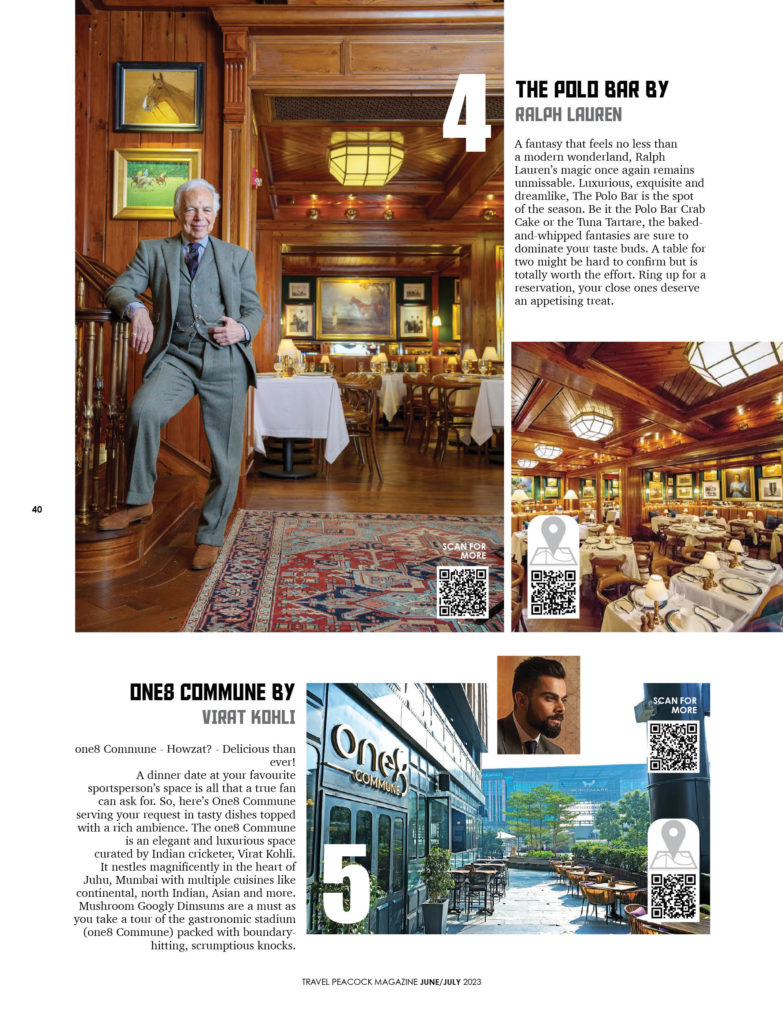 4. The Polo Bar by Ralph Lauren
A fantasy that feels no less than a modern wonderland, Ralph Lauren's magic once again remains unmissable. Luxurious, exquisite and dreamlike, The Polo Bar is the spot of the season. Be it the Polo Bar Crab Cake or the Tuna Tartare, the baked-and-whipped fantasies are sure to dominate your taste buds. A table for two might be hard to confirm but is totally worth the effort. Ring up for a reservation, your close ones deserve an appetising treat.
Website: https://www.ralphlauren.com


5. one8 Commune by Virat Kohli
one8 Commune – Howzat? – Delicious than ever!
A dinner date at your favourite sportsperson's space is all that a true fan can ask for. So, here's One8 Commune serving your request in tasty dishes topped with a rich ambience. The one8 Commune is an elegant and luxurious space curated by Indian cricketer, Virat Kohli. It nestles magnificently in the heart of Juhu, Mumbai with multiple cuisines like continental, north Indian, Asian and more. Mushroom Googly Dimsums are a must as you take a tour of the gastronomic stadium (one8 Commune) packed with boundary-hitting, scrumptious knocks.
Website: https://www.instagram.com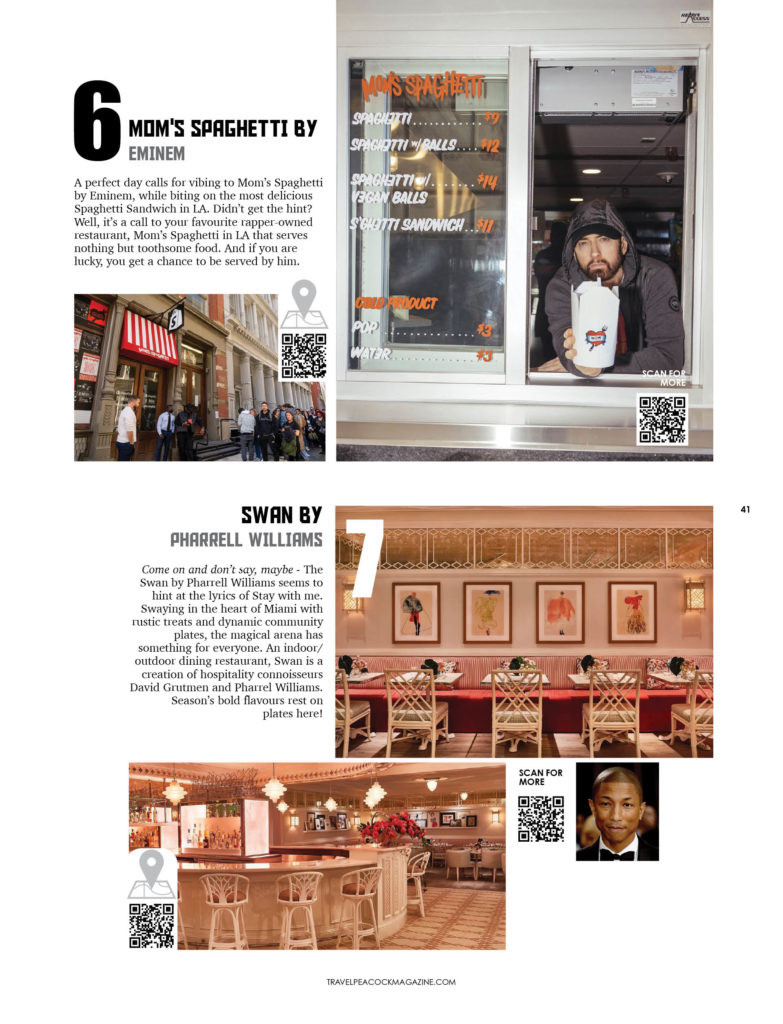 6. Mom's Spaghetti by Eminem
A perfect day calls for vibing to Mom's Spaghetti by Eminem, while biting on the most delicious Spaghetti Sandwich in LA. Didn't get the hint? Well, it's a call to your favourite rapper-owned restaurant, Mom's Spaghetti in LA that serves nothing but toothsome food. And if you are lucky, you get a chance to be served by him.
Website: https://www.momsspaghetti.com/


7. Swan by Pharrell Williams
Come on and don't say, maybe.. The Swan by Pharrell Williams seems to hint at the lyrics of Stay with me. Swaying in the heart of Miami with rustic treats and dynamic community plates, the magical arena has something for everyone. An indoor/outdoor dining restaurant, Swan is a creation of hospitality connoisseurs David Grutmen and Pharrel Williams. Season's bold flavours rest on plates here!
Website: https://swanbevy.com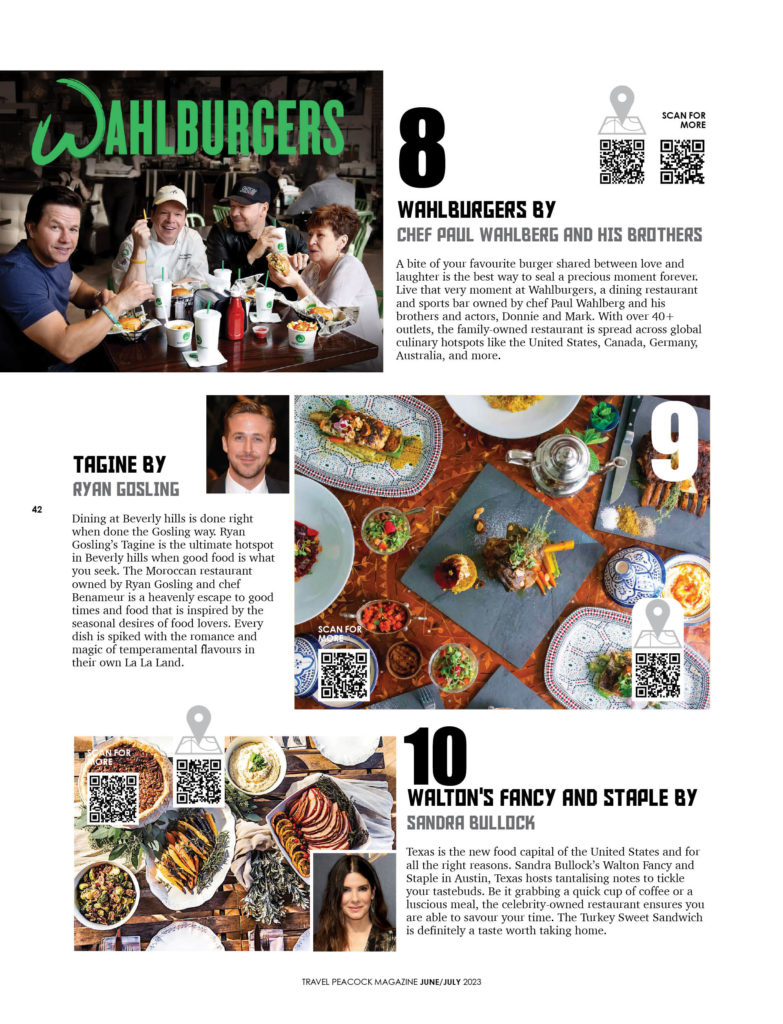 8. Wahlburgers by Chef Paul Wahlberg and brothers
A bite of your favourite burger shared between love and laughter is the best way to seal a precious moment forever. Live that very moment at Wahlburgers, a dining restaurant and sports bar owned by chef Paul Wahlberg and his brothers and actors, Donnie and Mark. With over 40+ outlets, the family-owned restaurant is spread across global culinary hotspots like the United States, Canada, Germany, Australia, and more.
Website: https://wahlburgers.com/


9. Tagine by Ryan Gosling
Dining at Beverly hills is done right when done the Gosling way. Ryan Gosling's Tagine is the ultimate hotspot in Beverly hills when good food is what you seek. The Moroccan restaurant owned by Ryan Gosling and chef Benameur is a heavenly escape to good times and food that is inspired by the seasonal desires of food lovers. Every dish is spiked with the romance and magic of temperamental flavours in their own La La Land.
Website: https://www.taginebeverlyhills.com/


10. Walton's Fancy and Staple by Sandra Bullock
Texas is the new food capital of the United States and for all the right reasons. Sandra Bullock's Walton Fancy and Staple in Austin, Texas hosts tantalising notes to tickle your tastebuds. Be it grabbing a quick cup of coffee or a luscious meal, the celebrity-owned restaurant ensures you are able to savour your time. The Turkey Sweet Sandwich is definitely a taste worth taking home.
Website: https://instagram.com/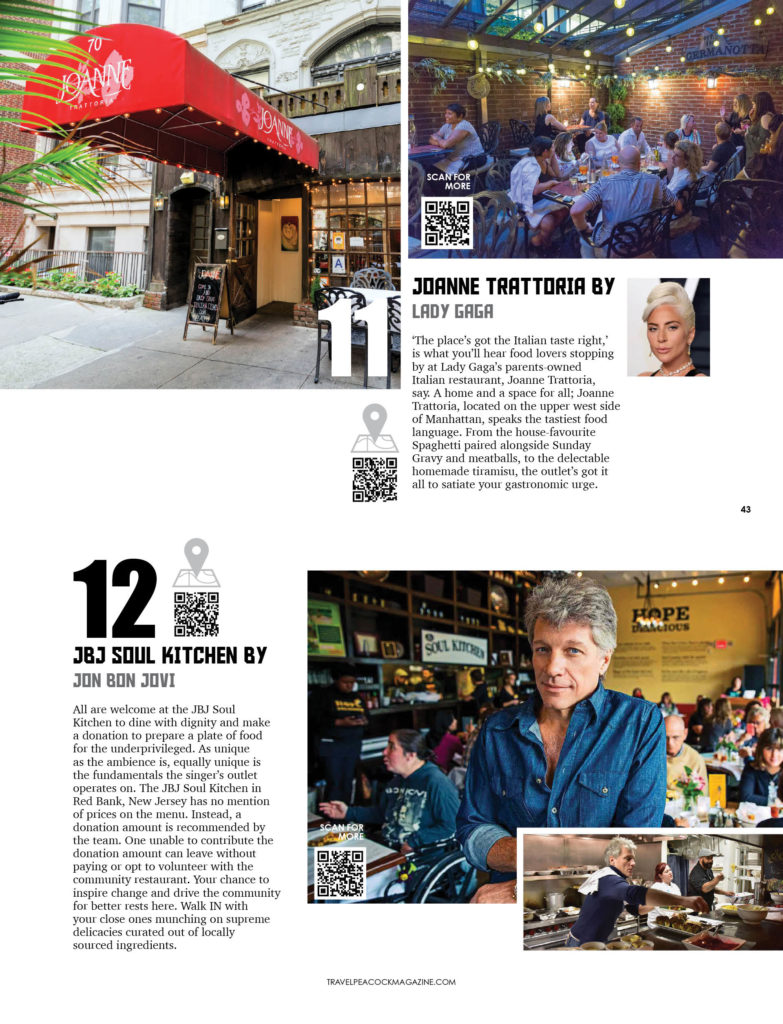 11. Joanne Trattoria by Lady Gaga
'The place's got the Italian taste right,' is what you'll hear food lovers stopping by at Lady Gaga's parents-owned Italian restaurant, Joanne Trattoria, say. A home and a space for all; Joanne Trattoria, located on the upper west side of Manhattan, speaks the tastiest food language. From the house-favourite Spaghetti paired alongside Sunday Gravy and meatballs, to the delectable homemade tiramisu, the outlet's got it all to satiate your gastronomic urge.
Website: https://www.joannenyc.com


12. JBJ Soul Kitchen by Jon Bon Jovi
All are welcome at the JBJ Soul Kitchen to dine with dignity and make a donation to prepare a plate of food for the underprivileged. As unique as the ambience is, equally unique is the fundamentals the singer's outlet operates on. The JBJ Soul Kitchen in Red Bank, New Jersey has no mention of prices on the menu. Instead, a donation amount is recommended by the team. One unable to contribute the donation amount can leave without paying or opt to volunteer with the community restaurant. Your chance to inspire change and drive the community for better rests here. Walk IN with your close ones munching on supreme delicacies curated out of locally sourced ingredients.
Website: https://jbjsoulkitchen.org/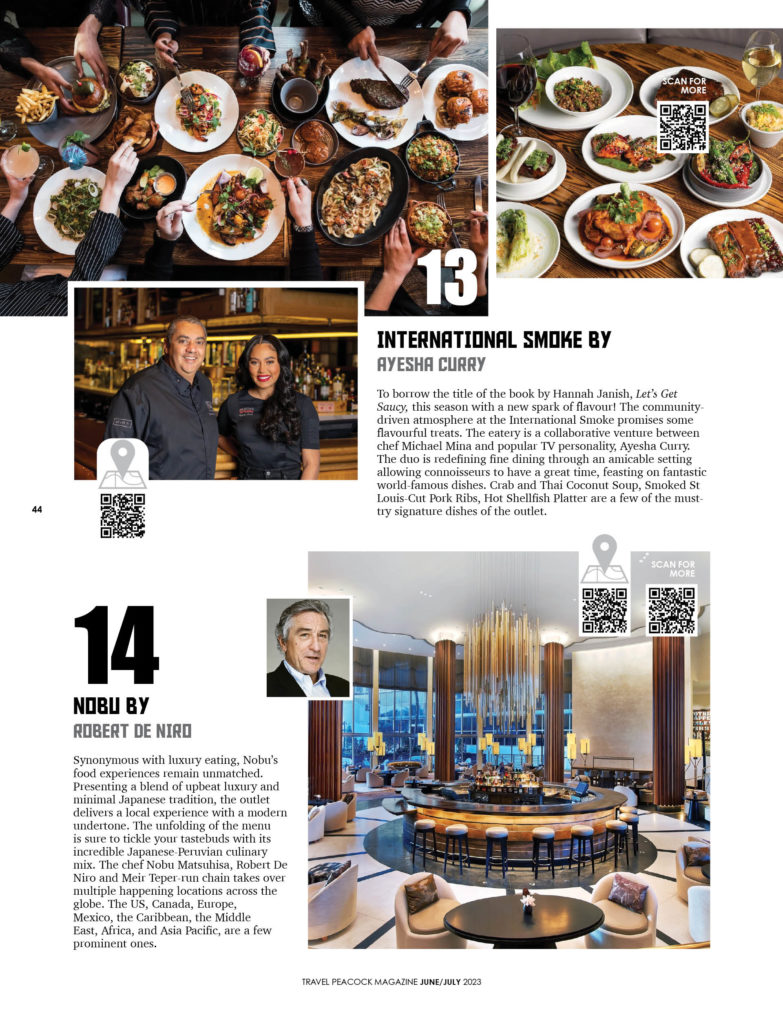 13. International Smoke by Ayesha Curry
To borrow the title of the book by Hannah Janish, Let's Get Saucy, this season with a new spark of flavour! The community-driven atmosphere at the International Smoke promises some flavourful treats. The eatery is a collaborative venture between chef Michael Mina and popular TV personality, Ayesha Curry. The duo is redefining fine dining through an amicable setting allowing connoisseurs to have a great time, feasting on fantastic world-famous dishes. Crab and Thai Coconut Soup, Smoked St Louis-Cut Pork Ribs, Hot Shellfish Platter are a few of the must-try signature dishes of the outlet.
Website: https://internationalsmoke.com/


14. Nobu by Robert De Niro
Synonymous with luxury eating, Nobu's food experiences remain unmatched. Presenting a blend of upbeat luxury and minimal Japanese tradition, the outlet delivers a local experience with a modern undertone. The unfolding of the menu is sure to tickle your tastebuds with its incredible Japanese-Peruvian culinary mix. The chef Nobu Matsuhisa, Robert De Niro and Meir Teper-run chain takes over multiple happening locations across the globe. The US, Canada, Europe, Mexico, the Caribbean, the Middle East, Africa, and Asia Pacific, are a few prominent ones.
Website: https://www.noburestaurants.com/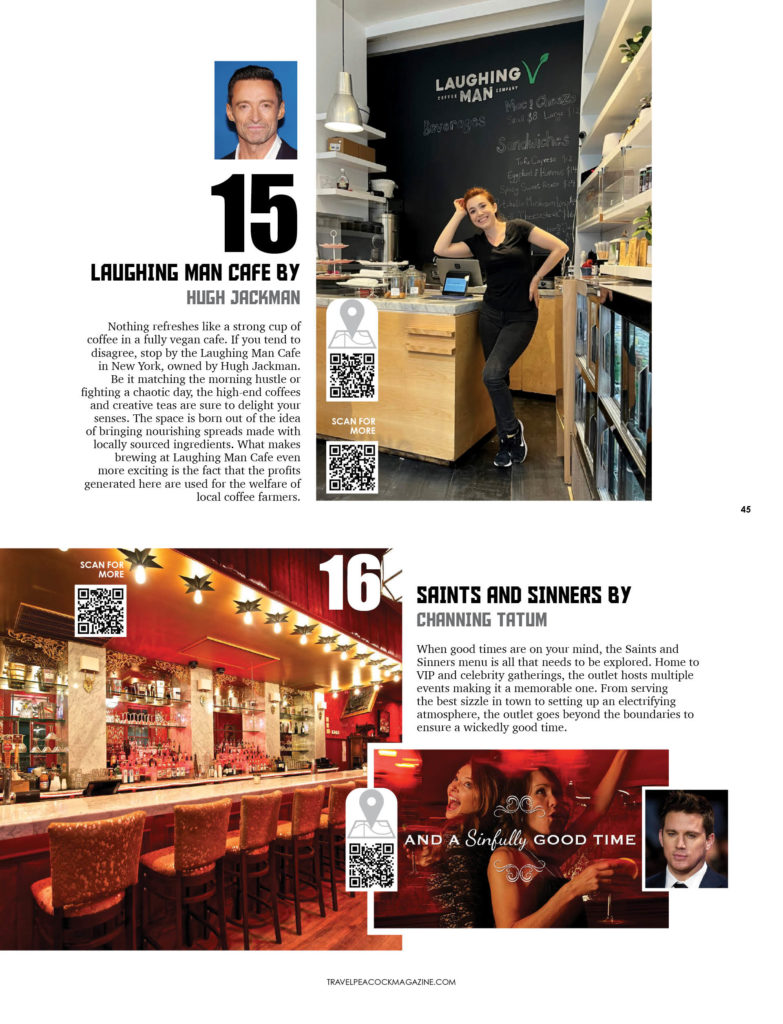 15. Laughing coffee man company by Hugh Jackman
Nothing refreshes like a strong cup of coffee in a fully vegan cafe. If you tend to disagree, stop by the Laughing Man Cafe in New York, owned by Hugh Jackman. Be it matching the morning hustle or fighting a chaotic day, the high-end coffees and creative teas are sure to delight your senses. The space is born out of the idea of bringing nourishing spreads made with locally sourced ingredients. What makes brewing at Laughing Man Cafe even more exciting is the fact that the profits generated here are used for the welfare of local coffee farmers.
Website: https://laughingmancoffee.com/


16. Saints and Sinners by Channing Tatum
When good times are on your mind, the Saints and Sinners menu is all that needs to be explored. Home to VIP and celebrity gatherings, the outlet hosts multiple events making it a memorable one. From serving the best sizzle in town to setting up an electrifying atmosphere, the outlet goes beyond the boundaries to ensure a wickedly good time.
Website: https://saintsandsinnersnola.com/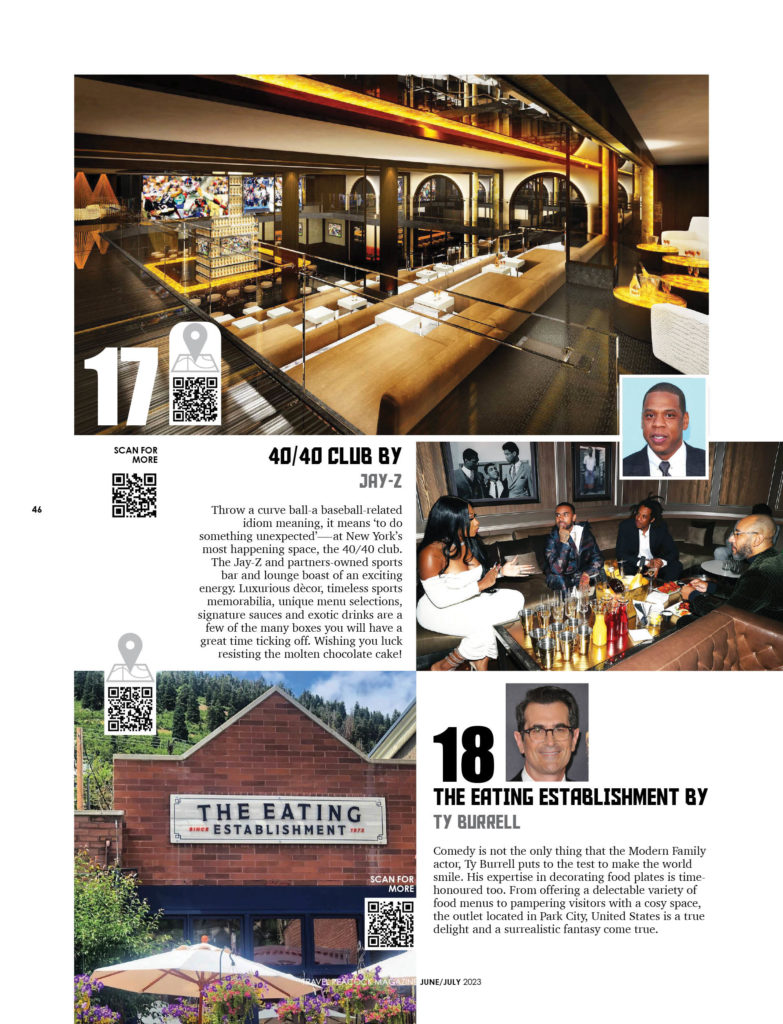 17. 40/40 Club by Jay-Z
Throw a curve ball-a baseball-related idiom meaning, it means 'to do something unexpected'—-at New York's most happening space, the 40/40 club. The Jay-Z and partners-owned sports bar and lounge boast of an exciting energy. Luxurious dècor, timeless sports memorabilia, unique menu selections, signature sauces and exotic drinks are a few of the many boxes you will have a great time ticking off. Wishing you luck resisting the molten chocolate cake!
Website: https://the4040club.com/


18. The eating establishment by Ty Burrell
Comedy is not the only thing that the Modern Family actor, Ty Burrell puts to the test to make the world smile. His expertise in decorating food plates is time-honoured too. From offering a delectable variety of food menus to pampering visitors with a cosy space, the outlet located in Park City, United States is a true delight and a surrealistic fantasy come true.
Website: https://www.theeatingestablishment.net/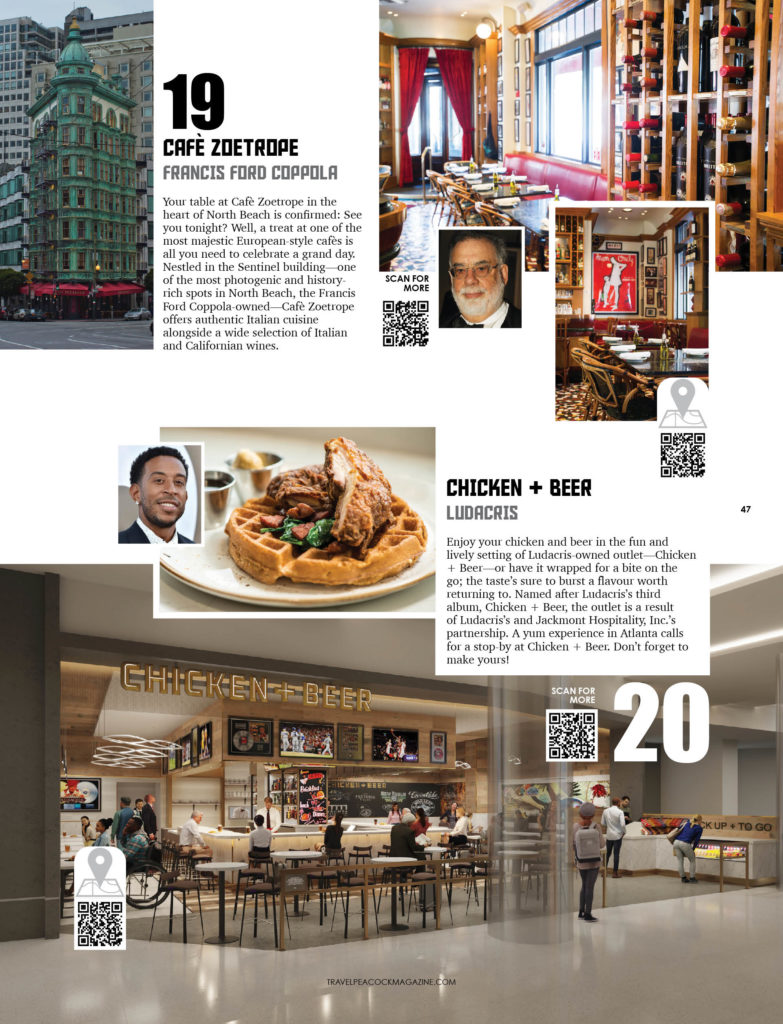 19. Cafè Zoetrope by Francis Ford Coppola
Your table at Cafè Zoetrope in the heart of North Beach is confirmed: See you tonight? Well, a treat at one of the most majestic European-style cafès is all you need to celebrate a grand day. Nestled in the Sentinel building—one of the most photogenic and history-rich spots in North Beach, the Francis Ford Coppola-owned—Cafè Zoetrope offers authentic Italian cuisine alongside a wide selection of Italian and Californian wines.
Website: https://www.cafezoetrope.com


20. Chicken + Beer by Ludacris
Enjoy your chicken and beer in the fun and lively setting of Ludacris-owned outlet—Chicken + Beer—or have it wrapped for a bite on the go; the taste's sure to burst a flavour worth returning to. Named after Ludacris's third album, Chicken + Beer, the outlet is a result of Ludacris's and Jackmont Hospitality, Inc.'s partnership. A yum experience in Atlanta calls for a stop-by at Chicken + Beer. Don't forget to make yours!
Website: https://chickenandbeer.com/