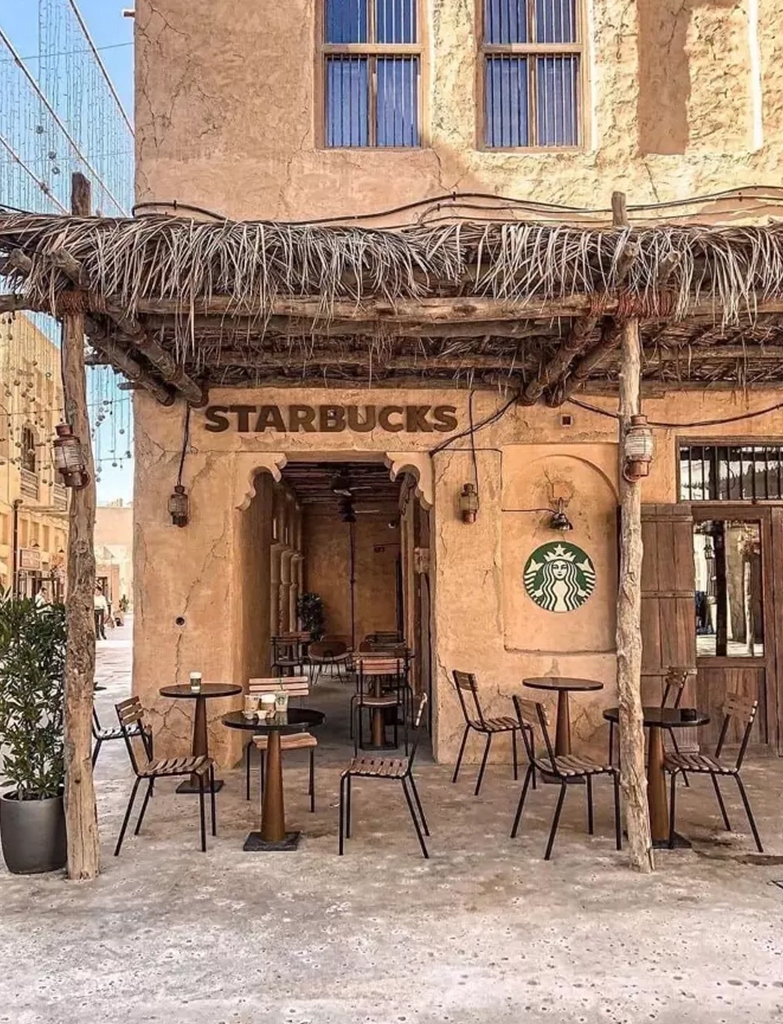 If you happen to be a coffee enthusiast, then it's wise to assume that a visit to Starbucks completes your daily itinerary. This immensely popular coffeehouse chain is globally known for its signature coffee blends and cosy yet beautiful store designs. From historic buildings to modern architecture, Starbucks locations around the world boast some of the most visually stunning, architectural wonders that perfectly blend with their surroundings.
Coffee lovers around the world know that Starbucks is not just a place to grab a cup of coffee, but also one that offers a pleasant experience owing to its unique ambience and aesthetic charm. In this blog, we will take you on a virtual tour featuring some of the most aesthetically pleasing Starbucks locations around the world showcasing their one-of-a-kind captivating designs, striking details, and inspiring concepts.
Get ready to experience the beauty of coffee culture and design as we list down the seven most beautiful Starbucks locations around the world
VALLETTA, MALTA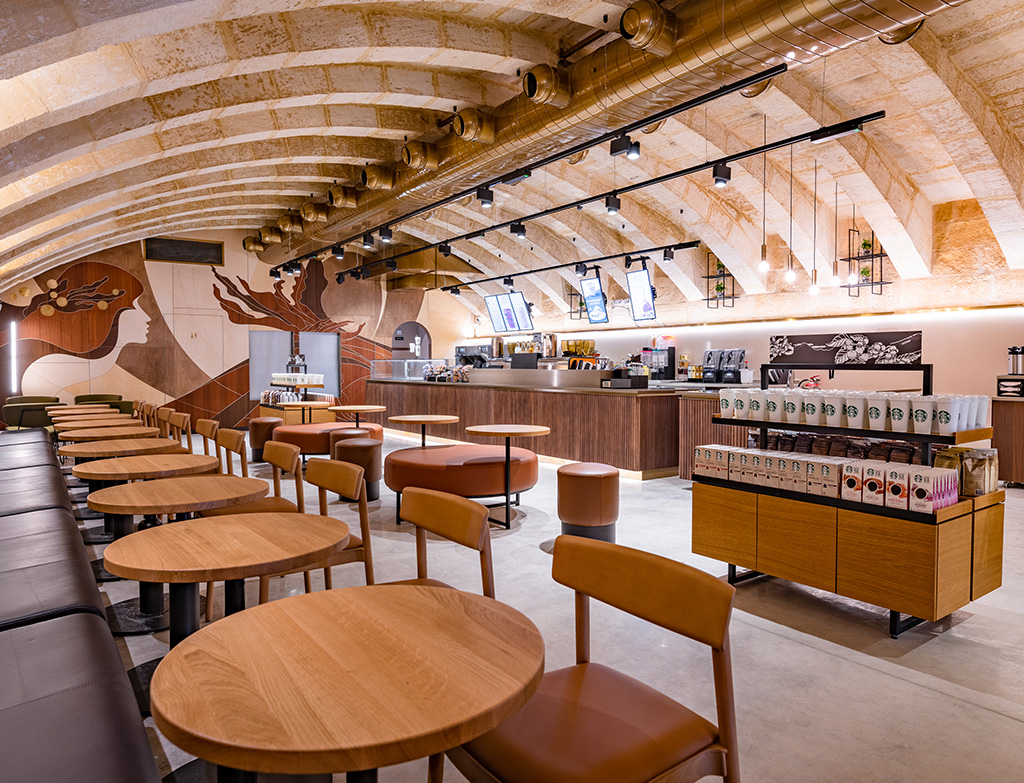 Credits –https://stories.starbucks.com
The Starbucks store in Valletta, Malta, is not just a coffeehouse, but a beautiful architectural masterpiece. The store is housed in a 19th-century palazzo that has been carefully restored to its former glory, with intricate details. The interior features a mix of modern and traditional design elements, creating a cosy and inviting ambience. Along with the breathtaking architecture, the store also serves an array of coffee blends and beverages that are sure to please any coffee enthusiast.
MUMBAI, INDIA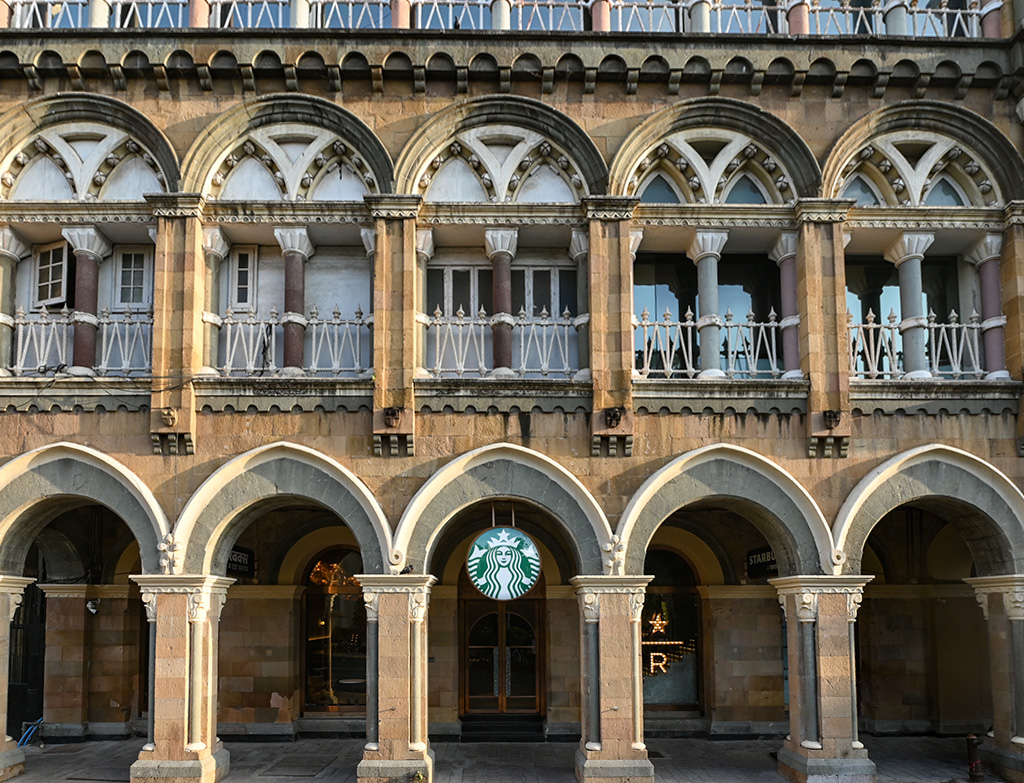 Credits –https://swirlster.ndtv.com
Situated in the heritage area of Mumbai, this outlet is also India's first-ever Starbucks reserve store. From hand-crafted signature logo to beautiful Taj motifs, this coffee shop serves as the ultimate design utopia. the Starbucks shop boasts spectacular architectural virtuoso combined with traditional Indian elements, creating a unique and inviting atmosphere. From its grand arched entrance to its intricate wooden screens, the coffee shop's structure is a true masterpiece. Along with all the architectural marvel, the coffee shop flaunts a vibrant and lively art mural and the customers can bring this art to life by digitally enabling it through a phone scan.
GRAND TURK, TURKS AND CAICOS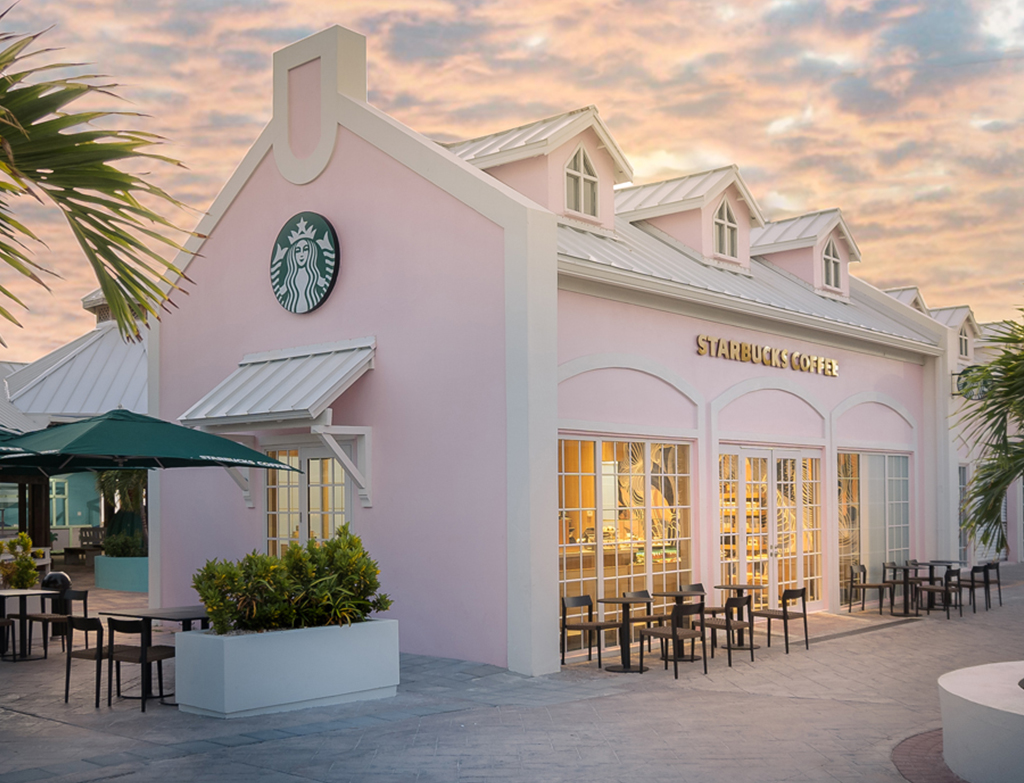 Credits –https://stories.starbucks.com
The Starbucks store located in Grand Turk on the Turks and Caicos Island is a scenic location that is revered for its fascinating architecture and some great coffee! Situated in the Grand Turk Cruise Center, the coffee shop offers crystal clear waters of the Caribbean Sea. The interior features a clean and modern design with comfortable seating areas. Along with pure architectural bliss, the store flaunts an extensive range of coffee blends that are sure to please your coffee lover's palate.
KETCHUM, IDAHO, USA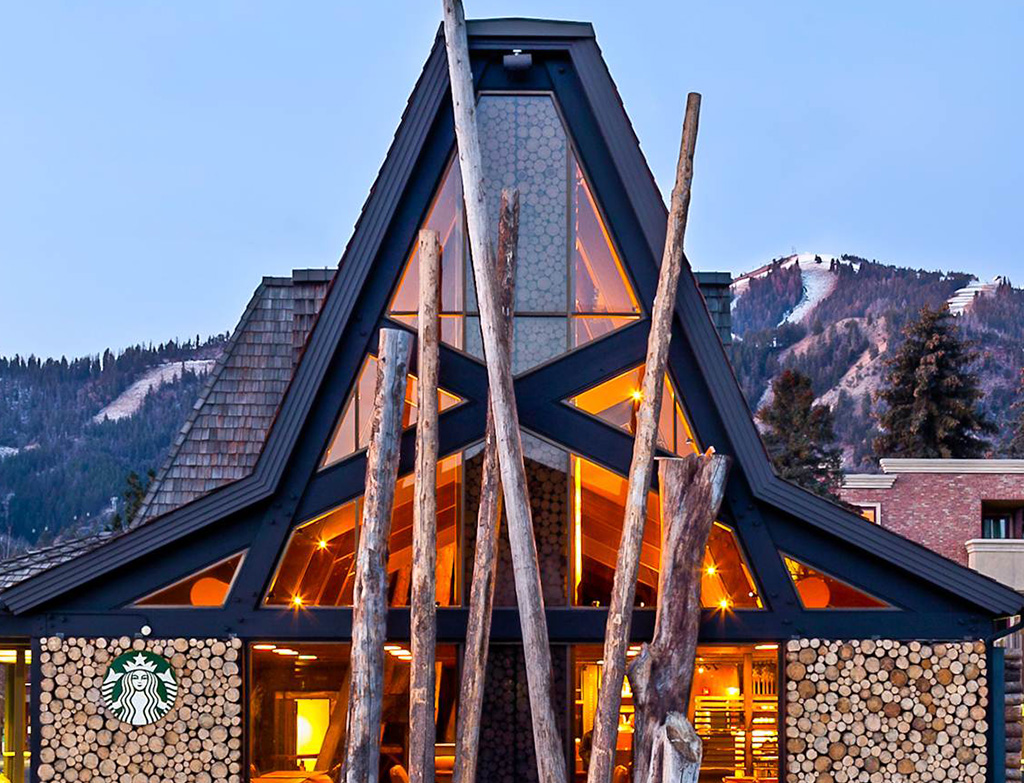 Credits –https://stories.starbucks.com
Voted as one of the most beautiful Starbucks stores in the world since 2016, this unique outlet in Ketchum, Idaho, is simply a fabulous destination and the only ski-themed Starbucks store in the world. The store is situated in a historic building and it still retains its classic façade. While the exteriors of the store are vintage, its interiors feature a sleek, modern design with comfortable seating spaces, a cosy fireplace, and warm lighting. Along with the stunning architecture, the store offers a variety of coffee blends and beverages that are sure to delight the coffee connoisseur in you. Visit this coffee shop to experience the historic charm and for a soothing cup of coffee in Ketchum.
SAVANNAH, GEORGIA, USA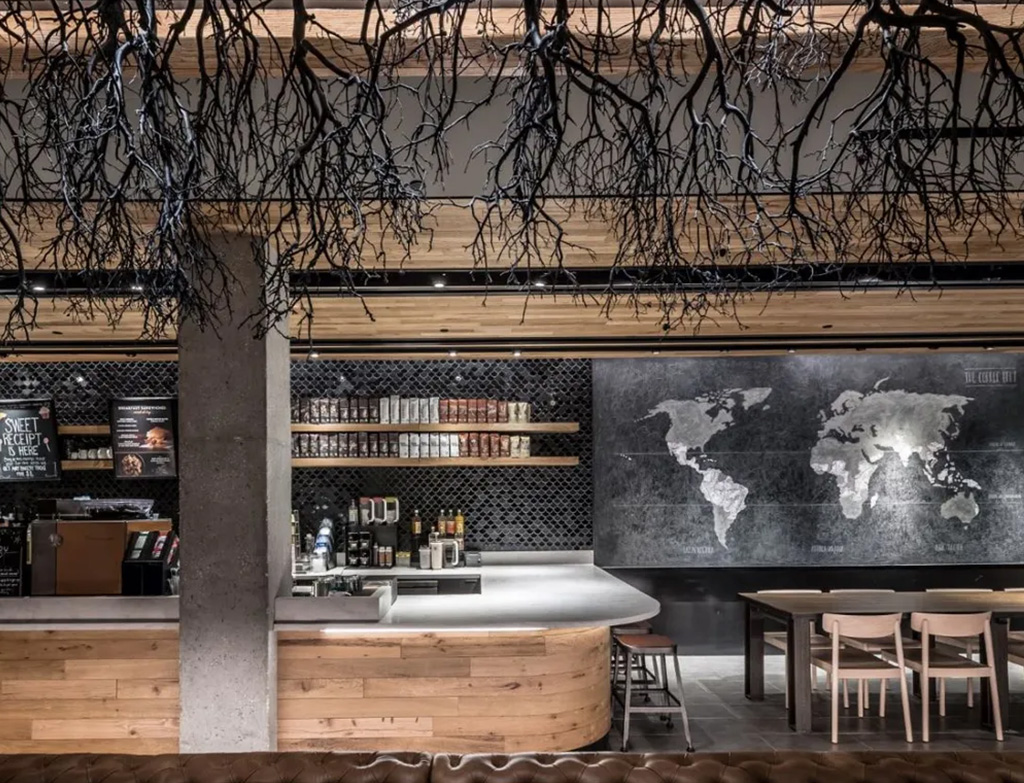 Credits –https://www.architecturaldigest.in
Another entry from the US is this gorgeous Starbucks store located in Savannah, Georgia, The store is housed in a beautifully restored 1900s building that features exposed brick walls, high ceilings, and a spacious layout showcasing a lovely blend of modern design and historic architecture. Placed in the heart of Savannah's legendary district, it is surrounded by gorgeous oak trees draped in Spanish moss, which provide a scenic, natural backdrop to the coffee shop. The trees and the neighbouring historic buildings add to the charm and beauty of the store's location Starbucks at Savannah offers a variety of enticing coffee brews that are sure to please any coffee lover's taste buds.
MARSA AL SEEF, DUBAI, UAE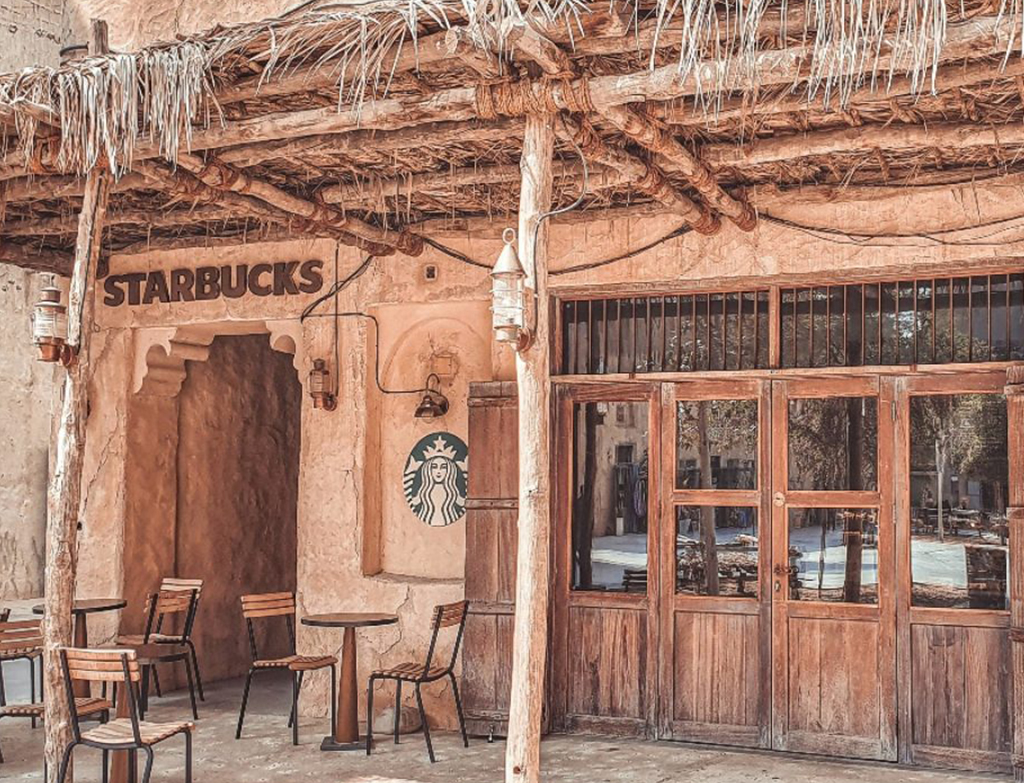 Credits –https://community.weddingwire.in
This Starbucks store in Al Seef, Dubai is a striking example of contemporary design fused with traditional Arabian architecture. The store's interior is decorated with intricate details, including traditional wooden screens, brass fixtures, and geometric patterns that pay homage to the local culture. The design is intended to blend seamlessly with the historic Al Seef district while still offering the familiar Starbucks experience. Its prime locale and captivating design make it a must-visit destination for coffee lovers and those looking to experience the rich heritage of Dubai.
ANTIGUA, GUATEMALA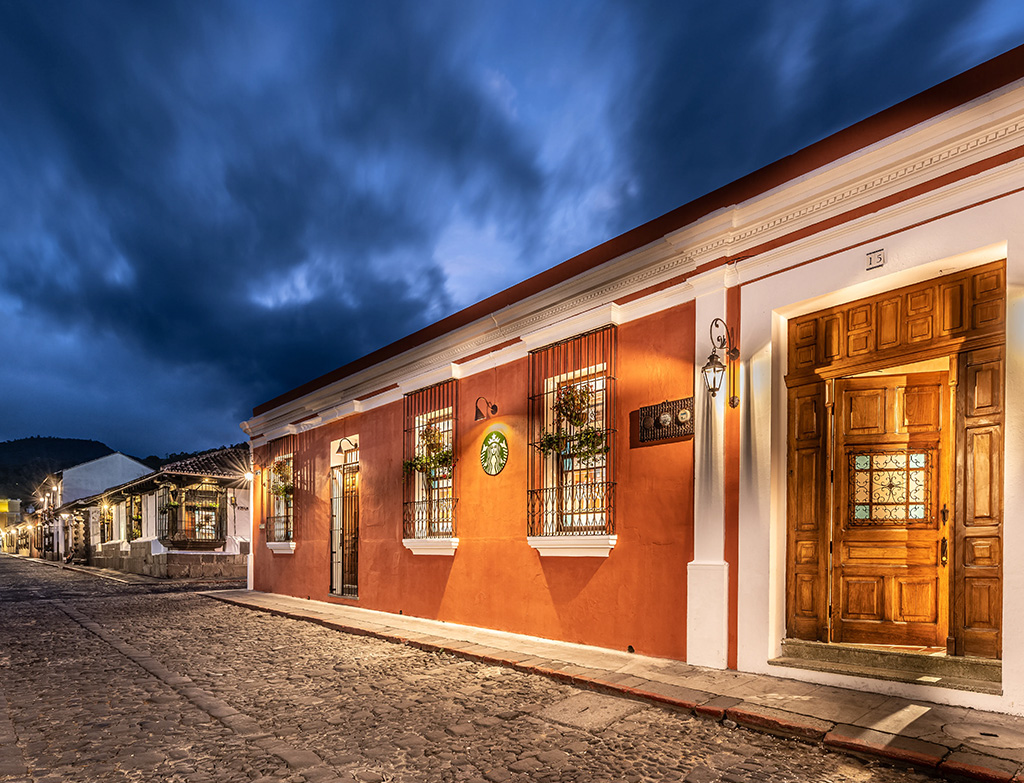 Credits –https://historias.starbucks.com
If you wish to have a tantalizing cup of coffee whilst embraced by a timeless backdrop, then this quaint coffee shop the Antigua Starbucks shop is the ultimate place for you. This quaint coffee store in Guatemala is located in a 500-year-old Spanish colonial building, once home to a bishop. The historic shop flaunts a fascinating colonial structure with its high ceilings, colourful tiles, and rustic wooden beams that create a pleasant atmosphere. From the smooth and rich Guatemala Antigua to the vibrant and zesty Guatemala Huehuetenango, the coffee selection offers a flavorful symphony of local flavours.


Add to favorites