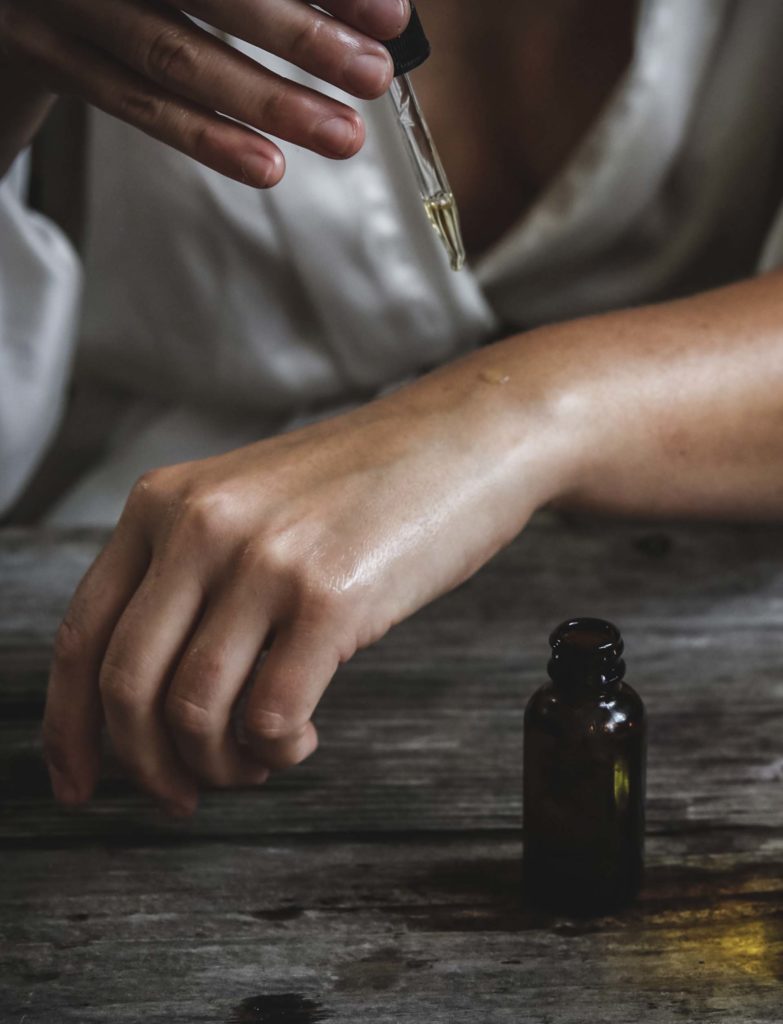 Mostly used in Aromatherapy and as food for your skin, essential oils are compound extracts that are obtained from plants through distillation or other methods such as cold pressing. The extracted substance is combined with a carrier oil to be then used by the customers. The many health benefits that come with their usage make them so popular.


6 Essential oils that should be a part of your travel kit –
Tea tree oil
Having antiseptic properties, it is used to fight infections and boost immunity. It helps cure acne and its' scars and at the same time reduces redness and inflammation.
Peppermint oil
This multipurpose oil is known for its cooling properties and can be applied on irritated, itching skin and aching muscles. It is quite effective for headaches, common colds and as a mouthwash for fresher breathing. Having a pleasant scent it can be infused with soaps, cosmetic products, and a flavoring agent in certain food items.
Lavender oil
The oil that calms you down? Yes, it exists! Whether you want a sound sleep or to create an atmosphere of wellness, lavender oil is useful for treating insomnia, anxiety, depression, and restlessness. The properties of this make it must-have travel essential for all the jet lags and long flights.
Rosemary oil
Rosemary is not just known for cooking now, this herb can be used to prevent signs of aging, hydrate the skin and reduce hair fall while nourishing the scalp and giving your hair an element of shine. The refreshing woody fragrance instantly revives you and is an important addition to your skin and hair care travel routine.
Eucalyptus oil
Woody and sweet-scented oil, it works as a great mosquito repellent. Being a key ingredient in vapor rubs it is used to clear cold sores while supporting mental focus and clarity. It can be applied directly or put in a diffuser but the results are efficient making this essential oil quite essential.
Argan Oil
Native to Morocco, this oil is found in a number of cosmetic products. It is also available in the form of supplements that can be taken orally. It reduces stretch marks and oiliness along with being an effective product for cuticle care and protection from the damage of the sun.


List of 5 brands from which one can purchase these essential oils –

Mountain Rose Herbs
Located in Eugene, Oregon the brand was started by Rosemary Gladstar in 1987. They keep a wide range of essential oils along with diffusers and other products such as herbs, spices, and teas. They have earned prestigious awards that testify to their quality and the brand only accepts returned goods when you visit their headquarters in person.
https://mountainroseherbs.com
Public Goods
A New York based brand that is committed to making conscious products that are healthier for the mind, body, and skin. The packaging is simple and minimal and they sell a wide range of items that will cover all your household and personal care needs. They have all the essential oils that can be bought individually or in a set.
www.publicgoods.com
Eden's Garden
Harvesting sustainably from soil to bottle, it was founded in 2009. A good family-owned brand to stock up on all the essential oils you need. They cater to special products such as oils for kids, carrier oils, and blended and single oils. Keeping the quality in mind they also have convenient packaging in different sizes and in the shape of a roll-on or spray to make your life easy while travelling.
www.edensgarden.com
Aura Cacia
Free of color, fragrance, and synthetic preservatives, they have a premium and organic line of essential oils in amber-tinted bottles. It is one of the most reputed brands in Norway and some amount from every purchase goes to organizations that help women and girls transform their lives. Apart from oils they also keep a variety of bath salts, mists, and skin care products. The top-notch quality has been able to sustain them for a long time in the business.
www.auracacia.com
Vitruvi
Vitruvi is a baby of the sibling duo Sara and Sean Panton who believe in being surrounded by clean air. A design-forward, plant-based and people-driven brand its products are GMO-free, non-toxic, and pesticide-free. They never test any unit on animals and believe in transparency. The packaging is vintage and attractive in black and white which will make your hands reach out to it for sure.
https://vitruvi.com