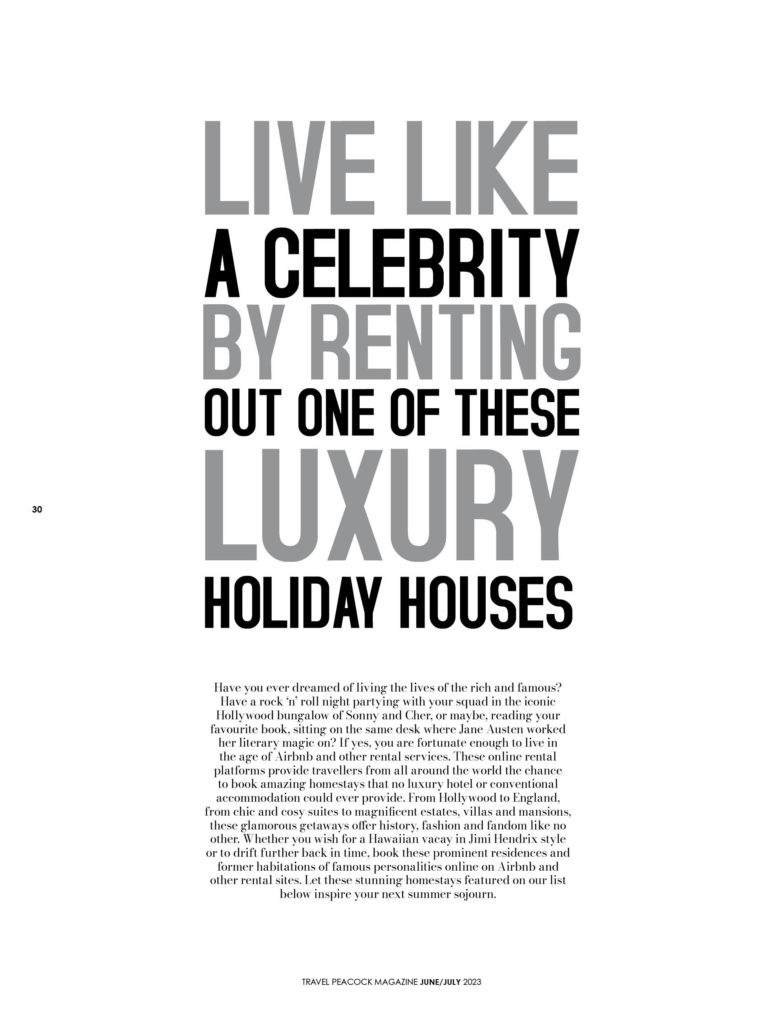 Have you ever dreamed of living the lives of the rich and famous? Have a rock 'n' roll night partying with your squad in the iconic Hollywood bungalow of Sonny and Cher, or maybe, reading your favourite book, sitting on the same desk where Jane Austen worked her literary magic on? If yes, you are fortunate enough to live in the age of Airbnb and other rental services. These online rental platforms provide travellers from all around the world the chance to book amazing homestays that no luxury hotel or conventional accommodation could ever provide. From Hollywood to England, from chic and cosy suites to magnificent estates, villas and mansions, these glamorous getaways offer history, fashion and fandom like no other. Whether you wish for a Hawaiian vacay in Jimi Hendrix style or to drift further back in time, book these prominent residences and former habitations of famous personalities online on Airbnb and other rental sites. Let these stunning homestays featured on our list below inspire your next summer sojourn.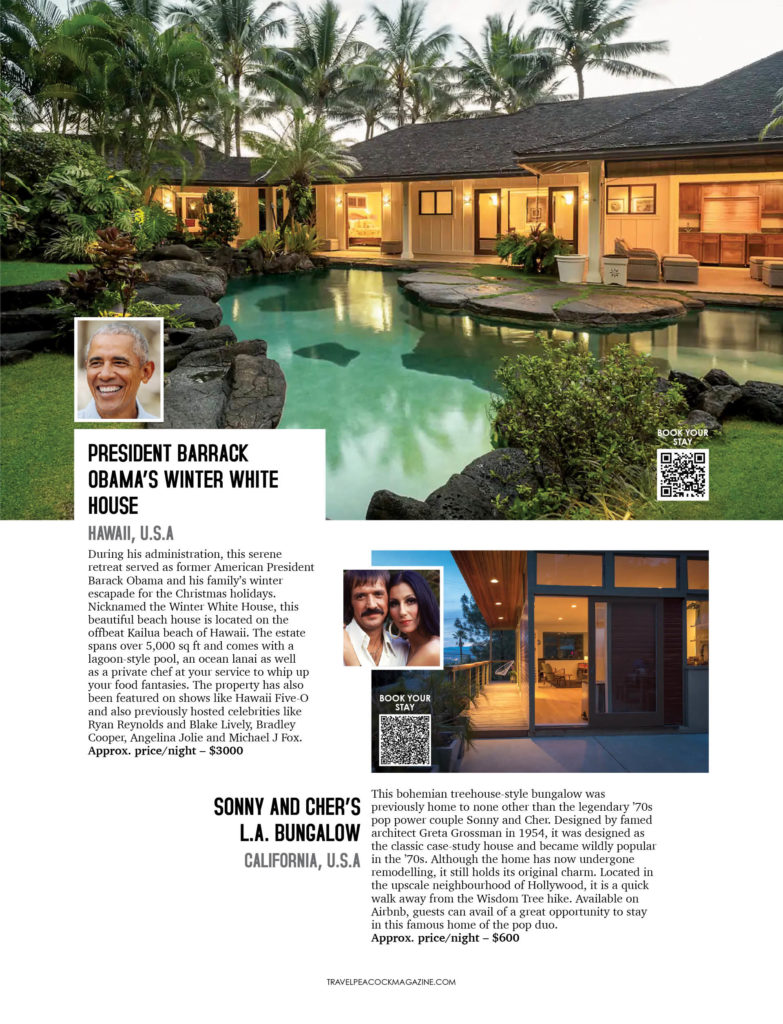 President Barack Obama's Winter White House, Hawaii, the US
During his administration, this serene retreat served as former American President Barack Obama and his family's winter escapade for the Christmas holidays. Nicknamed the Winter White House, this beautiful beach house is located on the offbeat Kailua beach of Hawaii. The estate spans over 5,000 sq ft and comes with a lagoon-style pool, an ocean lanai as well as a private chef at your service to whip up your food fantasies. The property has also been featured on shows like Hawaii Five-O and also previously hosted celebrities like Ryan Reynolds and Blake Lively, Bradley Cooper, Angelina Jolie and Michael J Fox.
Rates start at approx. $3,000/night.
Book your stay: Paradise Point Estates

Sonny and Cher's LA Bungalow – California, the US
This bohemian treehouse-style bungalow was previously home to none other than the legendary '70s pop power couple Sonny and Cher. Designed by famed architect Greta Grossman in 1954, it was designed as the classic case-study house and became wildly popular in the '70s. Although the home has now undergone remodelling, it still holds its original charm. Located in the upscale neighbourhood of Hollywood, it is a quick walk away from the Wisdom Tree hike. Available on Airbnb, guests can avail of a great opportunity to stay in this famous home of the pop duo.
Rates start at approx. $600/ night
Book your stay: https://www.airbnb.com/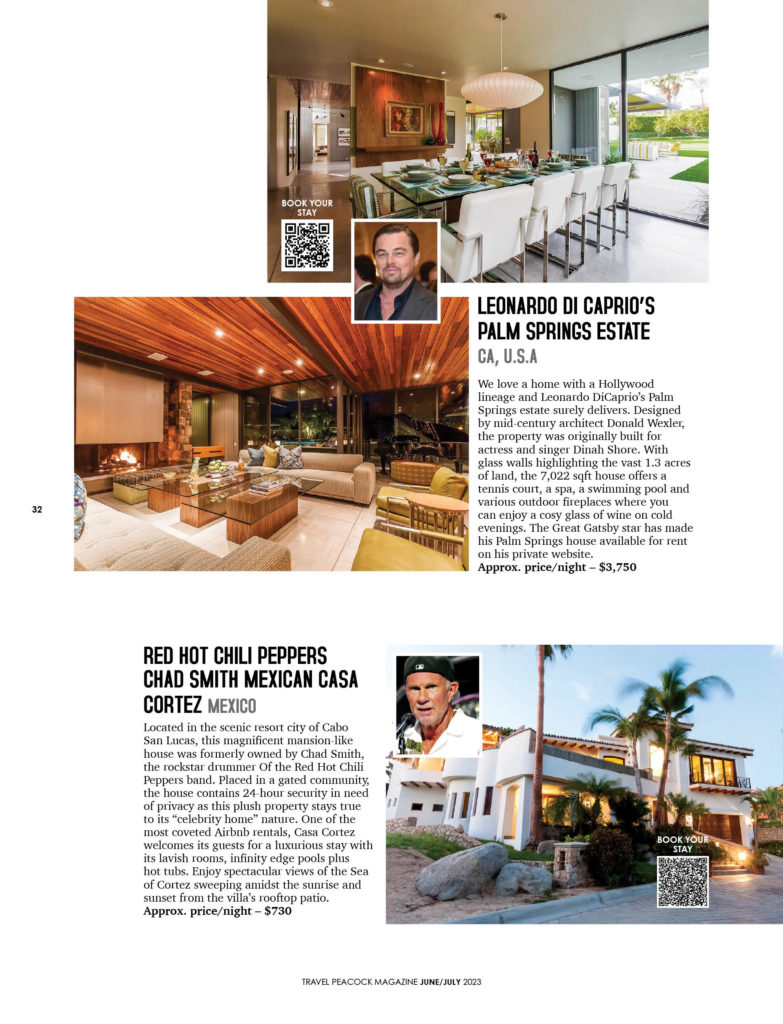 Leonardo DiCaprio's Palm Springs Estate, CA, the US
We love a home with a Hollywood lineage and Leonardo DiCaprio's Palm Springs estate surely delivers. Designed by mid-century architect Donald Wexler, the property was originally built for actress and singer Dinah Shore. With glass walls highlighting the vast 1.3 acres of land, the 7,022 sqft house offers a tennis court, a spa, a swimming pool and various outdoor fireplaces where you can enjoy a cosy glass of wine on cold evenings. The Great Gatsby star has made his Palm Springs house available for rent on his private website.
Rates start at approx. $3,750/night.
Book your stay: 432 Hermosa – Palm Springs

Red Hot Chili Peppers' Chad Smith's Mexican Casa Cortez, Mexico
Located in the scenic resort city of Cabo San Lucas, this magnificent mansion-like house was formerly owned by Chad Smith, the rockstar drummer Of the Red Hot Chili Peppers band. Placed in a gated community, the house contains 24-hour security in need of privacy as this plush property stays true to its "celebrity home" nature. One of the most coveted Airbnb rentals, Casa Cortez welcomes its guests for a luxurious stay with its lavish rooms, infinity edge pools plus hot tubs. Enjoy spectacular views of the Sea of Cortez sweeping amidst the sunrise and sunset from the villa's rooftop patio.
Rates start at approx. $730/night
Book your stay: https://www.airbnb.com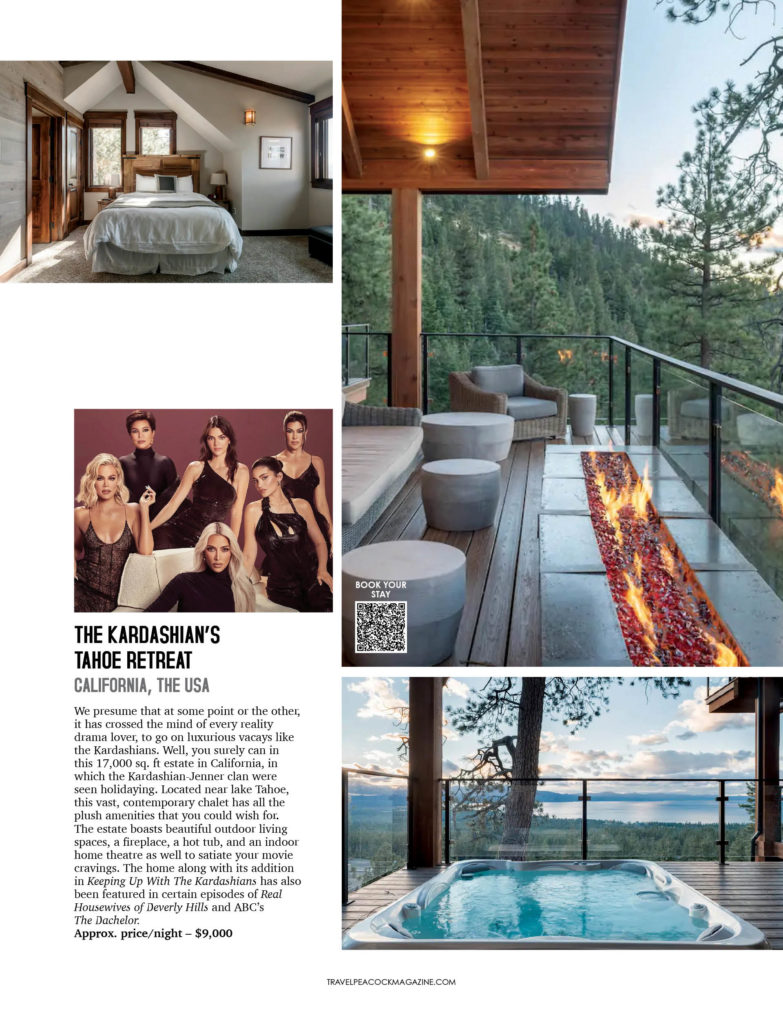 The Kardashian's Tahoe Retreat – California, the USA
We presume that at some point or the other, it has crossed the mind of every reality drama lover, to go on luxurious vacays like the Kardashians. Well, you surely can in this 17,000 sq. ft estate in California, in which the Kardashian-Jenner clan were seen holidaying. Located near lake Tahoe, this vast, contemporary chalet has all the plush amenities that you could wish for. The estate boasts beautiful outdoor living spaces, a fireplace, a hot tub, and an indoor home theatre as well to satiate your movie cravings. The home along with its addition in Keeping Up With The Kardashians has also been featured in certain episodes of Real Housewives of Beverly Hills and ABC's The Bachelor.
Rates start at approx. $ 9,000/night
Book your stay: https://www.airbnb.co.in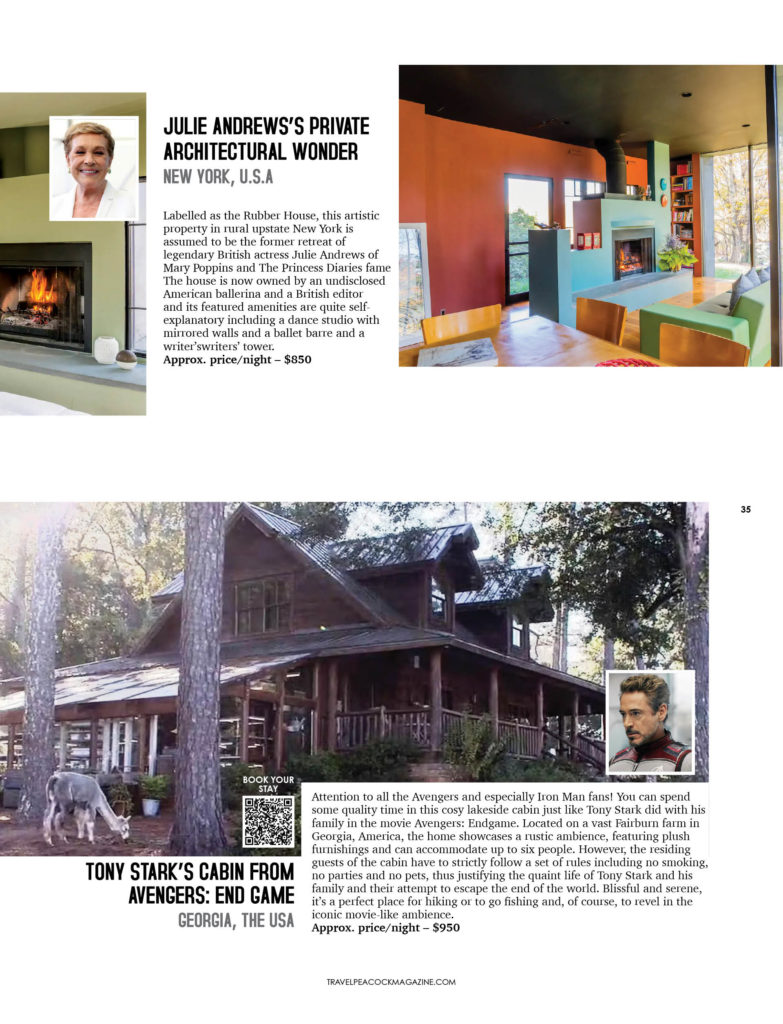 Julie Andrews's Private Architectural Wonder – New York, the US
Labelled as the Rubber House, this artistic property in rural upstate New York is assumed to be the former retreat of legendary British actress Julie Andrews of Mary Poppins and The Princess Diaries fame The house is now owned by an undisclosed American ballerina and a British editor and its featured amenities are quite self-explanatory including a dance studio with mirrored walls and a ballet barre and a writer'swriters' tower.
Rates start at approx. $850/night
Book your stay: https://www.airbnb.com

Tony Stark's Cabin from Avengers: End Game – Georgia, the USA
Attention to all the Avengers and especially Iron Man fans! You can spend some quality time in this cosy lakeside cabin just like Tony Stark did with his family in the movie Avengers: Endgame. Located on a vast Fairburn farm in Georgia, America, the home showcases a rustic ambience, featuring plush furnishings and can accommodate up to six people. However, the residing guests of the cabin have to strictly follow a set of rules including no smoking, no parties and no pets, thus justifying the quaint life of Tony Stark and his family and their attempt to escape the end of the world. Blissful and serene, it's a perfect place for hiking or to go fishing and, of course, to revel in the iconic movie-like ambience
Rates start at approx. $ 950 per night
Book your stay: https://www.airbnb.com/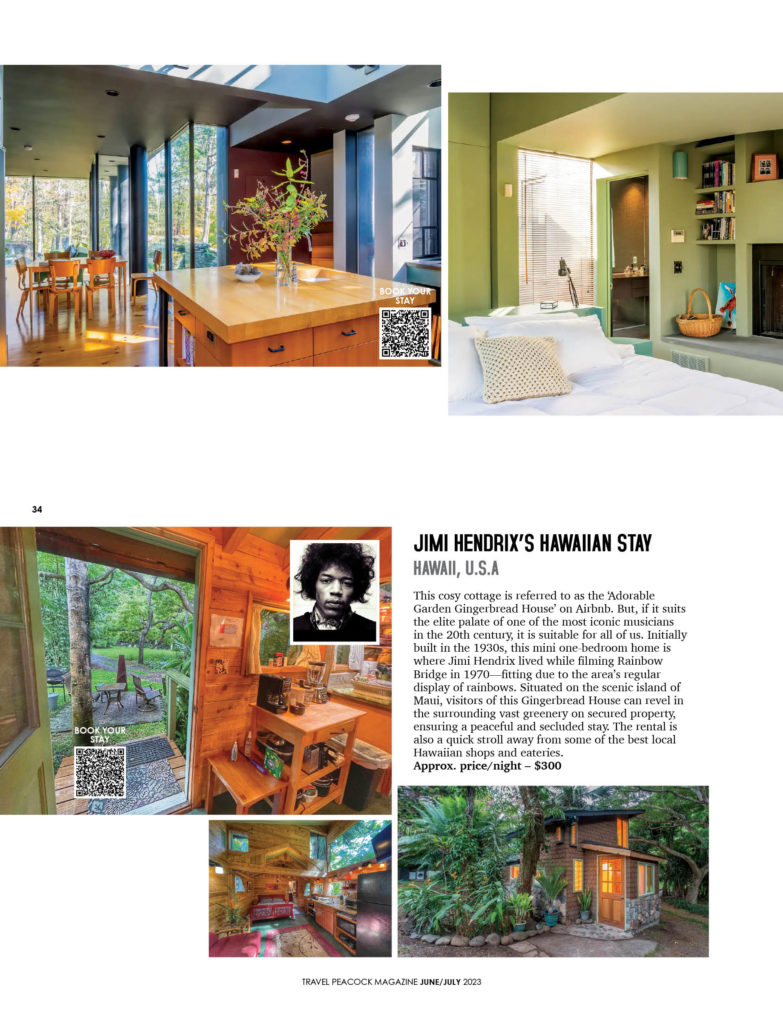 Jimi Hendrix's Hawaiian Stay – Hawaii, the US
This cosy cottage is referred to as the 'Adorable Garden Gingerbread House' on Airbnb. But, if it suits the elite palate of one of the most iconic musicians in the 20th century, it is suitable for all of us. Initially built in the 1930s, this mini one-bedroom home is where Jimi Hendrix lived while filming Rainbow Bridge in 1970—fitting due to the area's regular display of rainbows. Situated on the scenic island of Maui, visitors of this Gingerbread House can revel in the surrounding vast greenery on secured property, ensuring a peaceful and secluded stay. The rental is also a quick stroll away from some of the best local Hawaiian shops and eateries.
Rates start at approx. $300/per night
Book your stay: https://www.airbnb.co.in