If you are on the lookout for a perfect place to escape and unwind from the hassles of everyday life, how about a luxurious jacuzzi with a stunning backdrop? Jacuzzis have become increasingly popular around the world. These relaxing and therapeutic tubs have become more than just a luxury item in many homes and hotels. They are seen as a symbol of indulgence and self-care. In India, multiple luxurious hotels and resorts have incorporated jacuzzis into their plush list of amenities, allowing guests to relax in comfort while surrounded by lavish surroundings. Overall, Jacuzzis have become a symbol of luxury and indulgence. These luxuriously best Jacuzzis in India have become favourites of travellers who want to add more to their holiday experience. These best jacuzzi bathtubs are about more than just relaxation; they are about connecting with nature and finding peace while surrounded by the most opulent of settings. Here are the top 6 best jacuzzis in India.
TAJ LAKE PALACE, UDAIPUR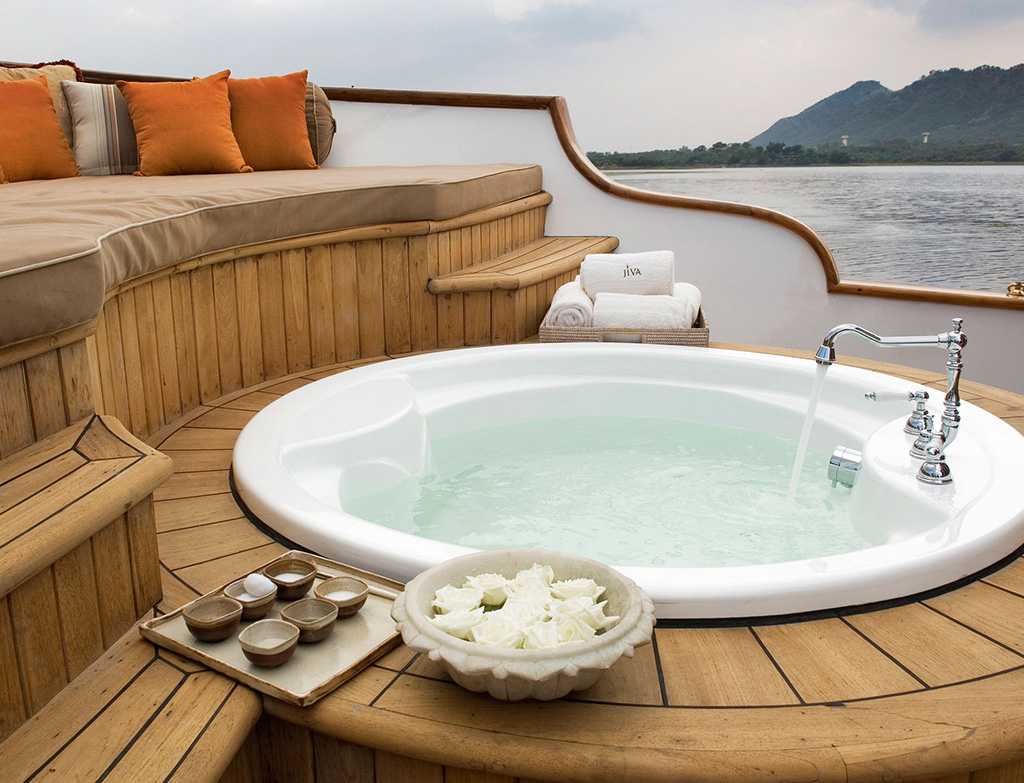 This palatial estate in Udaipur has been a symbol of luxury since its inception. The Taj Lake Palace boasts grandiose amenities especially its in-room jacuzzis have made it a popular destination for honeymooners and luxury enthusiasts alike. This is one of the best jacuzzi hotels in India and the jacuzzis in the rooms are built in a way that gives guests a scenic view of Udaipur Lake and offers a moment of tranquil indulgence along with opulent comfort.
SAFFRONSTAYS ALTHEA, LONAVLA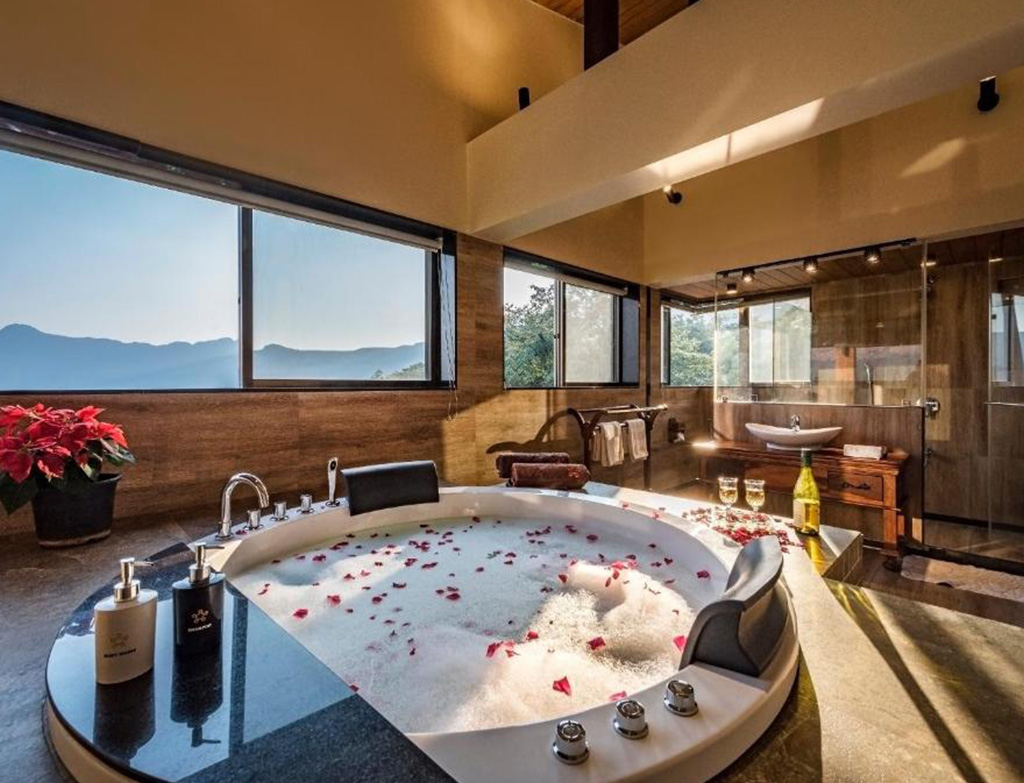 Situated on the luscious, natural abundance in Lonavla, is the beautiful Mantra resort with world-class amenities. Ranked as one of the topmost jacuzzi hotels in India, The luxury resort features a Jacuzzi that offers a stunning view of the hills and the beautiful, lush forest around. You can sink into the warm waters while watching the sun go down and feel your stress and tension melt away
WINDFLOWER RESORT AND SPA VYTHIRI, VYTHIRI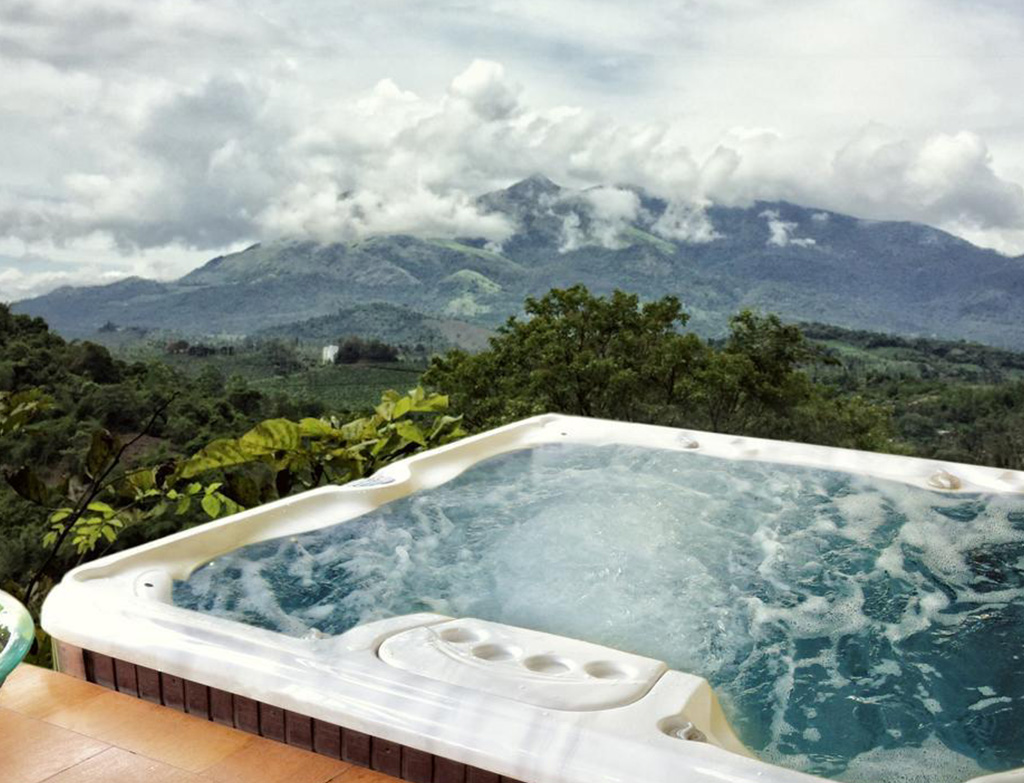 https://the-windflower-resort-spa-vythiri-in.booked.net
The Windflower Resort and Spa Vythiri Resort is a beautiful property in Western Ghats' heart. It features a luxury Jacuzzi that overlooks the lush forest of Vythiri. Guests can enjoy the natural surroundings sound and let the jacuzzi's soothing waters work their magic.
SUNSET ON THE LAKE, IGATPURI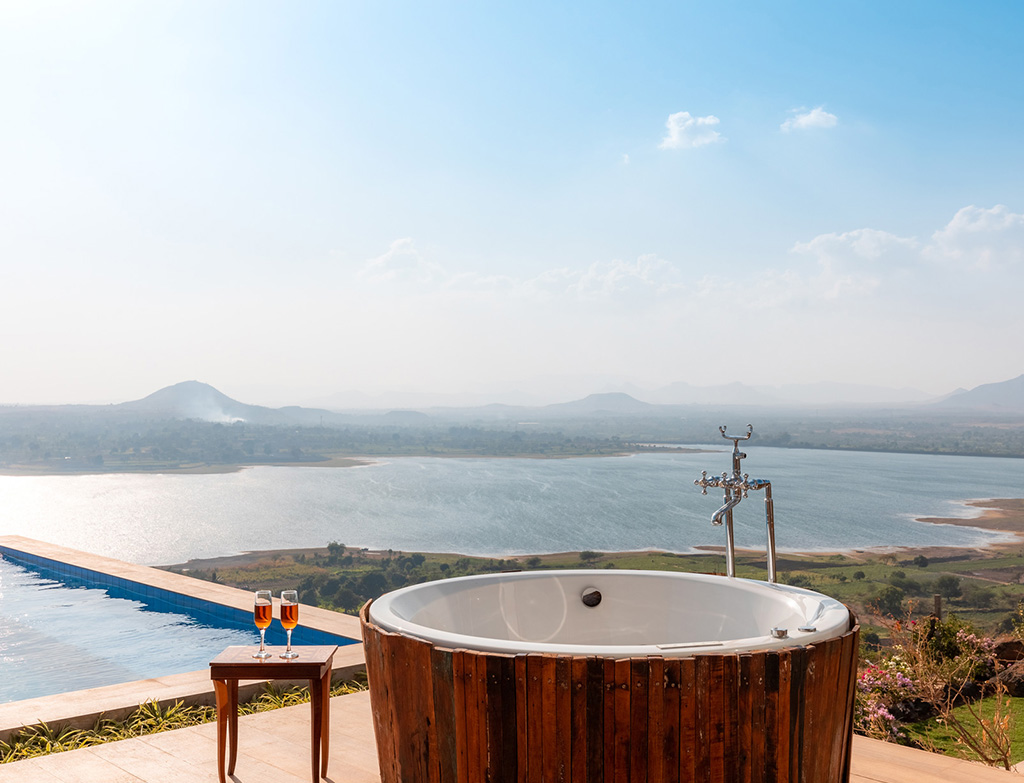 This luxury homestay in Igatpuri offers a fabulous escape from the bustling chaos of city life. Sunset on the Lake features a plush, private Jacuzzi that gives you stunning vistas of the surrounding Darna Dam and the lush green valleys. This timber-clad jacuzzi is also surrounded by giant palm trees and manicured gardens, which makes it an idyllic place for relaxation and rejuvenation.
RAMATHRA FORT, KARAULI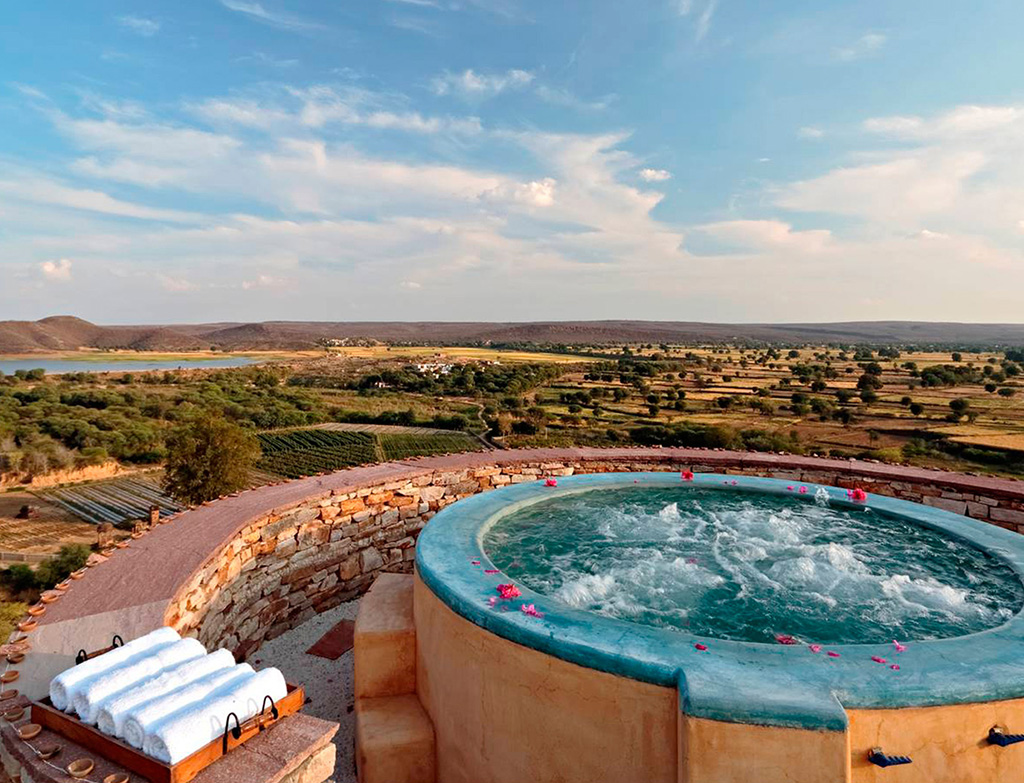 Located in Karauli, Rajasthan, the Ramathra Fort is a beautiful hotel and certainly among the best jacuzzi hotels in India, and is popular for its luxurious amenities. The hotel features a grand Jacuzzi that is sure to give guests an experience of opulence. The Jacuzzi is set up in a way that gives an uninterrupted view of the Aravalli mountains and the beautiful countryside
PINE STATE, SHIMLA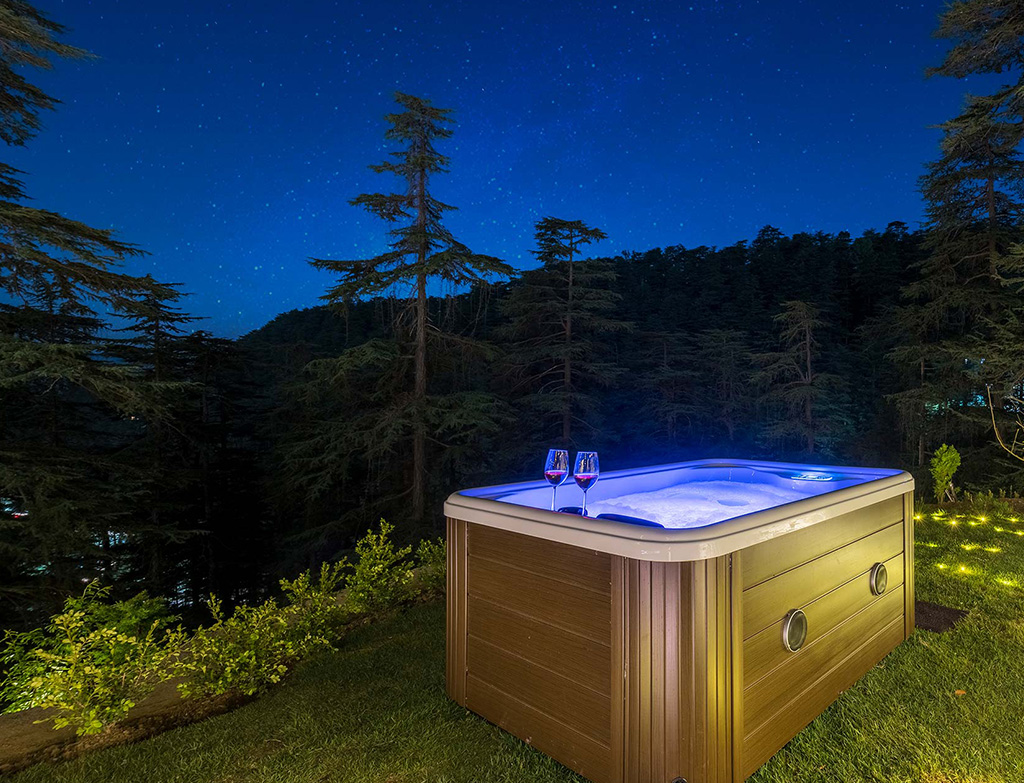 This well-known resort is nestled amidst the scenic hills of Shimla. The Pine State resort features a luxury Jacuzzi that encapsulates guests in a warm cocoon of indulgence. The Jacuzzi gives an immaculate view of the natural beauty of the surrounding area, and its modern styling perfectly complements the stunning architecture of the resort, making it shine as one of the best jacuzzi hotels in India.