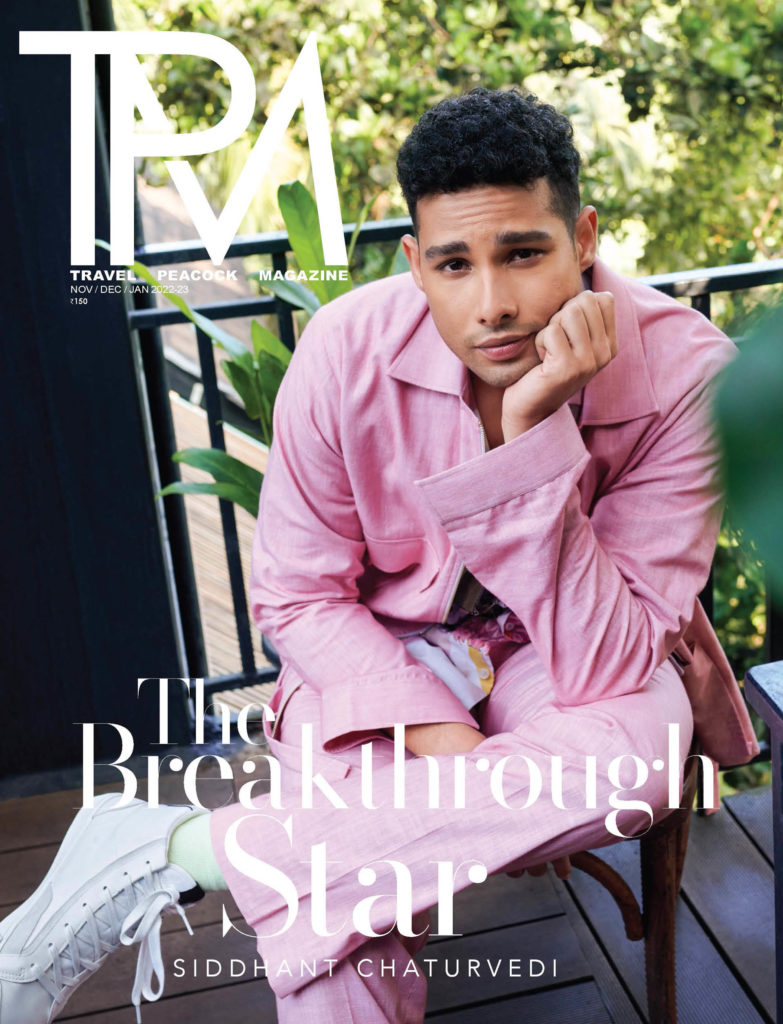 CREDITS-
Photographer – Vaishnav Praveen
Stylist – Mohit Rai
Assisted by – Ruchi Krishna
Makeup – Poonam Surve
Hairstylist – Gautam Arora
Location courtesy – Casa Waters, Goa
Jewellery – Falguni Shane Peacock, Outhouse, Carillon Jewel, House of Shikha
Shoes – Christian Louboutin & Zara
Sunglasses – Zara
Artist's Management Agency – Spice
Wardrobe – Falguni Shane Peacock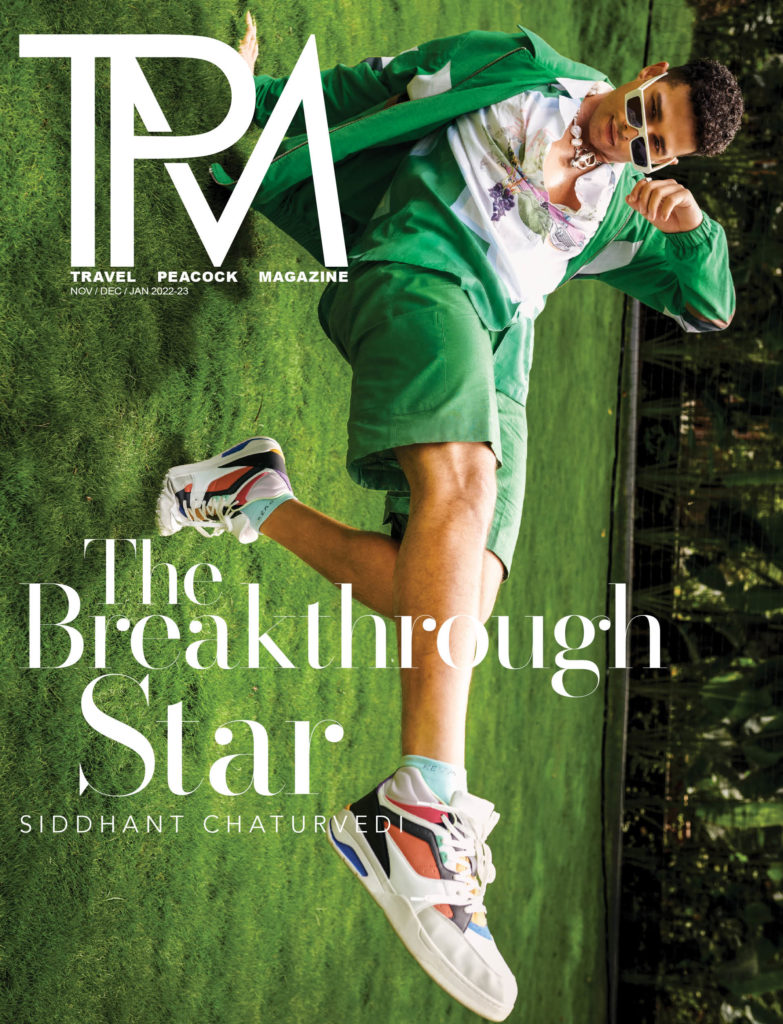 'Range' is one of the first words that come to our mind, almost instantly, when we think about Siddhant Chaturvedi. The range of films and shows he has done, the range of emotions we've seen him deliver when he portrayed the roles that he has, the range of co-stars he worked with and learned a thing or two from (he tells us more about this in the interview that follows) and ultimately the range of countries and cities he has travelled to (although he has a soft spot for the mountains)—we see a spectrum and immense diversity in everything that Chaturvedi brings to the table.
The chartered accountant-turned-actor credits his professional studies as the fuel to pursue his passion for acting, his desire to be in the spotlight and blaze screens—big or small—with his performances. It was his hard work, gusto and zeal that he imbibes from Mumbai city's 'undying spirit' that landed him the roles that earned him rave reviews. But he doesn't rest on his laurels. He considers this to be just the beginning—making us, the audience of his impeccable acting skills, sit up and watch out in anticipation for every move he is slated to make.
But for the first anniversary issue of the Travel Peacock Magazine, we go beyond the actor that Chaturvedi is. We got him to give us a glimpse of the free-spirited soul he has nurtured and the adrenaline junkie that he is. He happily obliges and speaks to us about his good ol' childhood days when watching Ram-Leela in his hometown with his grandfather was his most favourite annual activity He also goes on the talk about how mountains are his go-to place for seeking solace at any given point in time and why Portugal, as a city, has his heart—amongst other travel-related conversations. Read on to see the traveller in Siddhant Chaturvedi unfold, one question at a time.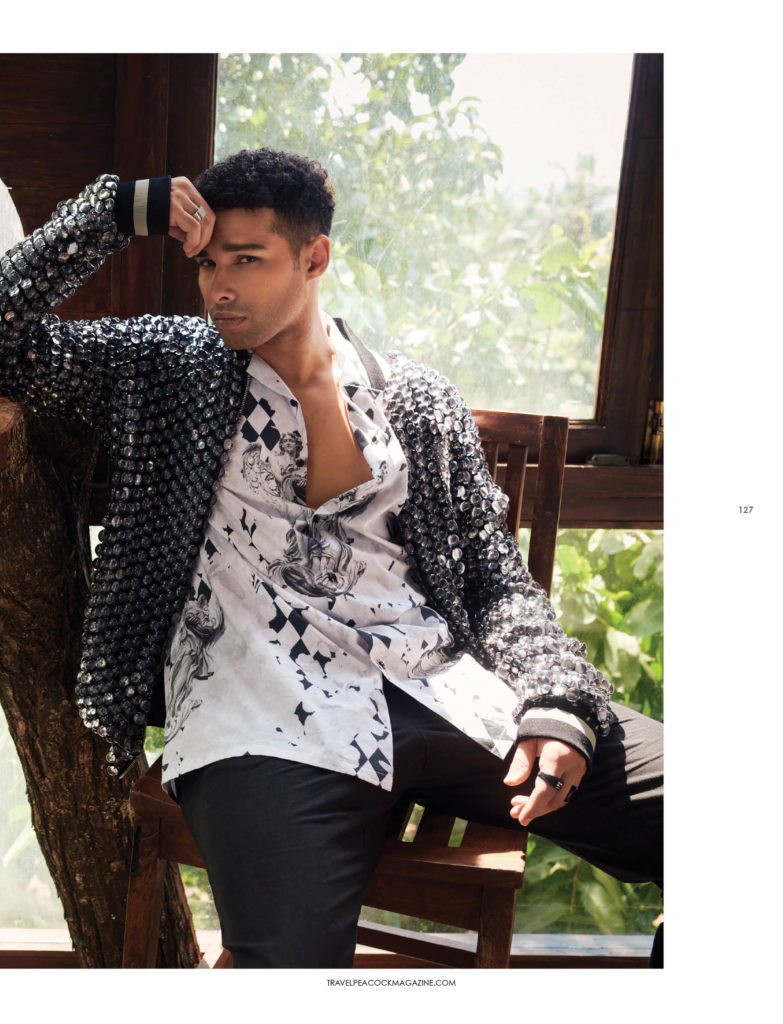 Q) What are some of your fondest memories while growing up in Uttar Pradesh?
My fondest memories from Uttar Pradesh are those when my grandfather used to take me to the Ramleela which was held in my village, Nagwa (Ballia). He would buy me samosa chutney and I would come back home with a Gada (a blunt mace) and my lips painted red like Lord Hanumaan. I used to go jumping around the village chanting 'Jai Shree Ram' for almost a month!

Q) ) How often did you travel with your family during your childhood days? Can you tell us about some of your fondest memories from these trips of yours?
Every summer vacation, my family and I would go to our village to meet my grandparents.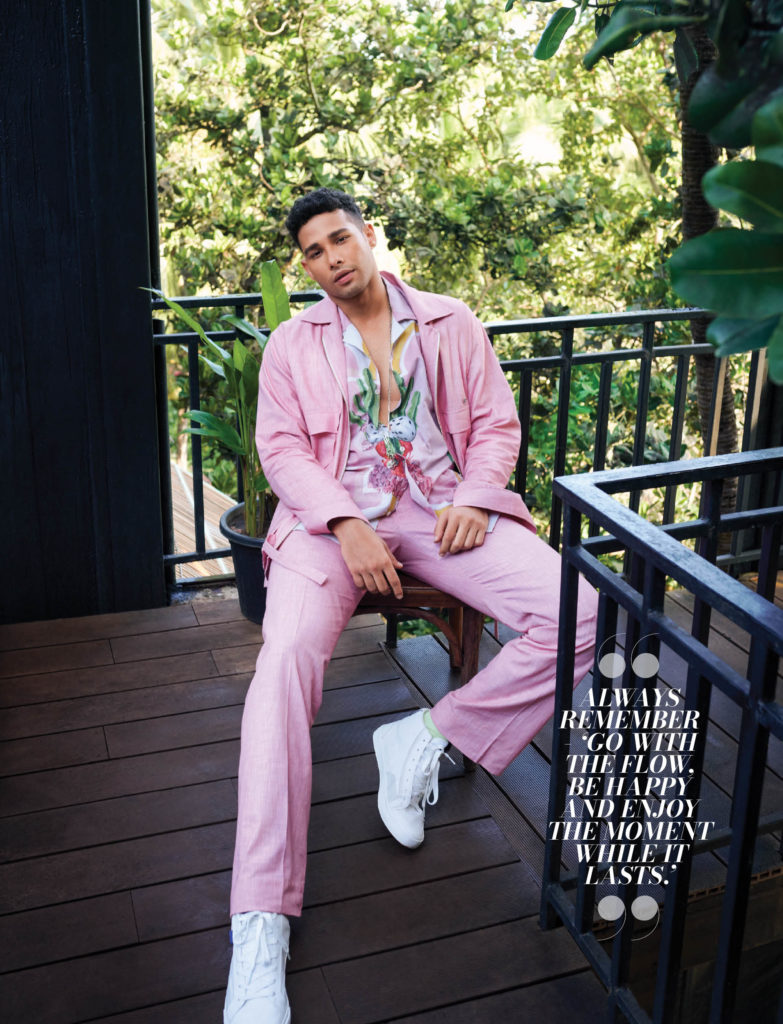 Q) You moved to Mumbai to pursue Chartered Accountancy but then switched to acting. What made you change your mind? Was Mumbai as a city one of the factors, as well?
I moved to Mumbai when I was 5-years-old. I remember the city felt like a dream. Coming from a small village, this also felt alien at times. Nobody spoke Bhojpuri, and the Hindi here came with a Bambaiya swing, which I caught on to and eventually helped me in my debut film.
The switch happened because I always wanted to be on stage, under the lights, on the screen, dancing, jumping and enacting characters. But I had to complete my studies as becoming an actor or the so-called "hero" in Hindi films was a far-fetched dream for a small-town boy. I had to really excel in academics, and quickly clear my exams so that I could start my journey. There was no scope for bad grades or failed attempts. It was my passion for the performing arts that drove me through my CA days.

Q) How and what do you feel about Mumbai?
It's true when they say that Mumbai is a city that never sleeps. There's a constant feeling of being completely restless while being at home here. The city has got the "never-dying" kind of attitude, which seeps into all of us Mumbaikars, as well. I grew up in the suburbs of Mumbai—dancing during every Ganesh Chaturthi and celebrating all the festivals that bring us together. It is, in the simplest description—my karma bhumi.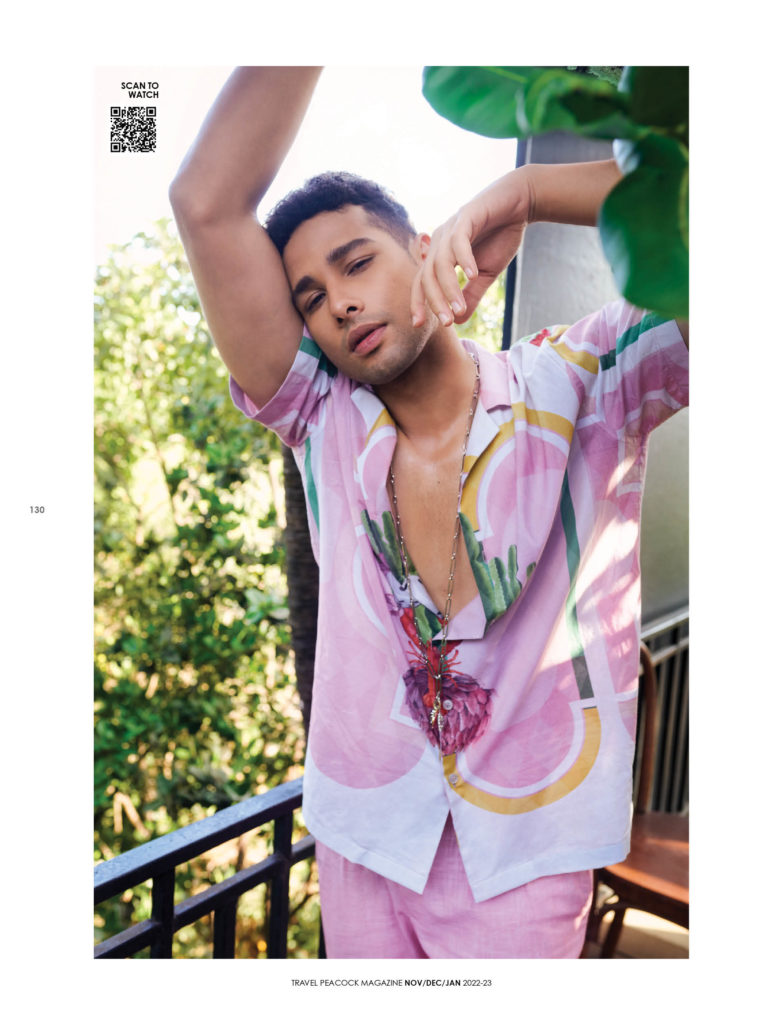 Q) About 4-5 movies and a couple of shows later, how confident have you grown as an actor?
I'm like a curious and eager child who is always exploring. All I know right now is that I don't want to get typecasted. I want to do different genres and different kinds of films. Since I'm also an outsider looking in, I want to bring my real-life experiences to the screen. There is a shift happening in the industry right now, and I'm fortunate to be seeing it so early stage of my career. I'm still learning the dynamics, the commerce of it. Shaky times, but it's time for new content and cinematic language.

Q) You've worked with the best of the names in Bollywood to date. Could you sum up your learnings?
Yes, I've been extremely fortunate to share the screen with the most beautiful women and beloved names in Bollywood. Rani (Mukherjee) ma'am is a legend. She's one of the finest performers in our industry even today. Alia (Bhatt) exudes ease and charm. She was a delight to work with. Deepika's (Padukone) simplicity is unmatched and her nuanced approach to her craft is commendable. No one works harder than Katrina (Kaif)! She knows the commercial side of the business and there's a lot to learn from her, truly.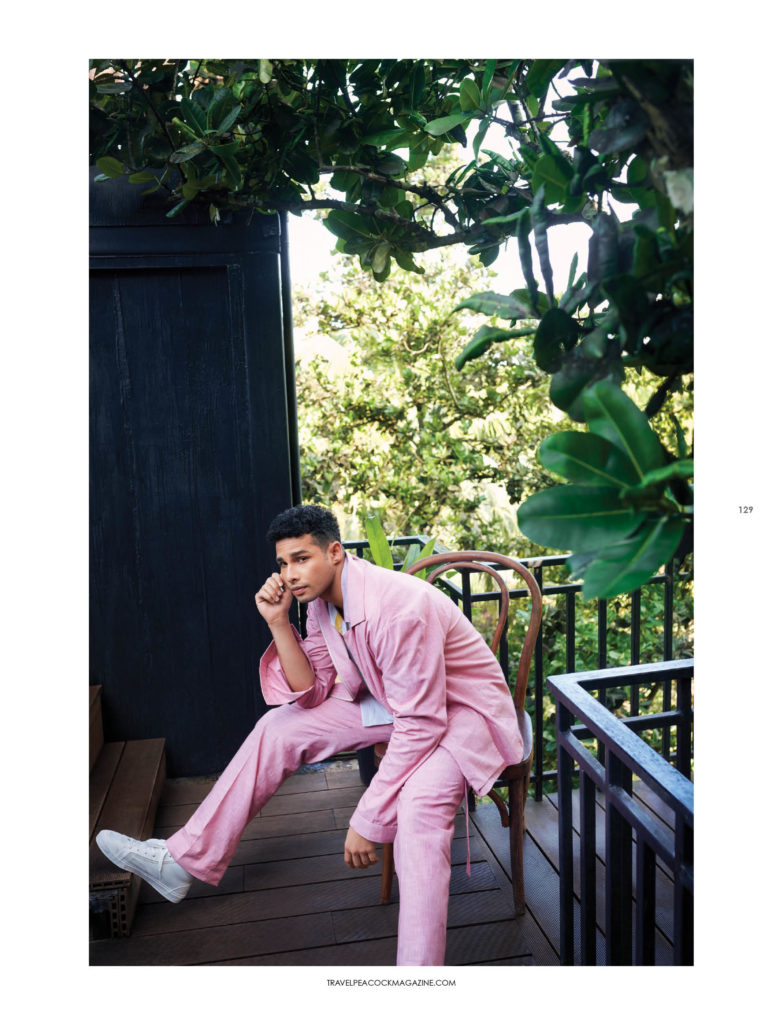 Q) You've been to various locations for your movie shoots. Which one has been your favourite?
For my upcoming action film, Yudra—we were shooting in Portugal and by far, it has been the best location to date. Portugal, as a country, is breathtaking with its oceans, mountains and lush green landscape—which was perfect to shoot our action film. The weather was just right since we'd gone in September and the friendly crew made it even more fun. I explored the cities on foot since I was parkouring through the streets! I also had a pretty nail-biting chase sequence to shoot, which made it even more adventurous.

Q) What has been your most memorable holiday to date?
I loved my trip to Dharamshala. Spent my days in cafés, did a lot of treks and enjoyed the starry nights. I love to visit any place amidst the mountains surrounded by trees, monasteries and the kind of peaceful calm that we try to chase in our day-to-day life.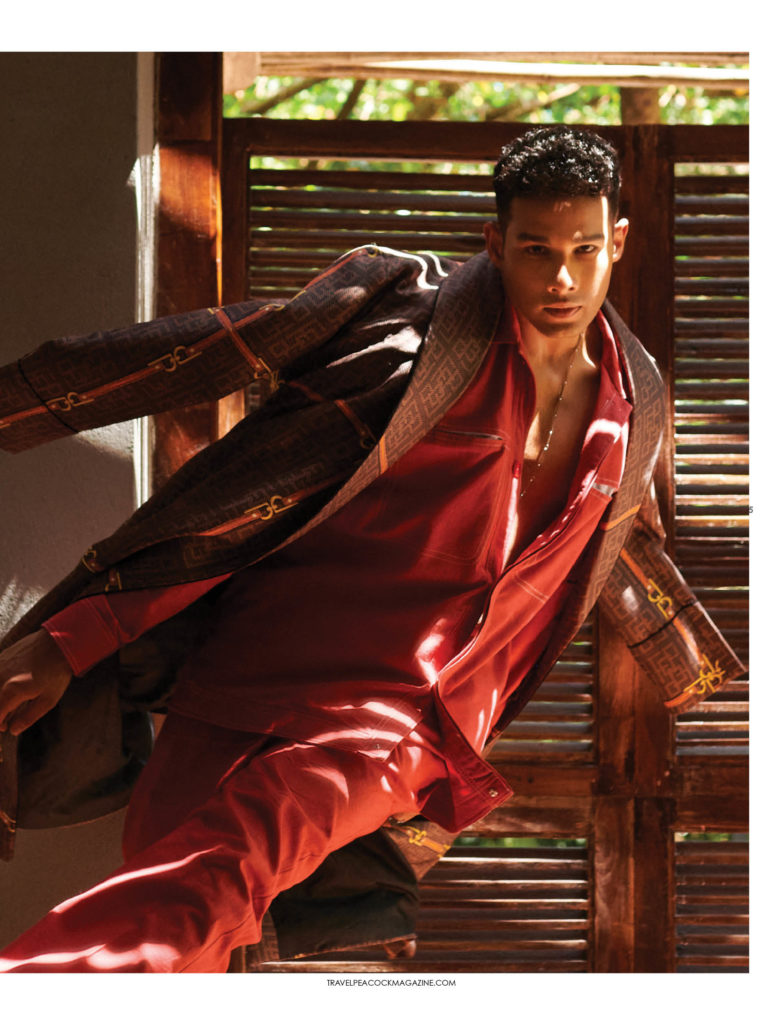 Q) How does the culture of these places you've visited influence you?
Every city has a different vibe, a unique take on things. I'm also always fascinated by the local cuisines. Language and art also have a huge impact on me. As an actor, it is important to keep improvising, bettering your craft and looking for those small nuances that shape every character I play. Travelling helps me do just that!

Q) How do you prepare for an outdoor shoot?
A location change doesn't have a huge impact in terms of my preparation. I'm very thankful for my team who take care of the packing, management, etc. that goes into a smooth outdoor shoot. I'm particular about my meals and I always pre-check the amenities for my workout. As long as I have an outdoor space to exercise and play football or cricket with the crew, I'm sorted!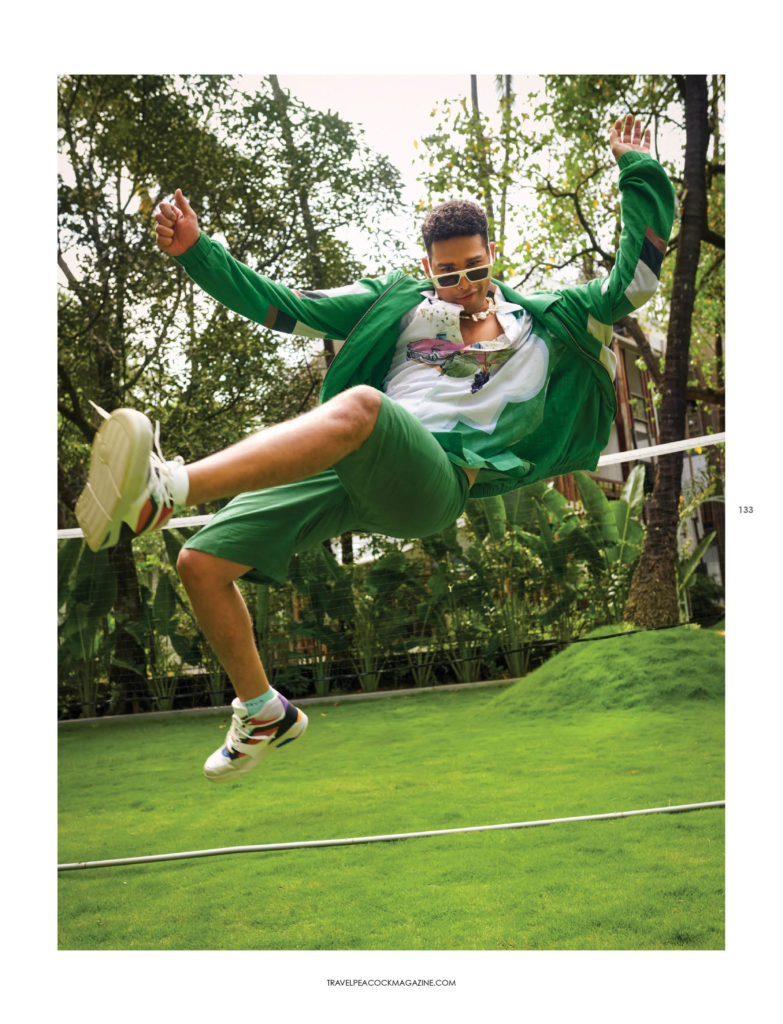 Q) What are the three things that define the essence of a city?
The warmth of the people, the richness of the culture and the food!

Q) When it comes to choosing a holiday destination, what are the things you look for?
As far away as possible from the city, as close as possible to the mountains!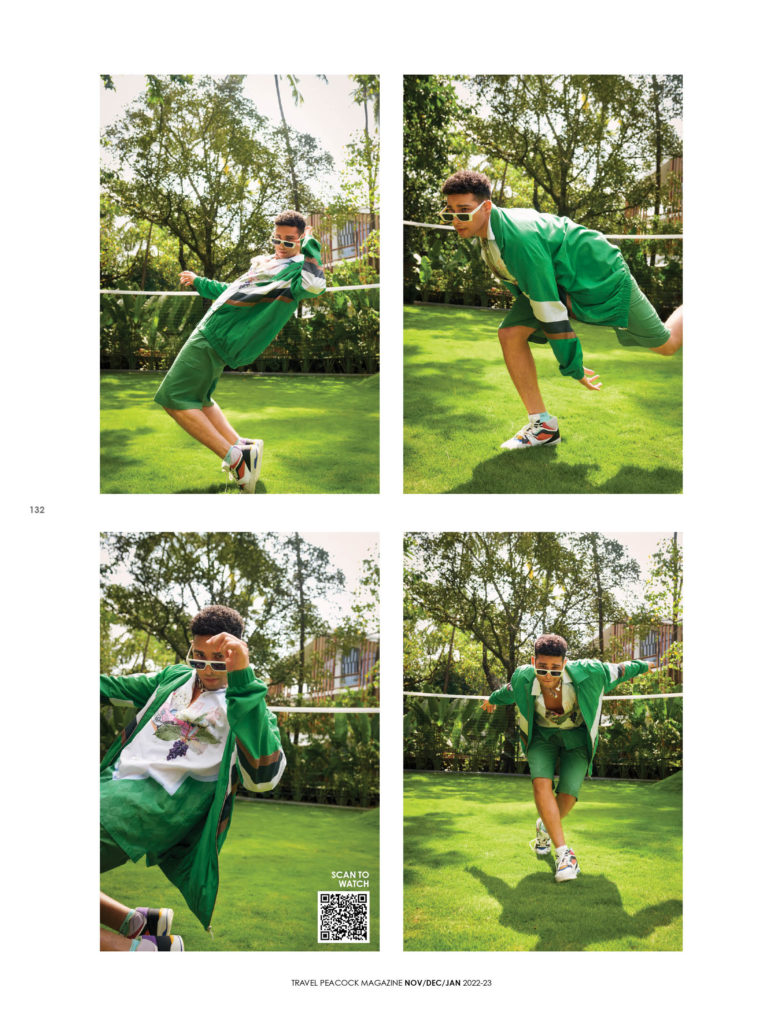 Q) Do you remember your first solo trip?
I'm not a solo-trip kind of person. I love having my friends around. We just go with the flow, barely pack a bag and leave on our bikes.

Q) What kind of traveller are you – a backpacker or a luxury traveller?
Definitely, a backpacker!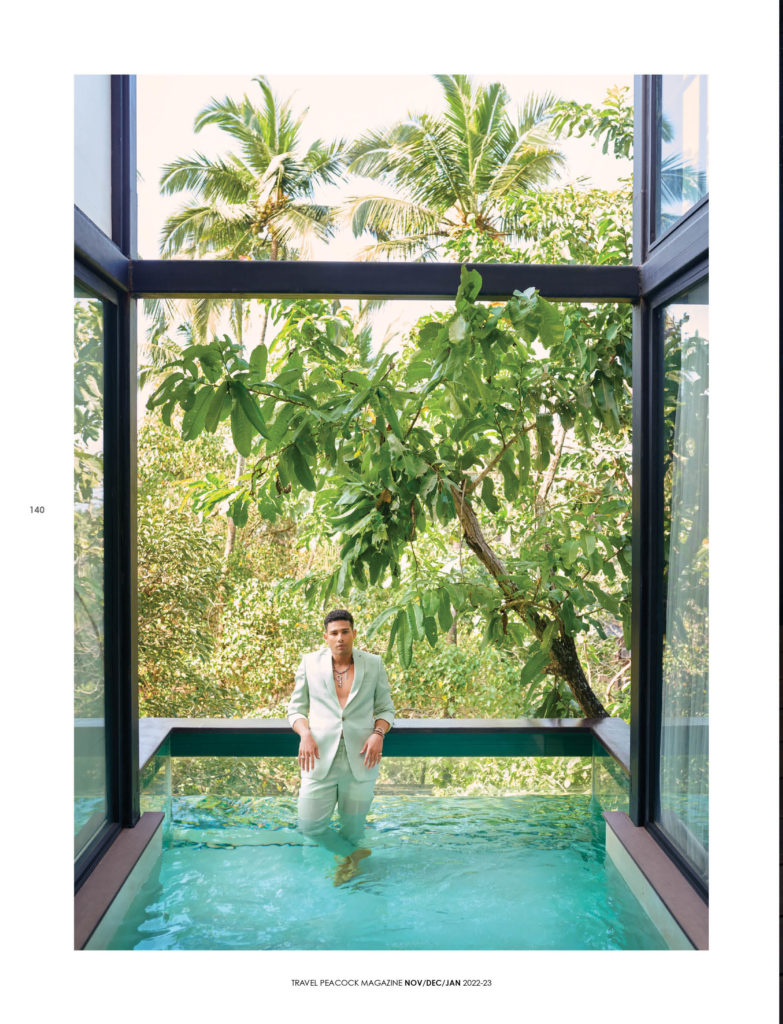 Q) Are you an impromptu traveller or do you like to pre-plan your holidays till the last detail?
If I'm travelling with my family, I like to pre-plan the trips. But in my personal space with friends, we all love the adrenaline of impromptu plans!

Q) What do you like to read/watch when on a long flight?
I prefer to write! But I've found a new liking for old '80s and '90s films on flights, with all the "masala" of action-packed madness.

Q) What are some of the most important things you keep in mind while travelling?
Always remember – 'Go with the flow, be happy and enjoy the moment while it lasts.'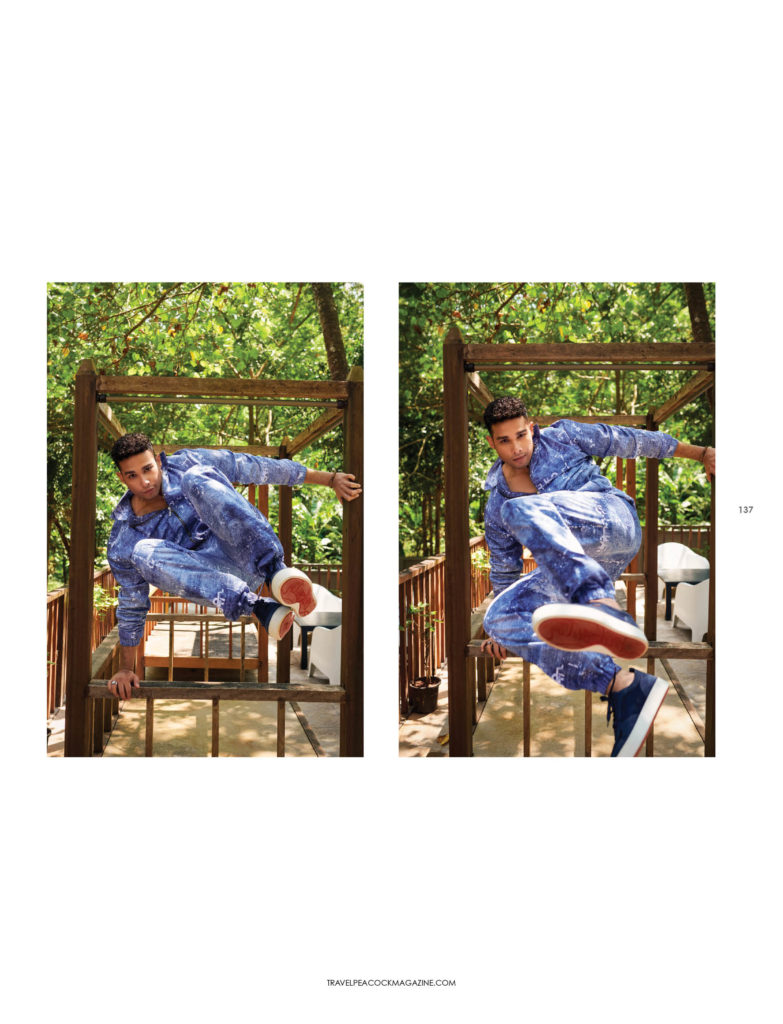 Q) Your top 5 must-packs when travelling.
· A comfortable pair of denim.
· A couple of standard black and white t-shirts.
· My guitar.
· My AirPods.
· My diary.



Q) How necessary is conscious travelling in today's time?
We must all try to adapt to a sustainable lifestyle. It's always a plus to be mindful of not harming the beauty of a place whenever we visit it.



Q) Your favourite city in the whole wide world?
I do love to travel but nothing beats the feeling of putting my head on the pillow every time I come back home to Mumbai.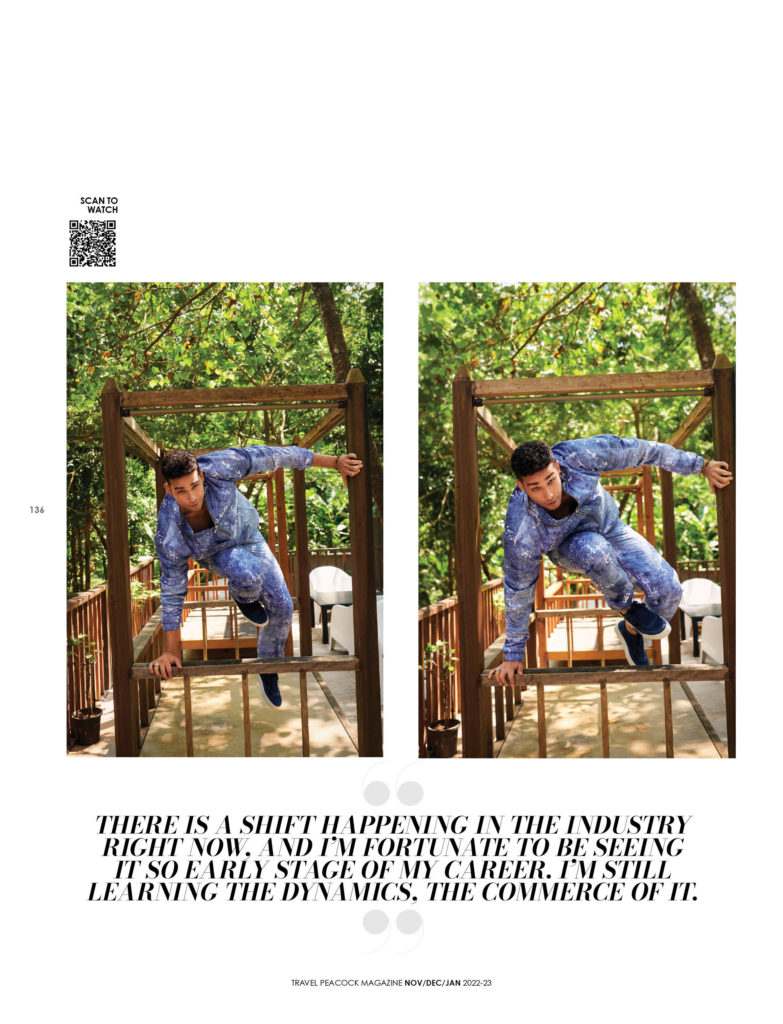 Q) Are there any places in India or around the world that you are keen to visit but haven't gotten the chance to yet?
Travelling for work always takes me all around the world, but my favourite destinations are the ones in India. We have such a vast history of culture, traditions and breathtaking views from the Himalayas in the north to the backwaters of Kerala in the south (of India). I'm always keen and excited to explore places in my own country.

Q) What's something that you don't miss out on when travelling to a new destination?
I ensure I visit as many local cafés as possible.

Q) What does your travel playlist look like?
My travel playlist is usually whatever my friends sing along to me strumming the guitar.