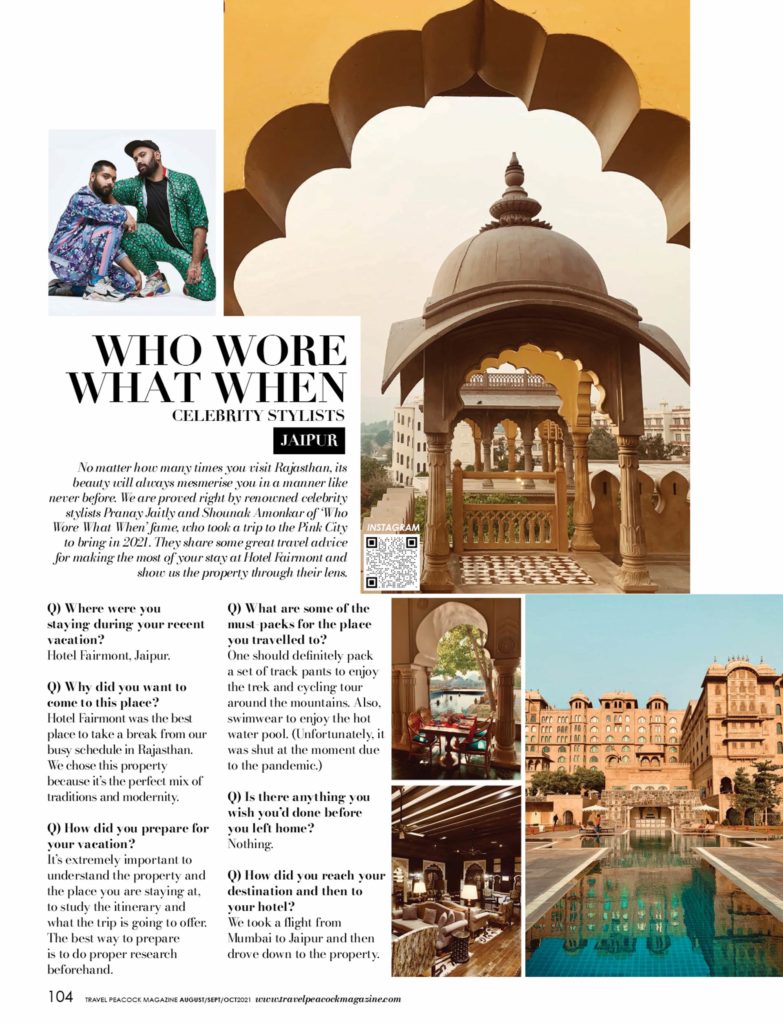 WHO WORE WHAT WHEN IN JAIPUR- CELEBRITY STYLISTS
CREDITS – All images sourced from the stylists.
No matter how many times you visit Rajasthan, its beauty will always mesmerise you in a manner like never before. We are proved right by renowned celebrity stylists Pranay Jaitly and Shounak Amonkar of 'Who Wore What When' fame, who took a trip to the Pink City to bring in 2021. They share some great travel advice for making the most of your stay at Hotel Fairmont and show us the property through their lens.
[Q] Where were you staying during your recent vacation?
Hotel Fairmont, Jaipur.
[Q] Why did you want to come to this place?
Hotel Fairmont was the best place to take a break from our busy schedule in Rajasthan. We chose this property because it's the perfect mix of traditions and modernity.
[Q] How did you prepare for your vacation?
It's extremely important to understand the property and the place you are staying at, to study the itinerary and what the trip is going to offer. The best way to prepare is to do proper research beforehand.
[Q] What are some of the must-packs for the place you travelled to?
One should definitely pack a set of track pants to enjoy the trek and cycling tour around the mountains. Also, swimwear to enjoy the hot water pool. (Unfortunately, it was shut at the moment due to the pandemic.)
[Q] Is there anything you wish you'd done before you left home?
Nothing.
[Q] How did you reach your destination and then to your hotel?
We took a flight from Mumbai to Jaipur and then drove down to the property.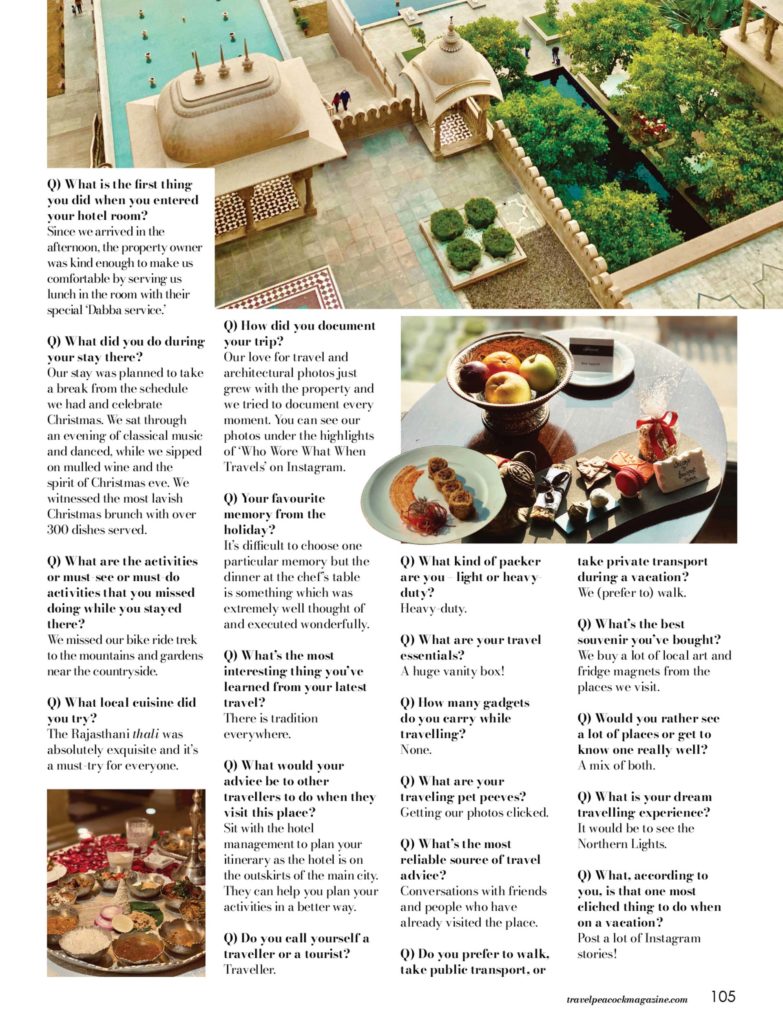 [Q] What is the first thing you did when you entered your hotel room?
Since we arrived in the afternoon, the property owner was kind enough to make us comfortable by serving us lunch in the room with their special 'Dabba service.'
[Q] What did you do during your stay there?
Our stay was planned to take a break from the schedule we had and celebrate Christmas. We sat through an evening of classical music and danced, while we sipped on mulled wine and the spirit of Christmas eve. We witnessed the most lavish Christmas brunch with over 300 dishes served.
[Q] What are the activities or must-see or must-do activities that you missed doing while you stayed there?
We missed our bike ride trek to the mountains and gardens near the countryside.
[Q] What local cuisine did you try?
The Rajasthani thali was absolutely exquisite and it's a must-try for everyone.
[Q] How did you document your trip?
Our love for travel and architectural photos just grew with the property and we tried to document every moment. You can see our photos under the highlights of 'Who Wore What When Travels' on Instagram.
[Q] Your favourite memory from the holiday?
It's difficult to choose one particular memory but the dinner at the chef's table is something which was extremely well thought of and executed wonderfully.
[Q] What's the most interesting thing you've learned from your latest travel?
There is tradition everywhere.
[Q] What would your advice be to other travellers to do when they visit this place?
Sit with the hotel management to plan your itinerary as the hotel is on the outskirts of the main city. They can help you plan your activities in a better way.
[Q] Do you call yourself a traveller or a tourist?
Traveller.
[Q] What kind of packer are you – light or heavy-duty?
Heavy-duty.
[Q] What are your travel essentials?
A huge vanity box!
[Q] How many gadgets do you carry while travelling?
None.
[Q] What are your traveling pet peeves?
Getting our photos clicked.
[Q] What's the most reliable source of travel advice?
Conversations with friends and people who have already visited the place.
[Q] Do you prefer to walk, take public transport, or take private transport during a vacation?
We (prefer to) walk.
[Q] What's the best souvenir you've bought?
We buy a lot of local art and fridge magnets from the places we visit.
[Q] Would you rather see a lot of places or get to know one really well?
A mix of both.
[Q] What is your dream travelling experience?
It would be to see the Northern Lights.
[Q] What, according to you, is that one most cliched thing to do when on a vacation?
Post a lot of Instagram stories!


Add to favorites