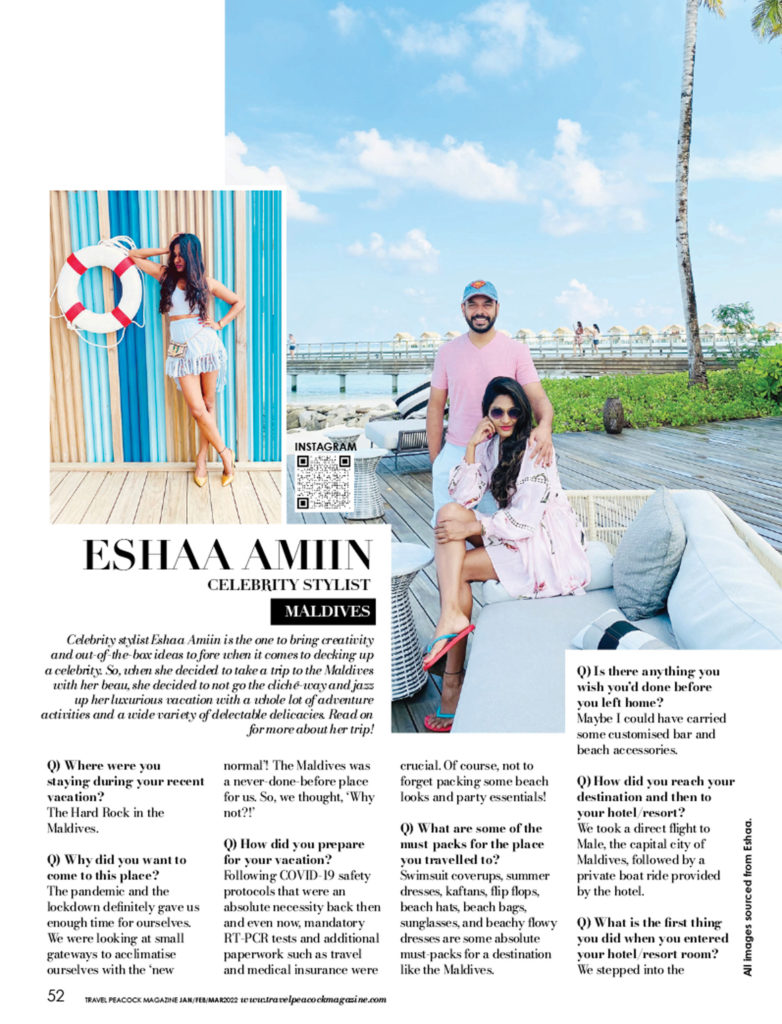 CREDITS – All images sourced from Eshaa
Celebrity stylist Eshaa Amiin is the one to bring creativity and out-of-the-box ideas to fore when it comes to decking up a celebrity. So, when she decided to take a trip to the Maldives with her beau, she decided to not go the cliché-way and jazz up her luxurious vacation with a whole lot of adventure activities and a wide variety of delectable delicacies. Read on for more about her trip!
SPECIFIC QUESTIONS: (Regarding your recent vacation)
[Q] Where were you staying during your recent vacation?
The Hard Rock in the Maldives.
[Q] Why did you want to come to this place?
The pandemic and the lockdown definitely gave us enough time for ourselves. We were looking at small gateways to acclimatise ourselves with the 'new normal'! The Maldives was a never-done-before place for us. So, we thought, 'Why not?!'
[Q] How did you prepare for your vacation?
Following COVID-19 safety protocols that were an absolute necessity back then and even now, mandatory RT-PCR tests and additional paperwork such as travel and medical insurance were crucial. Of course, not to forget packing some beach looks and party essentials!
[Q] What are some of the must-packs for the place you travelled to?
Swimsuit coverups, summer dresses, kaftans, flip flops, beach hats, beach bags, sunglasses, and beachy flowy dresses are some absolute must-packs for a destination like the Maldives.
[Q] Is there anything you wish you'd done before you left home?
Maybe I could have carried some customised bar and beach accessories.
[Q] How did you reach your destination and then to your hotel/resort?
We took a direct flight to Male, the capital city of Maldives, followed by a private boat ride provided by the hotel.
[Q] What is the first thing you did when you entered your hotel/resort room?
We stepped into the stunning blue ocean from my water villa.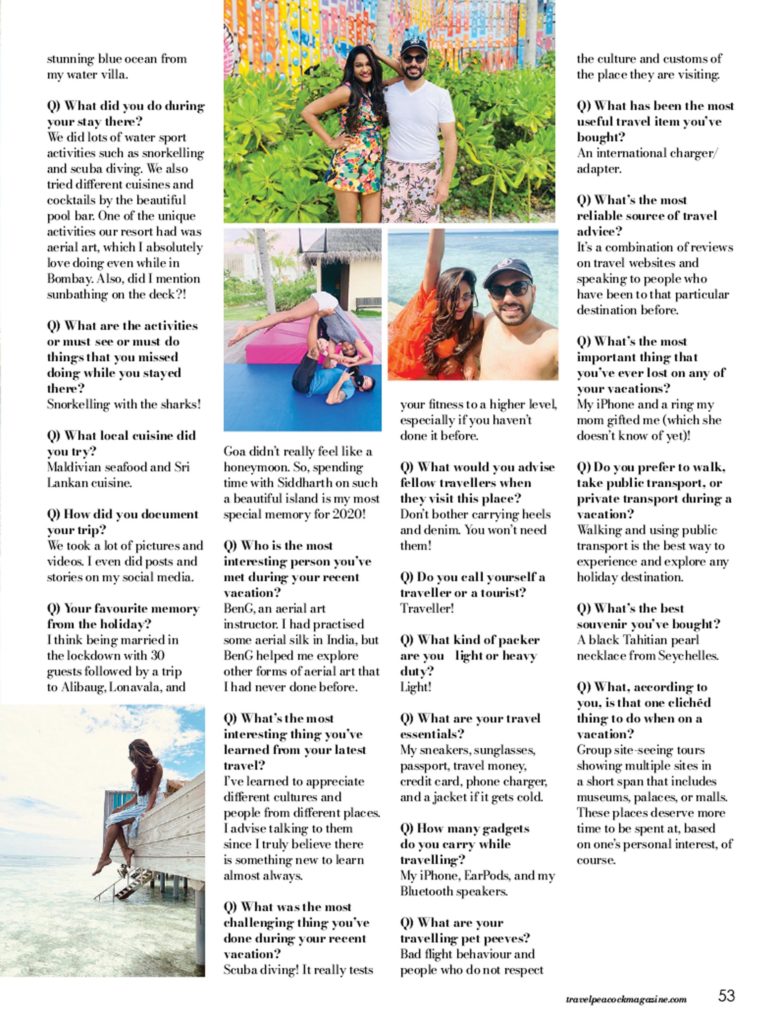 [Q] What did you do during your stay there?
We did lots of water sport activities such as snorkelling and scuba diving. We also tried different cuisines and cocktails by the beautiful pool bar. One of the unique activities our resort had was aerial art, which I absolutely love doing even while in Bombay. Also, did I mention sunbathing on the deck?!
[Q] What are the activities or must-see or must-do things that you missed doing while you stayed there?
Snorkelling with the sharks!
[Q] What local cuisine did you try?
Maldivian seafood and Sri Lankan cuisine.
[Q] How did you document your trip?
We took a lot of pictures and videos. I even did posts and stories on my social media.
[Q] Your favourite memory from the holiday?
I think being married in the lockdown with 30 guests followed by a trip to Alibaug, Lonavala, and Goa didn't really feel like a honeymoon. So, spending time with Siddharth on such a beautiful island is my most special memory for 2020!
[Q] Who is the most interesting person you've met during your recent vacation?
BenG, an aerial art instructor. I had practised some aerial silk in India, but BenG helped me explore other forms of aerial art that I had never done before.
[Q] What's the most interesting thing you've learned from your latest travel?
I've learned to appreciate different cultures and people from different places. I advise talking to them since I truly believe there is something new to learn almost always.
[Q] What was the most challenging thing you've done during your recent vacation?
Scuba diving! It really tests your fitness to a higher level, especially if you haven't done it before.
[Q] What would you advise fellow travellers when they visit this place?
Don't bother carrying heels and denim. You won't need them!
[Q] Do you call yourself a traveller or a tourist?
Traveller!
[Q] What kind of packer are you – light or heavy-duty?
Light!
[Q] What are your travel essentials?
My sneakers, sunglasses, passport, travel money, credit card, phone charger, and a jacket if it gets cold.
[Q] How many gadgets do you carry while travelling?
My iPhone, EarPods, and my Bluetooth speakers.
[Q] What are your travelling pet peeves?
Bad flight behaviour and people who do not respect the culture and customs of the place they are visiting.
[Q] What has been the most useful travel item you've bought?
An international charger/adapter.
[Q] What's the most reliable source of travel advice?
It's a combination of reviews on travel websites and speaking to people who have been to that particular destination before.
[Q] What's the most important thing that you've ever lost on any of your vacations?
My iPhone and a ring my mom gifted me (which she doesn't know of yet)!
[Q] Do you prefer to walk, take public transport, or private transport during a vacation?
Walking and using public transport is the best way to experience and explore any holiday destination.
[Q] What's the best souvenir you've bought?
A black Tahitian pearl necklace from Seychelles.
[Q] Would you rather see a lot of places or get to know one really well?
I enjoy traveling, so I love visiting a lot of new places, but I also spend enough time at one place and getting to know it better.
[Q] What is your dream travelling experience?
On a trip to Pitti Uomo in Florence in 2018, I had the opportunity of meeting the legendary designer Stefano Ricci, who was kind enough to invite me for a breakfast tour of his iconic silk weaving factory. It has looms that date back to the '40s and many of the royal Tuscan families' patterns that he revived for his ties, pocket squares, and home décor line. It was an experience of a lifetime!
[Q] What, according to you, is that one clichéd thing to do when on a vacation?
Group site-seeing tours showing multiple sites in a short span that includes museums, palaces, or malls. These places deserve more time to be spent at, based on one's personal interest, of course.