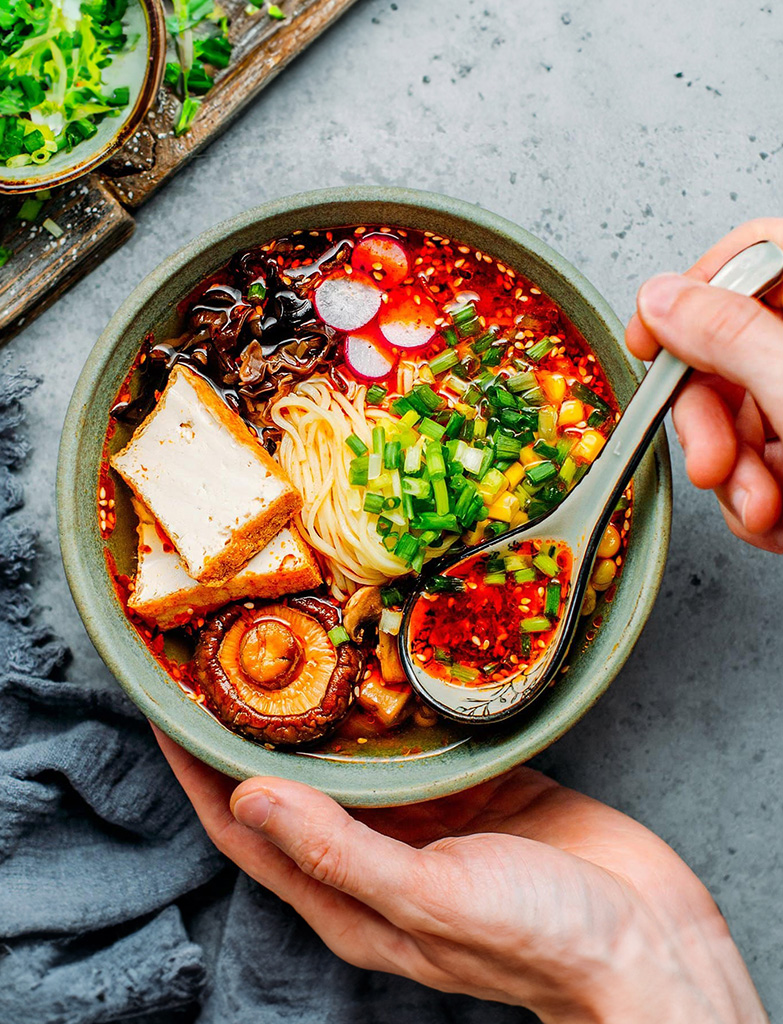 For decades Japan has had the whole world spinning for its incredible bowl of ramen -a savoury and aromatic noodle dish. Typically, a bowl of ramen comprises fresh, bouncy noodles served in a rich broth and other varieties of meat and fish or egg as toppings. This might have petrified the cruelty-free vegans, but fear not, as the Land Of The Rising Sun is certainly rising in introducing vegan-friendly ramen options! Although veganism is gaining popularity in the country, finding the most delicious and refined bowl of ramen in a meat-loving country can still be daunting.
Fortunately, Japan has fully ingrained the plant-based mindset, and you can come across some of the most plush and popular places to eat vegan ramen in Japan such as Tokyo, Kyoto, Osaka and several other locations. To get started, check out our exclusive article that discloses the 5 best places to try vegan ramen in Japan. These places with their cosy or sleek interiors and tantalising, plant-based food are bound to offer you an enchanting odyssey inside Japan's culinary, or shall we say – vegan ramen paradise. So, get ready to flex your chopsticks skills and experience Japan's mouthwatering and healthy ramen noodles.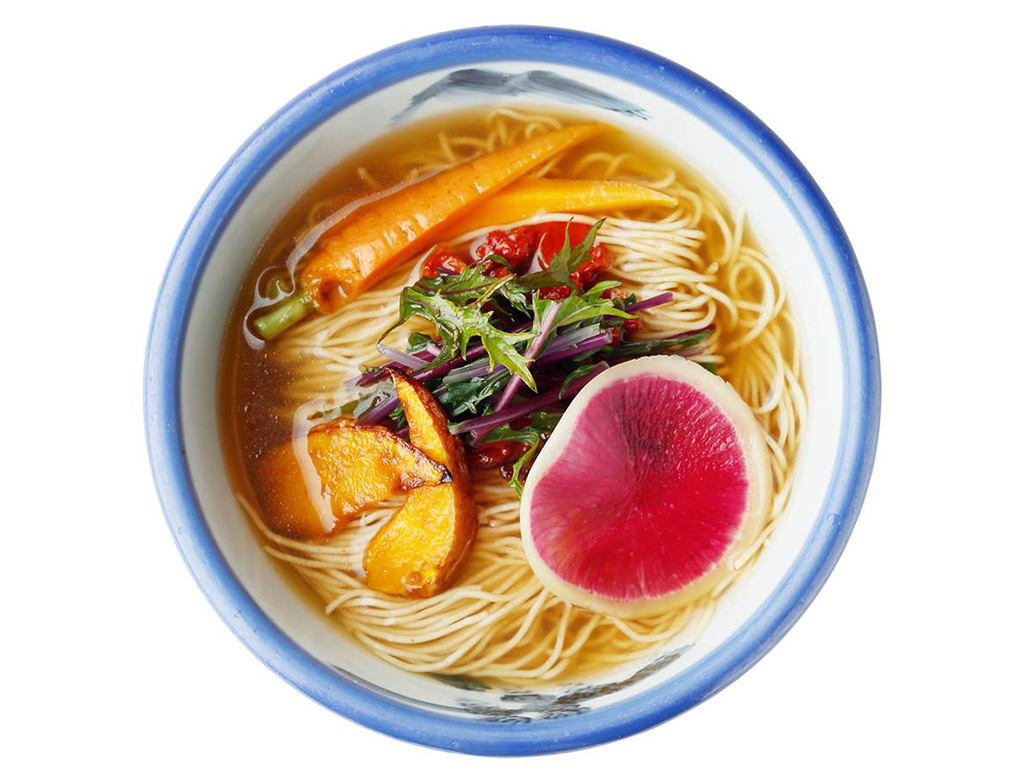 VISIT TOKYO
Tokyo is considered a food heaven by countless foodies and culinary connoisseurs across the world. With its wide variety of restaurants and food stalls, the city also provides a fantastic range of vegan ramen options. Among the most popular ramen restaurants in Tokyo are T's Tantan and Nakiryu.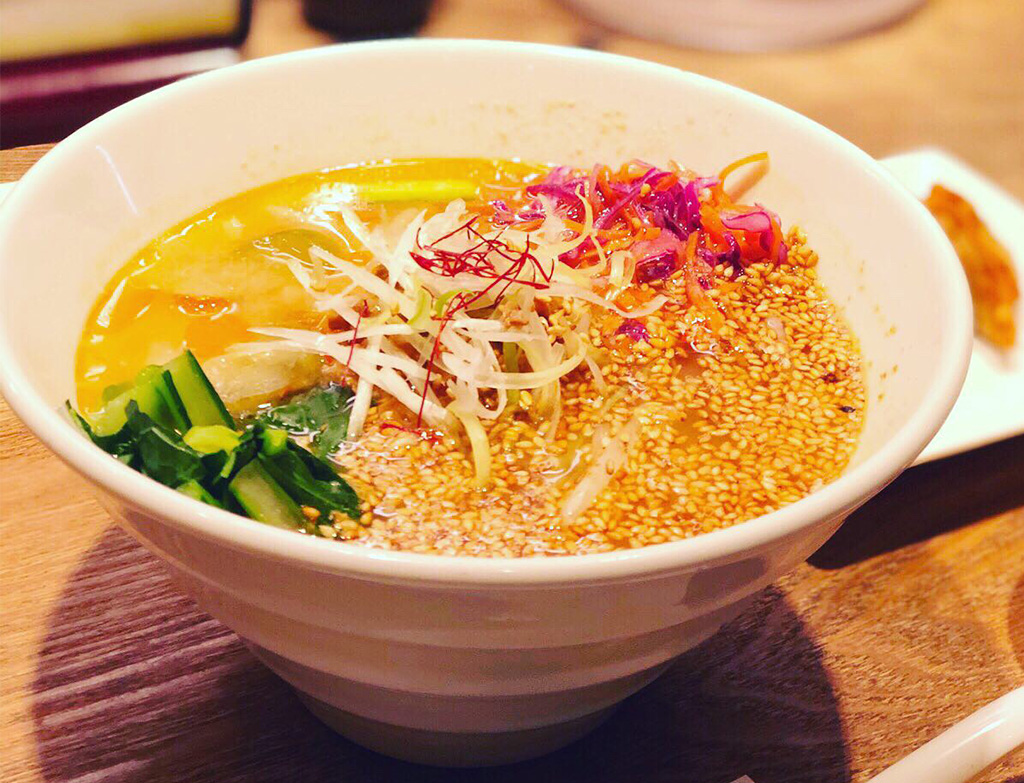 https://cookingwithyoshiko.com
T's Tantan Ueno Station: Located in Ueno-ku, T's Tantan Ueno Station, Tokyo, offers Japanese-style veganism. Their ramen broths are made with plant-based ingredients that are locally sourced. T's Tantan is also famous for its wide range of vegan toppings, including fried tofu, vegetables and pickled cucumber. This restaurant easily tops the list of the most flavoursome and expensive vegan ramen in Japan.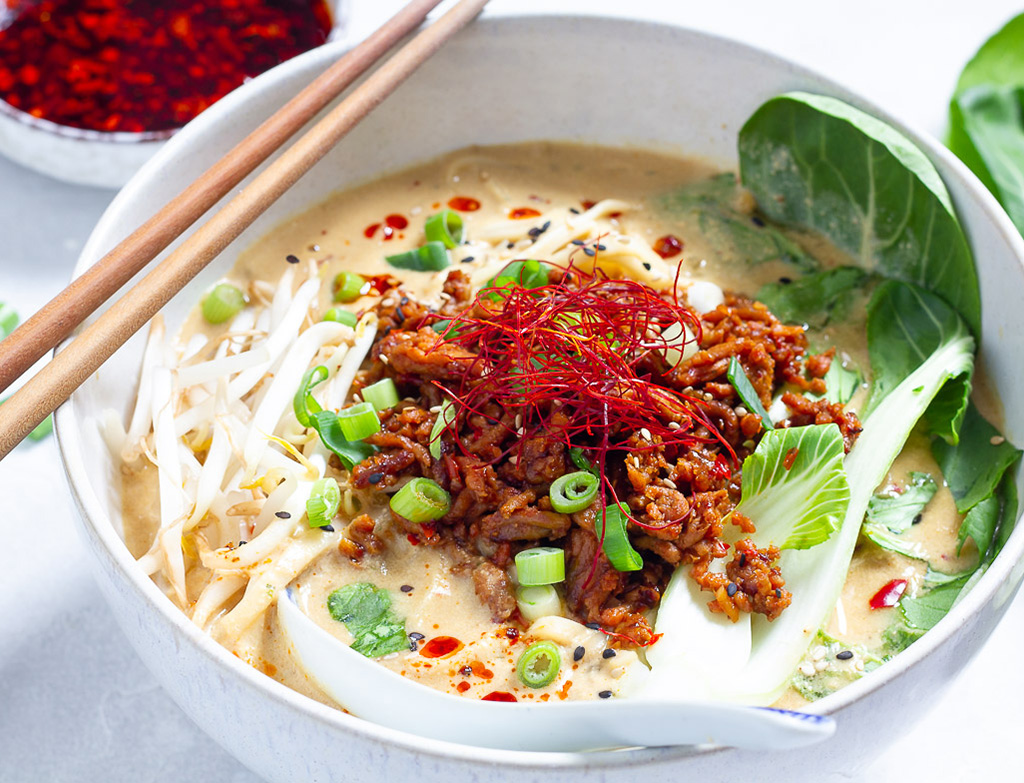 https://cookingwithyoshiko.com
While Nakiryu, located in Tokyo, offers vegan ramen that is both healthy and satisfying. Their ramen features broth made from soy milk and is combined with vegetables and spices. Their noodles are homemade and are designed to complement the vegan broth. Nakiryu also offers a vegan egg option, which is made from konjac, giving the dish an authentic taste and texture.
CHECK OUT KYOTO
Kyoto is another famous destination for foodies. The city is home to several ramen shops that offer authentic and flavourful vegan ramen. Two of the most popular places to dive your chopsticks into some delicious, vegan ramen noodles in Kyoto are Mamezen and Ramen Bar Ichi.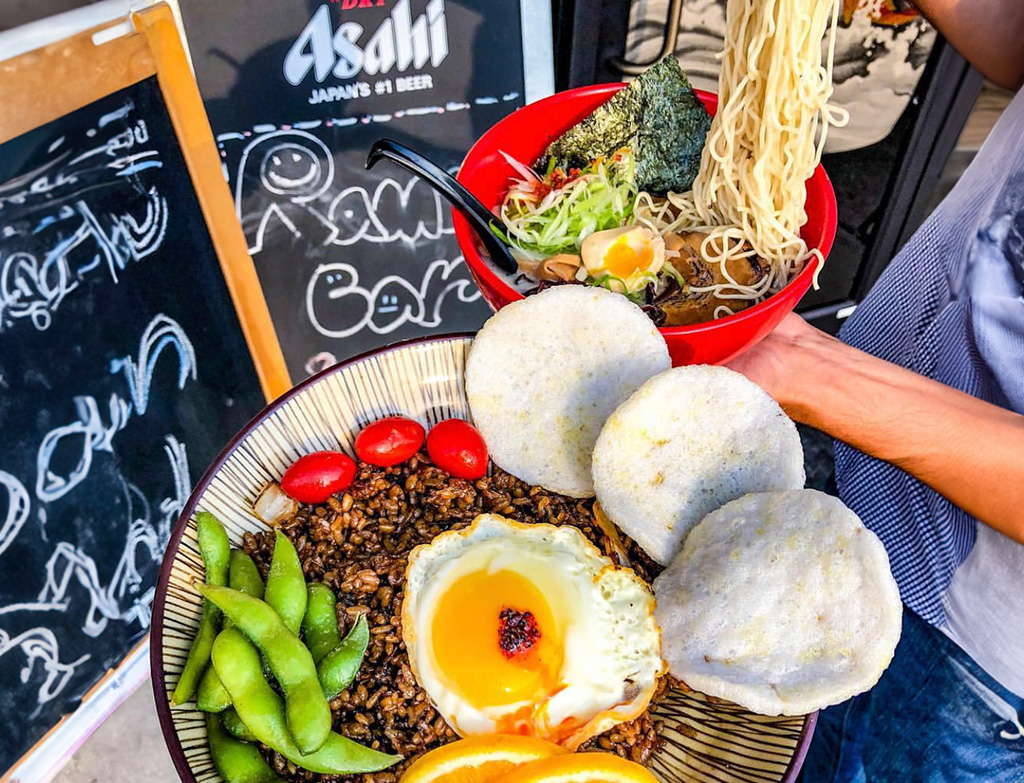 Ramen Bar Ichi offers a divine range of ramen options. The broth is made with soy sauce and flavoured with seaweed and mushrooms, which add a robust umami taste to the dish. The noodles are made with rice flour, which makes them gluten-free. The soups are accompanied by a plate of greens, offering a healthful eating experience. Mamezen is a charming little restaurant that offers a wide selection of ramen. The restaurant's unique blend of spices and broth makes it a must-visit for any vegan ramen lover.
DISCOVER OSAKA
Osaka City is yet another fabulous option for all ramen lovers. One of the best places to sample vegan ramen in Osaka is Ramen Sen no Kaze.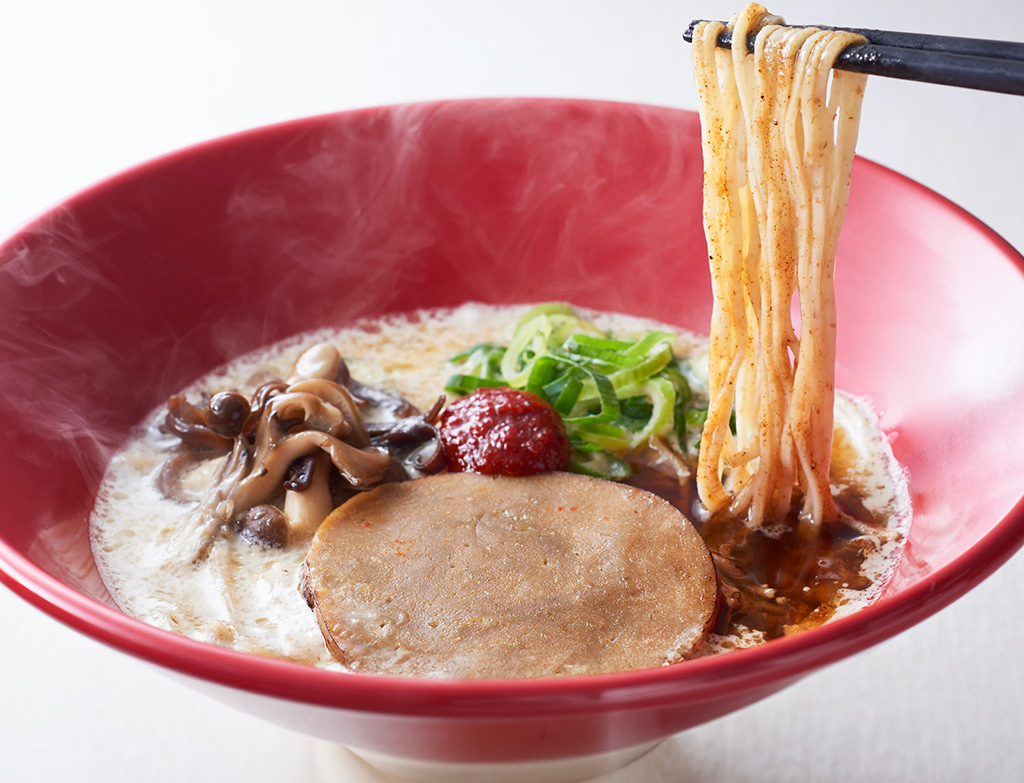 Ramen Sen no Kaze offers a unique blend of ramen that is both healthy and flavourful. The restaurant's signature dish is the Soy Milk Ramen, a must-try for all those soy enthusiasts out there.
EXPLORE NAGOYA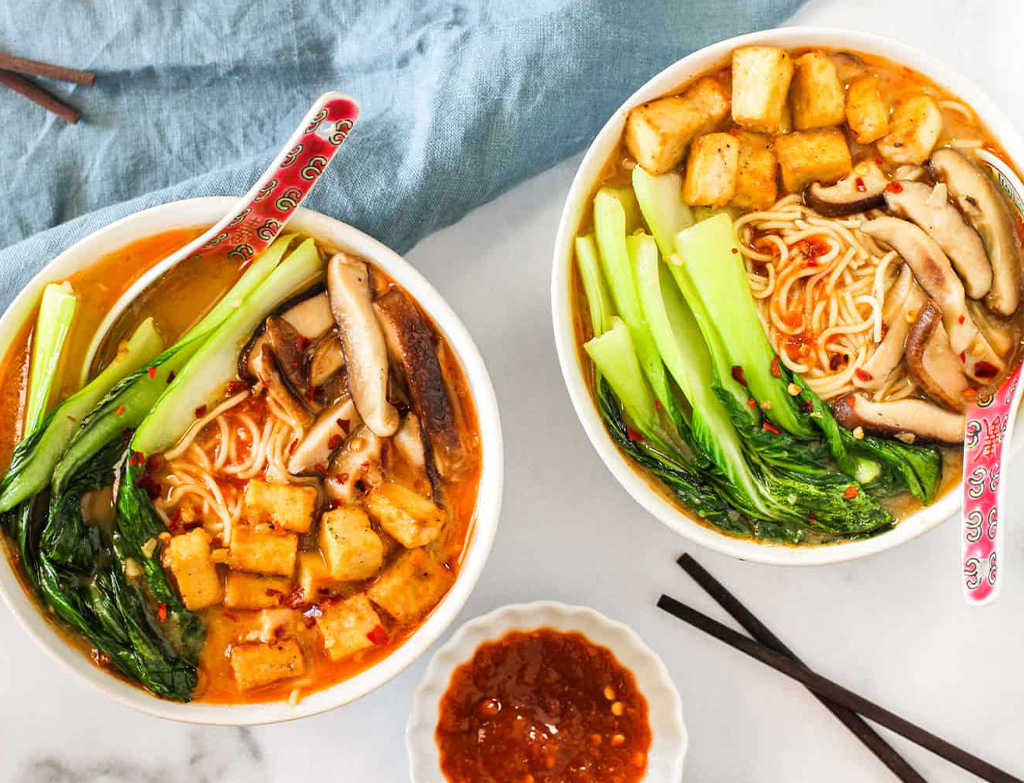 Nagoya is also a city that is known for its delicious ramen noodles. One of the most popular ramen restaurants in Nagoya is Karasu Ramen.
Karasu Ramen is a cosy restaurant that offers a unique blend of spices and ingredients that make their ramen stand out. The restaurant's most popular dish is the Spicy Vegan Miso, Ramen is a must-try for any vegan ramen lover.
Overall, veganism has become increasingly popular worldwide and Japan has not been left behind. The country now offers some of the best places to enjoy tasty vegan ramen, satisfying the taste buds of both vegans and vegetarians. The above five vegan ramen houses provide a unique experience that is both healthy and indulgent, showcasing innovative dishes that blend traditional ingredients and modern techniques. So if you're travelling to Japan, be sure to add the above places to your list of must-visit cities!