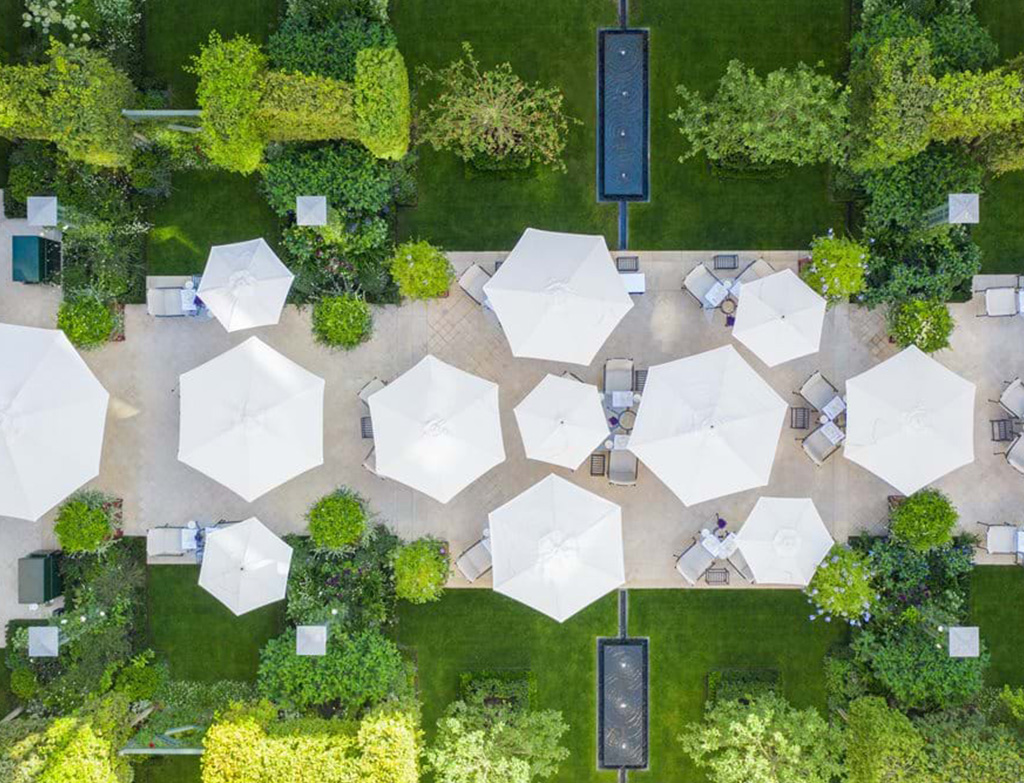 Ever wondered, what happens when Parisian magnificence meets American luxury? Well, now's the time to know, as we witness the stunning makeover of the Le Jardin Francais at Le Bristol Paris. The 5-star luxury hotel in France has collaborated with American textile house Schumacher to remodel it's beautiful garden space – Le Jardin Francais. This renovation has given new life to the iconic garden and guests can now enjoy the delightful space, which is a perfect mix of classical and modern design. The Le Jardin Francais at Le Bristol in Paris is a must-visit if you want to experience a surreal yet sophisticated adventure in Paris.
This grand collaboration is hands down a dream come true for all the art and design enthusiasts out there. With the expertise of Schumacher and the elegance of Le Bristol, one can only imagine what an exquisite experience this will be. The picturesque and charming garden of the luxury hotel has now been transformed into a magical wonderland. The fusion of creativity, luxury and structural elegance will leave everyone spellbound.
A TIMELESS PARISIAN ODYSSEY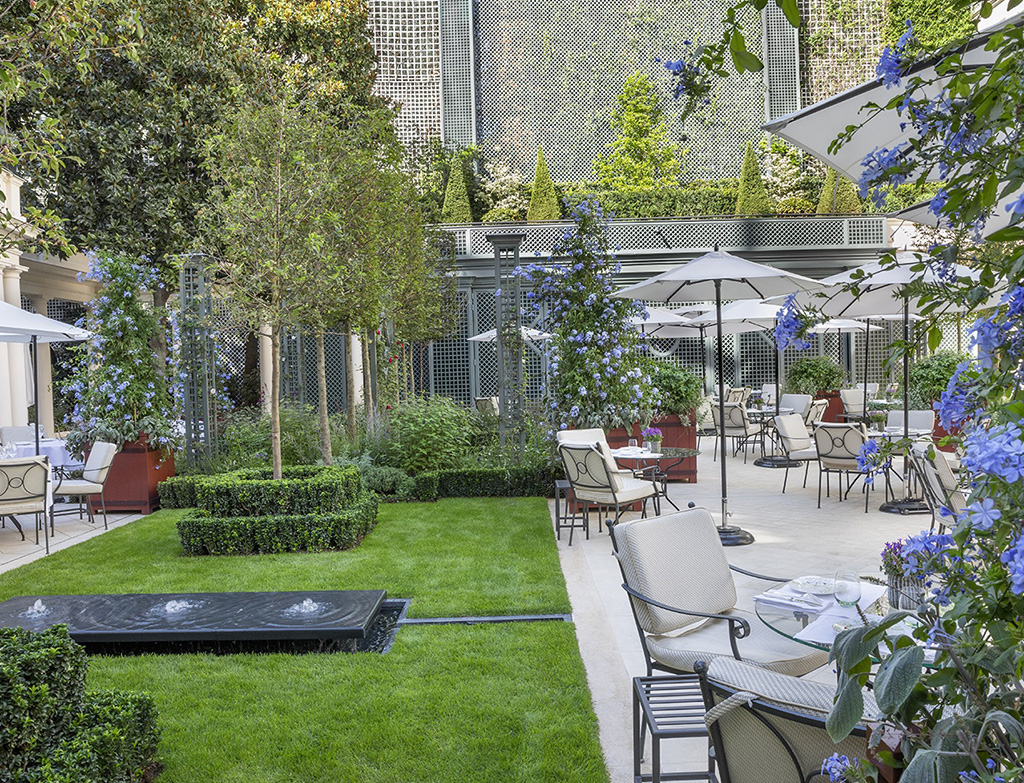 Located at the heart of the hotel Le Bristol Paris, Le Jardin Francais is an iconic garden and is known for its beautiful floral arrangements. The renovation was implemented to give this beautiful locale a modern yet classic look. This lush space acts as a nirvana of peace and tranquillity, offering a scenic escape from the bustling Parisian chaos. This estate is also home to its own beehives and tends over 500 varieties of flowers and plants.
The redesigned garden is a beauty to behold and a true inspiration for all outlook enthusiasts. It provides a beautiful setting for you to breathe in the surrounding atmosphere while sipping on a cocktail or reading a book. The lavish revamp features a combination of French and American influences to create a new and unique garden that marries the best of both worlds. The garden features a vibrant mix of indigenous plants, flowers and trees.
A WORK OF THE GENIUSES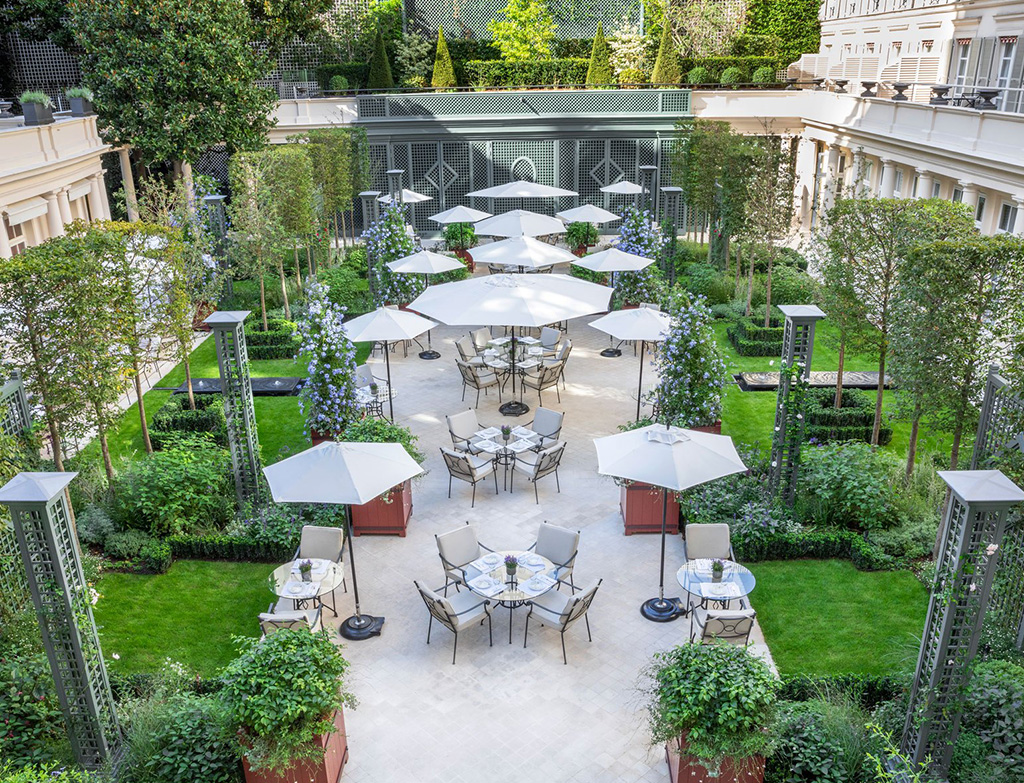 Schumacher's creativity is evident in the ingenious utilisation of floral motifs that have been a trademark of the company since its inception. The garden is alive with colour, texture and various forms of organic structures. Additionally, the garden features a creative use of glass and metal to create beautiful sculptures that complement the natural beauty of the garden.
An impressive troupe composed of genius landscape architects selected from both Le Bristol Paris and Schumacher with the dynamic presence of award-winning designer Marie-Carline Williams in tow, who worked endlessly to bring this dream project into reality. The skilled professionals drew their creative insight from various unique sources. Overall boasting a combined expertise of over decades, a magnificent masterpiece was created that is bound to leave anyone who visits Le Jardin Francais in awe!
Discover Le Jardin Francais by Schumacher every day from 12:00 pm on June, 1st 2023 at: www.oetkercollection.com