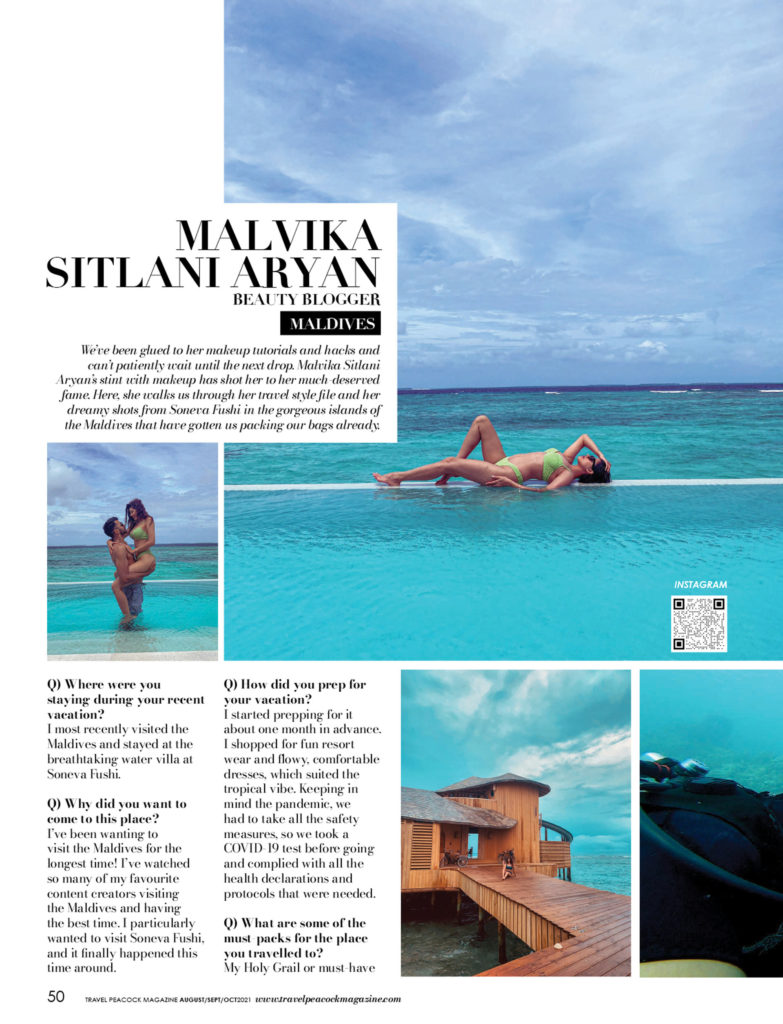 MALVIKA SITLANI ARYAN
CREDITS – All images sourced from Malvika
We've been glued to her makeup tutorials and hacks and can't patiently wait until the next drop. Malvika Sitlani's stint with makeup has shot her to her much-deserved fame. Here, Sitlani walks us through her travel style file and her dreamy shots from Soneva Fushi in the gorgeous islands of the Maldives that have gotten us packing our bags already.
[Q] Where were you staying during your recent vacation?
I most recently visited the Maldives and stayed at the breathtaking water villa at Soneva Fushi.
[Q] Why did you want to come to this place?
I've been wanting to visit the Maldives for the longest time! I've watched so many of my favourite content creators visiting the Maldives and having the best time. I particularly wanted to visit Soneva Fushi, and it finally happened this time around.
[Q] How did you prep for your vacation?
I started prepping for it about one month in advance. I shopped for fun resort wear and flowy, comfortable dresses, which suited the tropical vibe. Keeping in mind the pandemic, we had to take all the safety measures, so we took a COVID-19 test before going and complied with all the health declarations and protocols that were needed.
[Q] What are some of the must-packs for the place you travelled to?
My Holy Grail or must-have for this trip were a good pair of sunglasses to beat the heat. A lot of flowy dresses, protective sunscreen, and a pair of basic slippers as well because most of the properties in the Maldives, including Soneva, are barefoot resorts.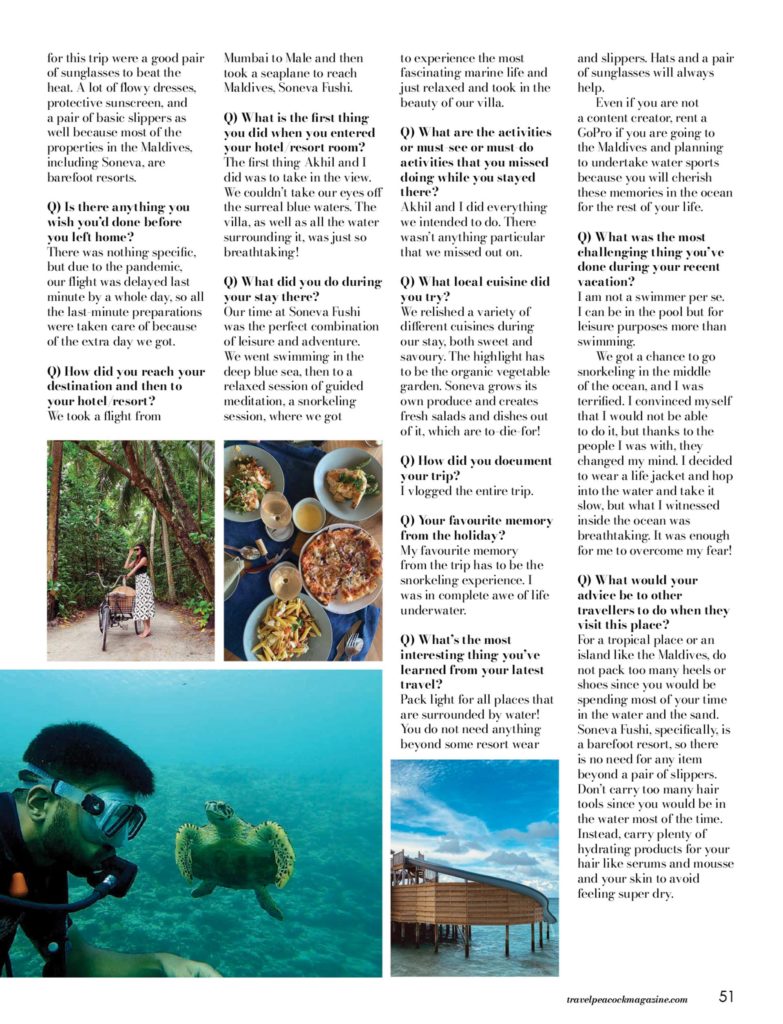 [Q] Is there anything you wish you'd done before you left home?
There was nothing specific, but due to the pandemic, our flight was delayed last minute by a whole day, so all the last-minute preparations were taken care of because of the extra day we got.
[Q] How did you reach your destination and then to your hotel/resort?
We took a flight from Mumbai to Male and then took a seaplane to reach Maldives, Soneva Fushi.
[Q] What is the first thing you did when you entered your hotel/resort room?
The first thing Akhil and I did was to take in the view. We couldn't take our eyes off the surreal blue waters. The villa, as well as all the water surrounding it, was just so breathtaking!
[Q] What did you do during your stay there?
Our time at Soneva Fushi was the perfect combination of leisure and adventure. We went swimming in the deep blue sea, then to a relaxed session of guided meditation, a snorkeling session, where we got to experience the most fascinating marine life and just relaxed and took in the beauty of our villa.
[Q] What are the activities or must-see or must-do activities that you missed doing while you stayed there?
Akhil and I did everything we intended to do. There wasn't anything particular that we missed out on.
[Q] What local cuisine did you try?
We relished a variety of different cuisines during our stay, both sweet and savoury. The highlight has to be the organic vegetable garden. Soneva grows its own produce and creates fresh salads and dishes out of it, which are to-die-for!
[Q] How did you document your trip?
I vlogged the entire trip.
[Q] Your favourite memory from the holiday?
My favourite memory from the trip has to be the snorkeling experience. I was in complete awe of life underwater.
[Q] What's the most interesting thing you've learned from your latest travel?
Pack light for all places that are surrounded by water! You do not need anything beyond some resort wear and slippers. Hats and a pair of sunglasses will always help.
Even if you are not a content creator, rent a GoPro if you are going to the Maldives and planning to undertake water sports because you will cherish these memories in the ocean for the rest of your life.
[Q] What was the most challenging thing you've done during your recent vacation?
I am not a swimmer per se. I can be in the pool but for leisure purposes more than swimming.
We got a chance to go snorkeling in the middle of the ocean, and I was terrified. I convinced myself that I would not be able to do it, but thanks to the people I was with, they changed my mind. I decided to wear a life jacket and hop into the water and take it slow, but what I witnessed inside the ocean was breathtaking. It was enough for me to overcome my fear!
[Q] What would your advice be to other travellers to do when they visit this place?
For a tropical place or an island like the Maldives, do not pack too many heels or shoes since you would be spending most of your time in the water and the sand. Soneva Fushi, specifically, is a barefoot resort, so there is no need for any item beyond a pair of slippers. Don't carry too many hair tools since you would be in the water most of the time. Instead, carry plenty of hydrating products for your hair like serums and mousse and your skin to avoid feeling super dry.
[Q] Do you call yourself a traveler or a tourist?
I am a complete traveller, or I could say I have become one since most of my travel is with Akhil, and he really likes to plan and prepare our to-dos for a vacation. All of our vacations together always include diving deep into an experience or activity that can only be done at our vacation spot and visiting local cafes and hidden gems across the place.
[Q] What kind of packer are you – light or heavy-duty?
I'm totally a heavy-duty packer, but only in terms of clothing. When it comes to makeup and personal care, I always ensure I have a small kit and minis that make travelling with items easier.
[Q] What are your travel essentials?
Packing cubes to ensure my suitcase is always organised and does not look messy. A jacket or a hoodie for the flight and otherwise too since I feel cold easily. Minis of all your bath and body products to make travelling easier, a pouch with some basic medicines for headaches, upset stomach, cramps, etc.
[Q] How many gadgets do you carry while traveling?
Just my phone and my vlogging camera.
[Q] What are your travelling pet peeves?
Small travelling bags! I always need a big suitcase with lots of space irrespective of the vacation being a short one or a long one.
[Q] What has been the most useful travel item you've bought?
It is definitely the packing cubes for my suitcase and my CK suitcase since it's extremely spacious and looks super chic!
[Q] What's the most reliable source of travel advice?
YouTube. I always watch a lot of vlogs and videos by my favorite YouTubers and content creators. Apart from that, I usually go to Akhil for all my travel doubts.
[Q] Do you prefer to walk, take public transport, or take private transport during a vacation?
It is actually subjective to the destination.
[Q] Would you rather see a lot of places or get to know one really well?
I'd rather see a lot of places but have some amazing memories and experiences associated with each one.
[Q] What is your dream traveling experience?
I don't know about an experience in particular, but I have a list of places I want to visit in my life, and I am slowly ticking off places from there.
[Q] What, according to you, is that one most cliched thing to do when on a vacation?
Nothing really, I believe everyone's travel comfort is different!