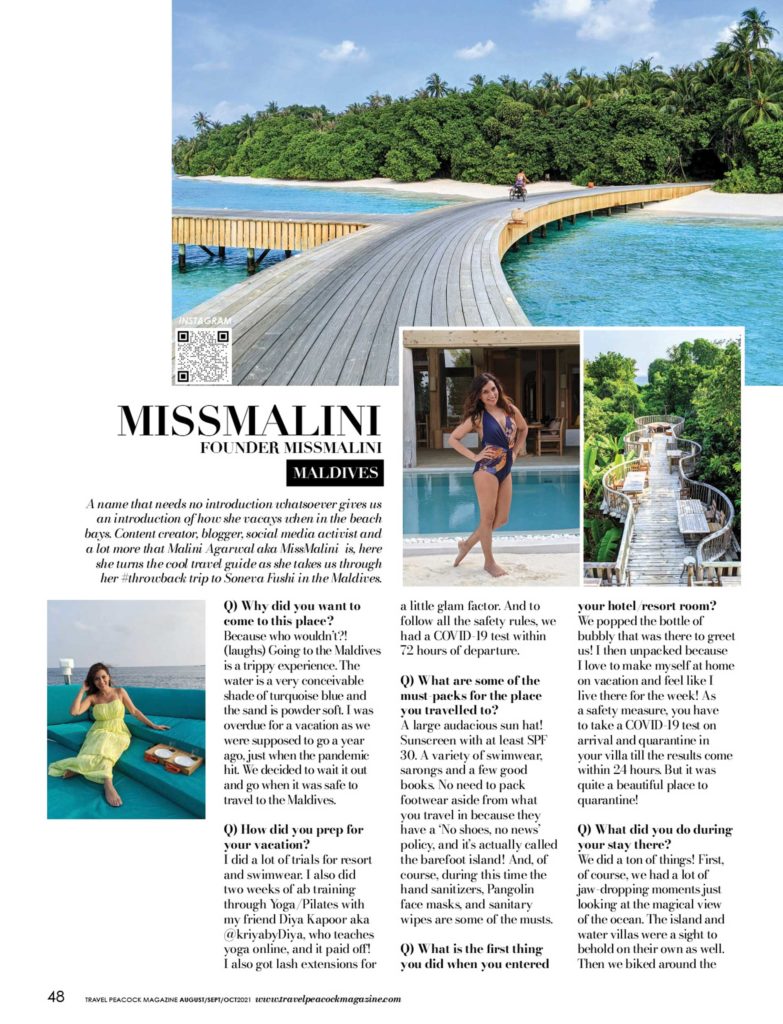 MISSMALINI IN MALDIVES – FOUNDER MISSMALINI
CREDITS – All images sourced from Juhi
A name that needs no introduction whatsoever gives us an introduction of how she vacays when in the beach bays. Content creator, blogger, social media activist and a lot more that Malini Agarwal aka MissMalini is, here she turns the cool travel guide as she takes us through her #throwback trip to Soneva Fushi in the Maldives.
[Q] Where were you staying during your recent vacation?
At the luxury beach resort Soneva Fushi in the Maldives.
[Q] Why did you want to come to this place?
Because who wouldn't?! (laughs) Going to the Maldives is a trippy experience. The water is a very conceivable shade of turquoise blue and the sand is powder soft. I was overdue for a vacation as we were supposed to go a year ago, just when the pandemic hit. We decided to wait it out and go when it was safe to travel to the Maldives.
[Q] How did you prep for your vacation?
I did a lot of trials for resort and swimwear. I also did two weeks of ab training through Yoga/Pilates with my friend Diya Kapoor aka @kriyabyDiya, who teaches yoga online, and it paid off! I also got lash extensions for a little glam factor. And to follow all the safety rules, we had a COVID-19 test within 72 hours of departure.
[Q] What are some of the must-packs for the place you travelled to?
A large audacious sun hat! Sunscreen with at least SPF 30. A variety of swimwear, sarongs and a few good books. No need to pack footwear aside from what you travel in because they have a 'No shoes, no news' policy, and it's actually called the barefoot island! And, of course, during this time the hand sanitizers, Pangolin face masks, and sanitary wipes are some of the musts.
[Q] Is there anything you wish you'd done before you left home?
I wish I'd gotten blue highlights in my hair to go with the water! I think this time I packed everything I needed to. I have a lovely life manager Yeansha who pretty much ensures I don't forget anything ever.
[Q] How did you reach your destination and then to your hotel/resort?
We flew to Male and then took a seaplane to Soneva Fushi, which was a 30-minute ride.
[Q] What is the first thing you did when you entered your hotel/resort room?
We popped the bottle of bubbly that was there to greet us! I then unpacked because I love to make myself at home on vacation and feel like I live there for the week! As a safety measure, you have to take a COVID-19 test on arrival and quarantine in your villa till the results come within 24 hours. But it was quite a beautiful place to quarantine!
[Q] What did you do during your stay there?
We did a ton of things! First, of course, we had a lot of jaw-dropping moments just looking at the magical view of the ocean. The island and water villas were a sight to behold on their own as well. Then we biked around the island, which was so nice, especially breathing in the fresh air and smelling the trees. Since we're content creators, we shot a lot of fun, trending reels. We visited the dolphin beach and the turtle point and toured the property. We then chilled and did a little snorkeling at the Bara Bara waterfront bar. We also jumped on the dolphin cruise for bubbles and sea breeze. We went to the observatory and got a good look at the moon! We also watched the island bunnies hop around and hit the water in a glass-bottom boat canoe. Then walked into the sunset and left footprints on the beach. On our last day, we had drinks on a natural sandbank in the middle of the ocean with all the other guests and hosts. It was breathtaking!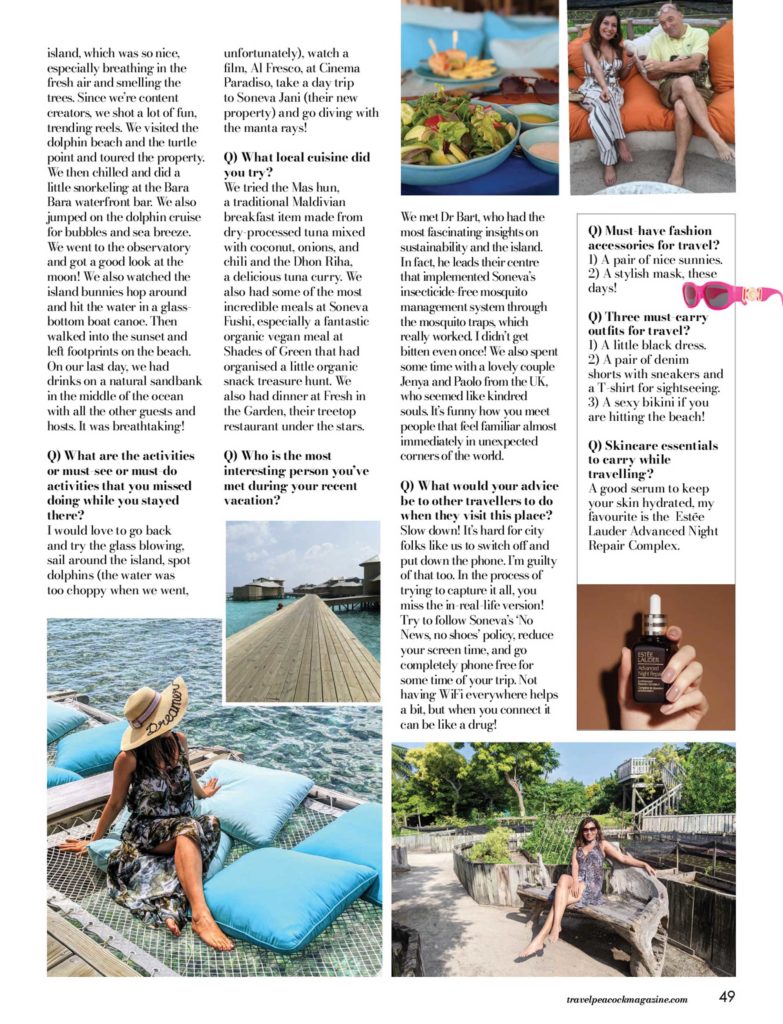 [Q] What are the activities or must-see or must-do activities that you missed doing while you stayed there?
I would love to go back and try the glass blowing, sail around the island, spot dolphins (the water was too choppy when we went, unfortunately), watch a film, Al Fresco, at Cinema Paradiso, take a day trip to Soneva Jani (their new property) and go diving with the manta rays!
[Q] What local cuisine did you try?
We tried the Mas hun, a traditional Maldivian breakfast item made from dry-processed tuna mixed with coconut, onions, and chili and the Dhon Riha, a delicious tuna curry. We also had some of the most incredible meals at Soneva Fushi, especially a fantastic organic vegan meal at Shades of Green that had organised a little organic snack treasure hunt. We also had dinner at Fresh in the Garden, their treetop restaurant under the stars.
[Q] How did you document your trip?
As a content creator, we're constantly shooting content. In fact, I think I get dreams of reels even now! On this trip, we used our phones but next time I'm coming back with a gimbal and a drone.
[Q] Your favourite memory from the holiday?
Biking around the forest was sensational! It just felt so wonderful to be out in nature taking in the fresh air, hearing the birds and taking deep breaths without a mask on. Funny how these have become the most precious activities during the pandemic!
I also loved walking along the beach leaving footprints, watching the waves kiss the shore and soaking in how blue the water is. You have to see it to believe it!
[Q] Who is the most interesting person you've met during your recent vacation?
We met Dr Bart, who had the most fascinating insights on sustainability and the island. In fact, he leads their centre that implemented Soneva's insecticide-free mosquito management system through the mosquito traps, which really worked. I didn't get bitten even once! We also spent some time with a lovely couple Jenya and Paolo from the UK, who seemed like kindred souls. It's funny how you meet people that feel familiar almost immediately in unexpected corners of the world.
[Q] What's the most interesting thing you've learned from your latest travel?
I have learned the value of freedom. The first thing we talked about with everyone I met was how amazing it felt to be barefoot and with masks off. So clearly, everyone has learned to value pretty much the same things over the last year. I've also learned that I need to let go of my phone more! Sometimes I was so busy posting that I missed a few moments.
[Q] What was the most challenging thing you've done during your recent vacation?
The COVID-19 tests! We had to do three in all. One on the way there, one there, and one on our way back! But that was a small price to pay all-things-considered.
[Q] What would your advice be to other travellers to do when they visit this place
Slow down! It's hard for city folks like us to switch off and put down the phone. I'm guilty of that too. In the process of trying to capture it all, you miss the in-real-life version! Try to follow Soneva's 'No News, no shoes' policy, reduce your screen time, and go completely phone free for some time of your trip. Not having WiFi everywhere helps a bit, but when you connect it can be like a drug!
[Q] Must-have fashion accessories for travel
1) A pair of nice sunnies.
2) A stylish mask, these days!
[Q] Three must-carry outfits for travel?
1) A little black dress.
2) A pair of denim shorts with sneakers and a T-shirt for sightseeing.
3) A sexy bikini if you are hitting the beach!
[Q] Skincare essentials to carry while travelling?
A good serum to keep your skin hydrated, my favourite is the Estée Lauder Advanced Night Repair Complex.
[Q] Do you call yourself a traveler or a tourist?
I am a traveller. I have wanderlust!
[Q] What kind of packer are you – light or heavy-duty?
Massively heavy-duty packer, but I'm trying to improve. I always feel like I will regret not taking something, so I end up taking everything!
[Q] What are your travel essentials?
All my chargers, a curling iron, makeup, makeup wipes, headphones, sneakers, sunglasses, and sling bags!
[Q] How many gadgets do you carry while travelling?
Loads! My phone, various battery packs, headphones, universal adaptors, hair iron, and a hand steamer for my clothes (I blame the #OOTDs I have to take!). But I have tried to stop carrying my laptop so that I can stay away from work. My Laptop only goes with me if the trip is more than three days.
[Q] What are your travelling pet peeves?
I can't do 6:00am tour bus rides anymore. I'd rather walk around the city or hop on a bike or scooter.
[Q] What has been the most useful travel item you've bought?
For sure, my universal adaptor! It has saved me many times! As well as my travel makeup kit, which keeps everything in order when I travel.
[Q] What's the most reliable source of travel advice?
Friends who have been there and the 'Girl Tribe' by MissMalini, our community of 55,000+ women who have the best travel advice!
[Q] What's the most important thing that you've ever lost on any of your vacations?
I have often left random things behind at hotels, like shoes, clothes, or one earring! Luckily, I haven't lost anything significant. I hope I didn't just jinx it!
[Q] Do you prefer to walk, take public transport, or take private transport during a vacation?
I don't mind walking or taking some kind of open-air transport. It's nice to get a feel of the city that way. Closed private transport puts you in a cocoon. I also hate air-conditioned cars and buses. I mean, what's the point of leaving your room then?!
[Q] What's the best souvenir you've bought?
I collect a necklace from each place I have visited. It's something from a street shop ideally with a little charm that reminds me of the trip. I brought back a stingray charm from my trip to the Maldives.
[Q] Would you rather see a lot of places or get to know one really well?
I want to visit every corner of the world and then go back to the ones I fall in love with.
[Q] What is your dream travelling experience?
It would be travelling on a yacht around the Mediterranean Sea, stopping at different ports.
[Q] What, according to you, is that one most cliched thing to do when on a vacation?
Draw a heart in the sand with your initials in it. But that has never stopped me! (laughs)


Add to favorites