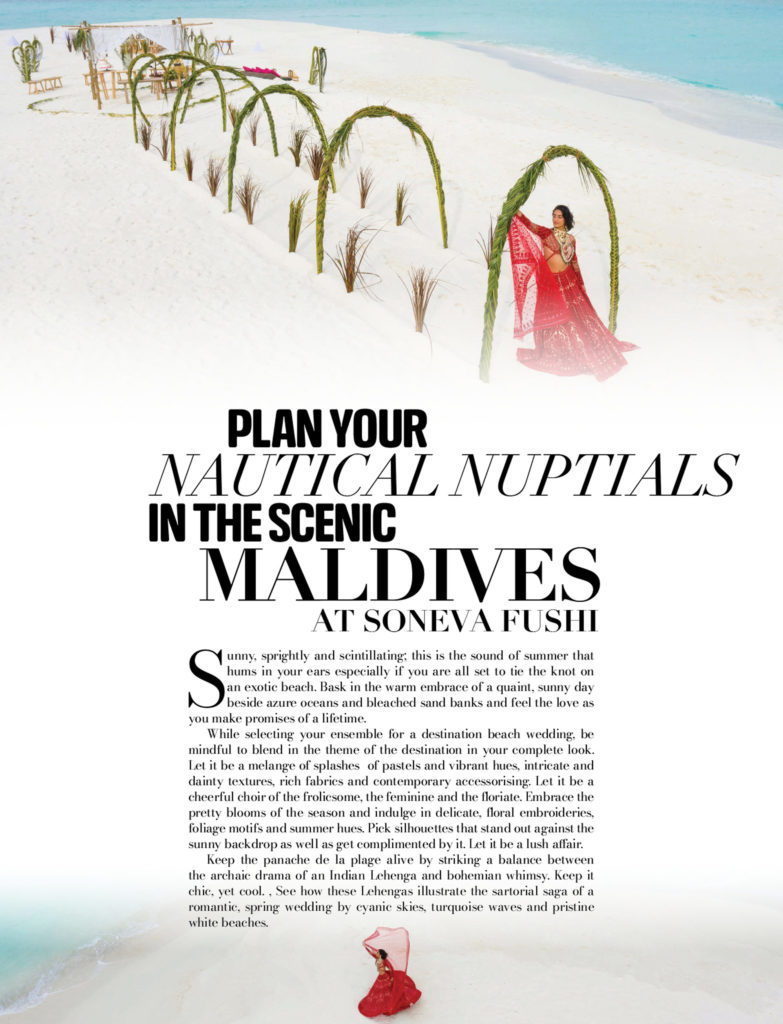 PLAN YOUR NAUTICAL NUPTIALS IN THE SCENIC MALDIVES AT SONEVA FUSHI
Sunny, sprightly and scintillating; this is the sound of summer that hums in your ears especially if you are all set to tie the knot on an exotic beach. Bask in the warm embrace of a quaint, sunny day beside azure oceans and bleached sand banks and feel the love as you make promises of a lifetime.
While selecting your ensemble for a destination beach wedding, be mindful to blend in the theme of the destination in your complete look. Let it be a melange of splashes of pastels and vibrant hues, intricate and dainty textures, rich fabrics and contemporary accessorising. Let it be a cheerful choir of the frolicsome, the feminine and the floriate. Embrace the pretty blooms of the season and indulge in delicate, floral embroideries, foliage motifs and summer hues. Pick silhouettes that stand out against the sunny backdrop as well as get complimented by it. Let it be a lush affair.
Keep the panache de la plage alive by striking a balance between the archaic drama of an Indian Lehenga and bohemian whimsy. Keep it chic, yet cool. , See how these Lehengas illustrate the sartorial saga of a romantic, spring wedding by cyanic skies, turquoise waves and pristine white beaches.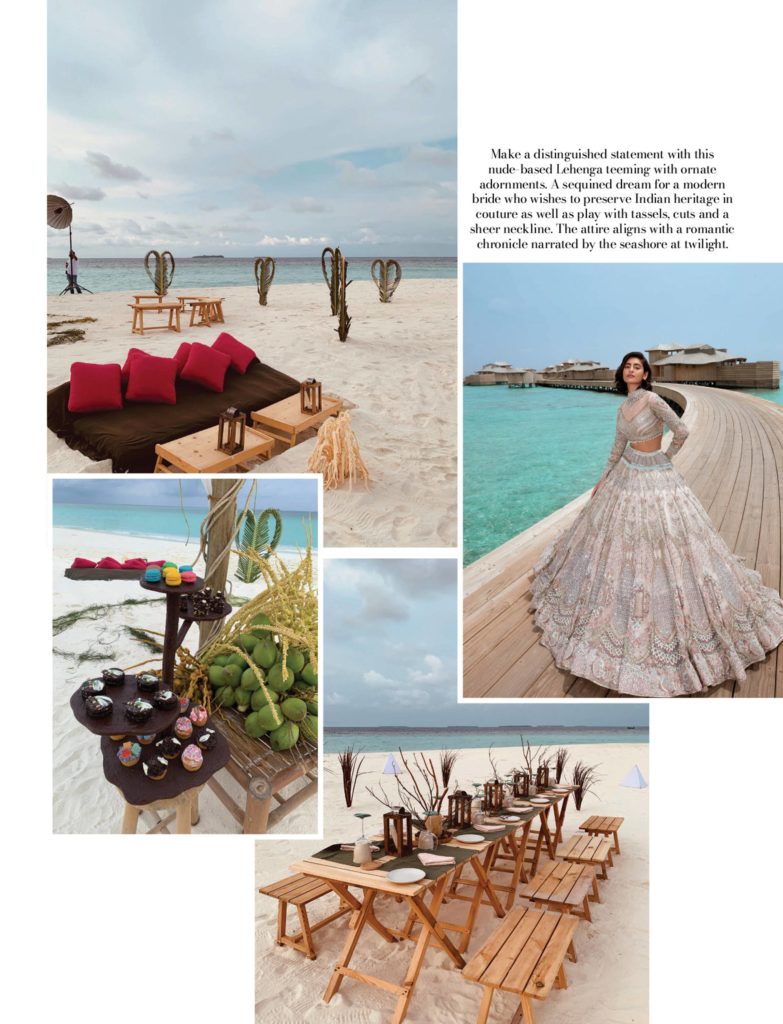 Make a distinguished statement with this nude-based Lehenga teeming with ornate adornments. A sequined dream for a modern bride who wishes to preserve Indian heritage in couture as well as play with tassels, cuts and a sheer neckline. The attire aligns with a romantic chronicle narrated by the seashore at twilight.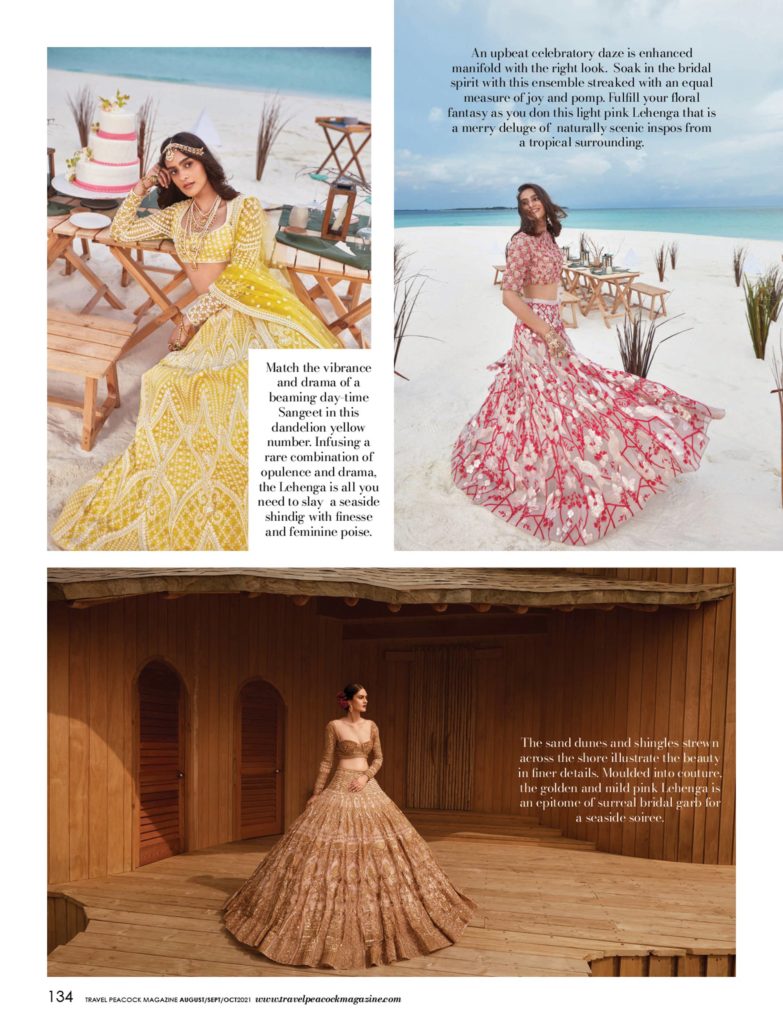 Match the vibrance and drama of a beaming day-time Sangeet in this dandelion yellow number. Infusing a rare combination of opulence and drama, the Lehenga is all you need to slay a seaside shindig with finesse and feminine poise.
An upbeat celebratory daze is enhanced manifold with the right look. Soak in the bridal spirit with this ensemble streaked with an equal measure of joy and pomp. Fulfill your floral fantasy as you don this light pink Lehenga that is a merry deluge of naturally scenic inspos from a tropical surrounding.
The sand dunes and shingles strewn across the shore illustrate the beauty in finer details. Moulded into couture, the golden and mild pink Lehenga is an epitome of surreal bridal garb for a seaside soiree.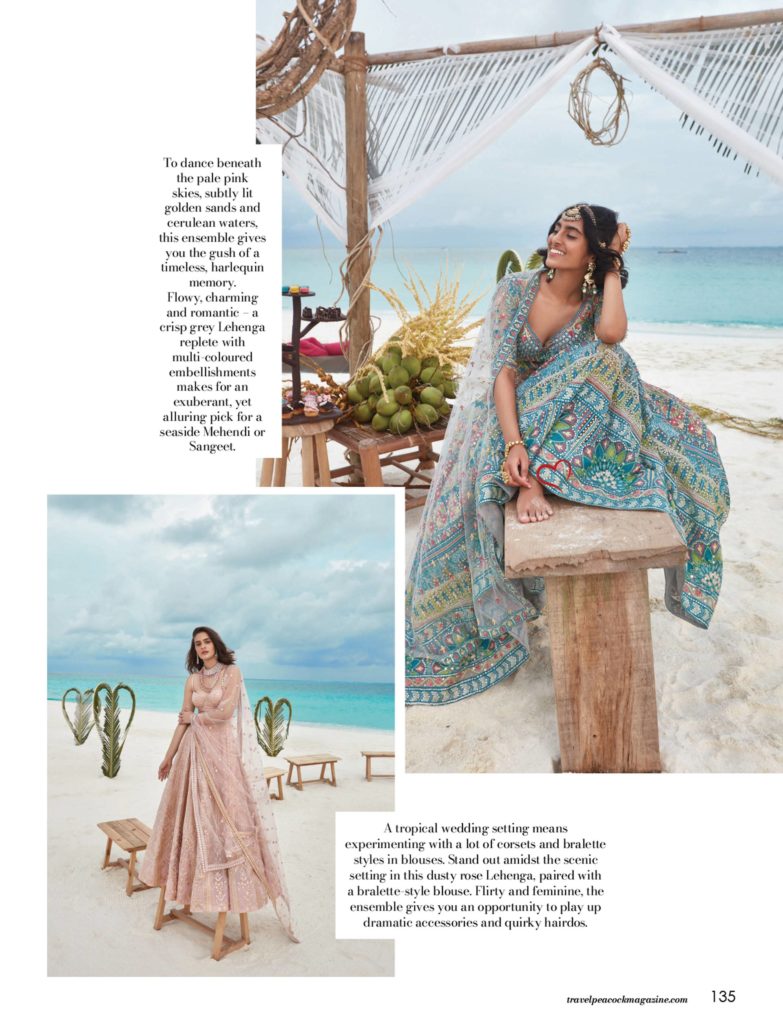 To dance beneath the pale pink skies, subtly lit golden sands and cerulean waters, this ensemble gives you the gush of a timeless, harlequin memory.
Flowy, charming and romantic — a crisp grey Lehenga replete with multi-coloured embellishments makes for an exuberant, yet alluring pick for a seaside Mehendi or Sangeet.
A tropical wedding setting means experimenting with a lot of corsets and bralette styles in blouses. Stand out amidst the scenic setting in this dusty rose Lehenga, paired with a bralette-style blouse. Flirty and feminine, the ensemble gives you an opportunity to play up dramatic accessories and quirky hairdos.


Add to favorites