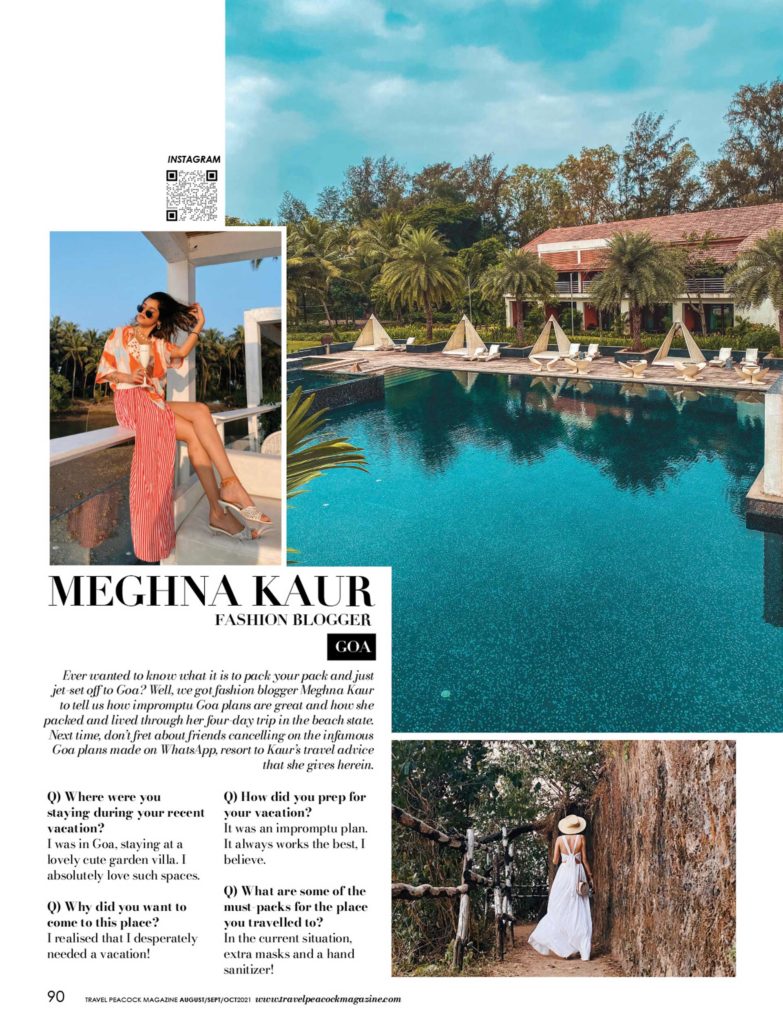 MEGHNA KAUR IN GOA – FASHION BLOGGER
CREDITS – All images sourced from Meghna
Ever wanted to know what it is to pack your pack and just jet-set off to Goa? Well, we got fashion blogger Meghna Kaur to tell us how impromptu Goa plans are great and how she packed and lived through her four-day trip in the beach state. Next time, don't fret about friends cancelling on the infamous Goa plans made on WhatsApp, resort to Kaur's travel advice that she gives herein.
[Q] Where were you staying during your recent vacation?
I was in Goa, staying at a lovely cute garden villa. I absolutely love such spaces.
[Q] Why did you want to come to this place?
I realised that I desperately needed a vacation!
[Q] How did you prep for your vacation?
It was an impromptu plan. It always works the best, I believe.
[Q] What are some of the must-packs for the place you travelled to?
In the current situation, extra masks and a hand sanitizer!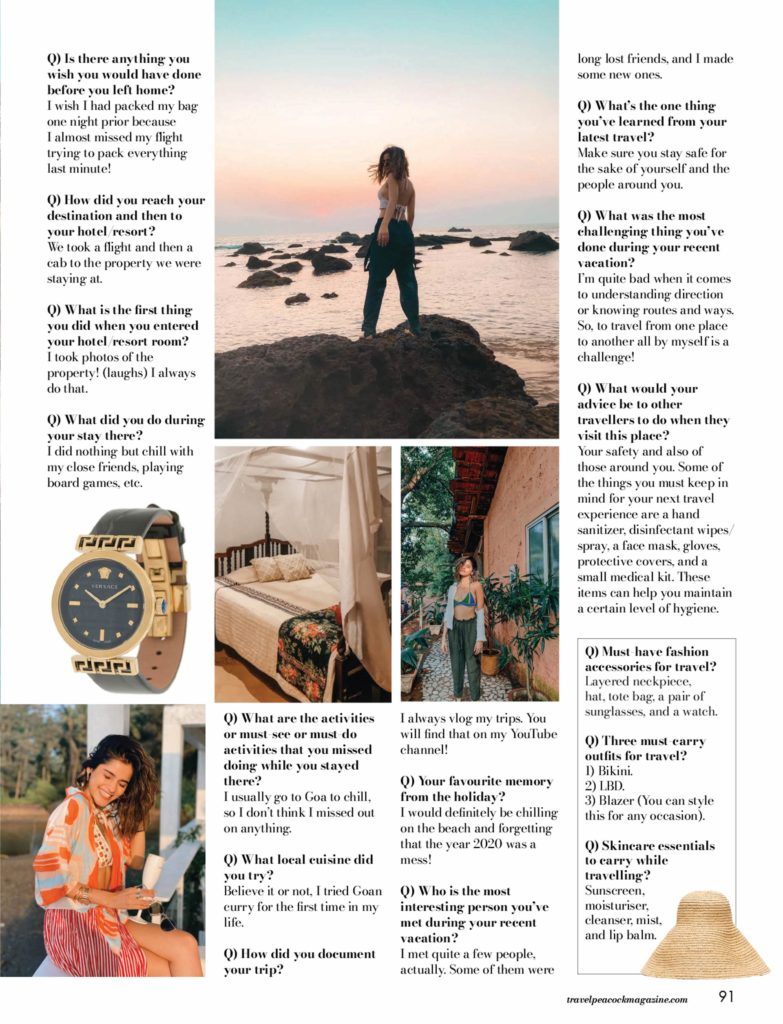 [Q] Is there anything you wish you would have done before you left home?
I wish I had packed my bag one night prior because I almost missed my flight trying to pack everything last minute!
[Q] How did you reach your destination and then to your hotel/resort?
We took a flight and then a cab to the property we were staying at.
[Q] What is the first thing you did when you entered your hotel/resort room?
I took photos of the property! (laughs) I always do that.
[Q] What did you do during your stay there?
I did nothing but chill with my close friends, playing board games, etc.
[Q] What are the activities or must-see or must-do activities that you missed doing while you stayed there?
I usually go to Goa to chill, so I don't think I missed out on anything.
[Q] What local cuisine did you try?
Believe it or not, I tried Goan curry for the first time in my life.
[Q] How did you document your trip?
I always vlog my trips. You will find that on my YouTube channel!
[Q] Your favourite memory from the holiday?
I would definitely be chilling on the beach and forgetting that the year 2020 was a mess!
[Q] Who is the most interesting person you've met during your recent vacation?
I met quite a few people, actually. Some of them were long lost friends, and I made some new ones.
[Q] What's the one thing you've learned from your latest travel?
Make sure you stay safe for the sake of yourself and the people around you.
[Q] What was the most challenging thing you've done during your recent vacation?
I'm quite bad when it comes to understanding direction or knowing routes and ways. So, to travel from one place to another all by myself is a challenge!
[Q] What would your advice be to other travellers to do when they visit this place?
Your safety and also of those around you. Some of the things you must keep in mind for your next travel experience are a hand sanitizer, disinfectant wipes/spray, a face mask, gloves, protective covers, and a small medical kit. These items can help you maintain a certain level of hygiene.
[Q] Must-have fashion accessories for travel?
Layered neckpiece, hat, tote bag, a pair of sunglasses, and a watch.
[Q] Three must-carry outfits for travel?
1) Bikini.
2) LBD.
3) Blazer (You can style this for any occasion).
[Q] Skincare essentials to carry while travelling?
Sunscreen, moisturiser, cleanser, mist, and lip balm.
[Q] Do you call yourself a traveller or a tourist?
Traveler! Always have been one, by my heart and soul!
[Q] What kind of packer are you – light or heavy-duty?
A very heavy-duty one! (laughs) I always carry extra outfits, in any case.
[Q] What are your travel essentials?
Power bank, a book to read, and a bottle of water.
[Q] How many gadgets do you carry while travelling?
My phone and my laptop.
[Q] What are your travelling pet peeves?
Cleanliness, being organised and sticking to the plan.
[Q] What has been the most useful travel item you've bought?
Neck pillow, definitely!
[Q] What's the most important travel advice you'd like to give?
Keep everything important in your daypack. If there's anything I'd be upset to lose, I keep it in my daypack, which is always by my side on travel days. In my daypack, I keep my passport, laptop, camera, external hard drive, a debit card, and some cash. As long as I have all of these, I can survive indefinitely.
[Q] What's the most important thing that you've ever lost on any of your vacations?
Don't judge me, but I forgot my passport on the flight once. That's why the above answer, too! Lucky me that this air attendant found it and gave it back to me safely.
[Q] Do you prefer to walk, take public transport, or take private transport during a vacation?
I prefer walking or taking a mode of private transport. I believe walking allows you to explore at ease and peace.
[Q] What's the best souvenir you've bought?
Every time I travel overseas, I make sure I buy stuff for these five-six people in my life. It is always the little cute things.
[Q] Would you rather see a lot of places or get to know one really well?
I'd love to see a lot of places.


Add to favorites