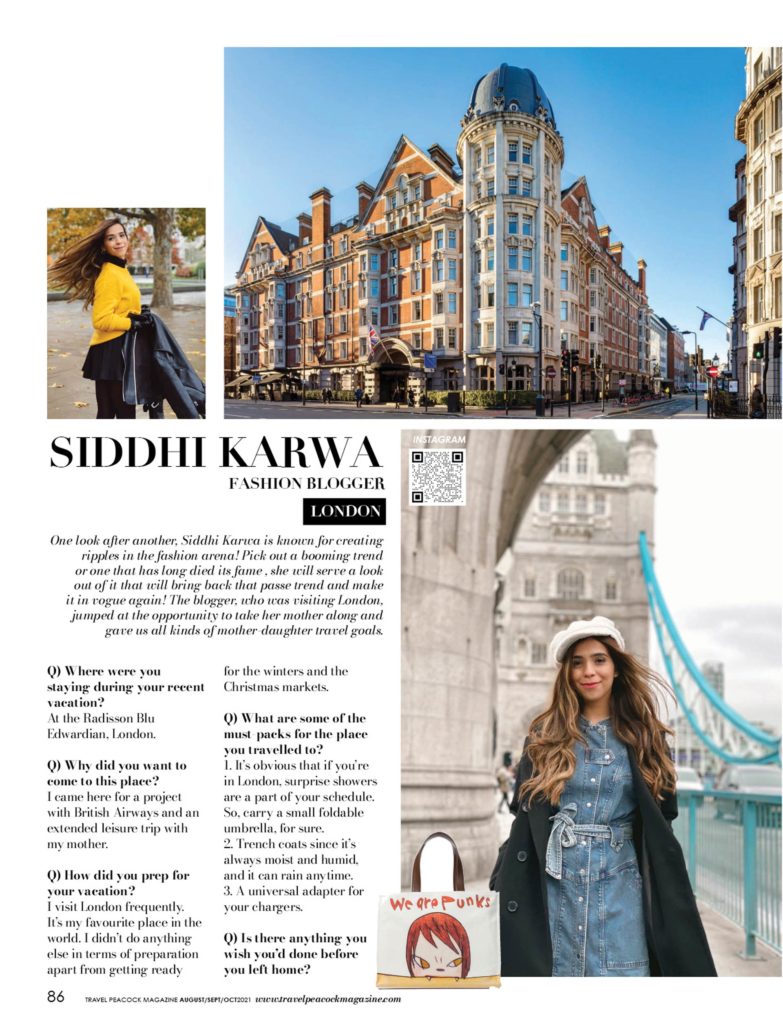 SIDDHI KARWA IN LONDON – FASHION BLOGGER
CREDITS – All images sourced from Siddhi
One look after another, Siddhi Karwa is known for creating ripples in the fashion arena! Pick out a booming trend or one that has long died its fame , she will serve a look out of it that will bring back that passe trend and make it in vogue again! The blogger, who was visiting London, jumped at the opportunity to take her mother along and gave us all kinds of mother-daughter travel goals.
[Q] Where were you staying during your recent vacation?
At the Radisson Blu Edwardian, London.
[Q] Why did you want to come to this place?
I came here for a project with British Airways and an extended leisure trip with my mother.
[Q] How did you prep for your vacation?
I visit London frequently. It's my favourite place in the world. I didn't do anything else in terms of preparation apart from getting ready for the winters and the Christmas markets.
[Q] What are some of the must-packs for the place you travelled to?
1. It's obvious that if you're in London, surprise showers are a part of your schedule. So, carry a small foldable umbrella, for sure.
2. Trench coats since it's always moist and humid, and it can rain anytime.
3. A universal adapter for your chargers.
[Q] Is there anything you wish you'd done before you left home?
I don't think so. I'm very organised like that, and I'm pretty sure I didn't miss out on anything.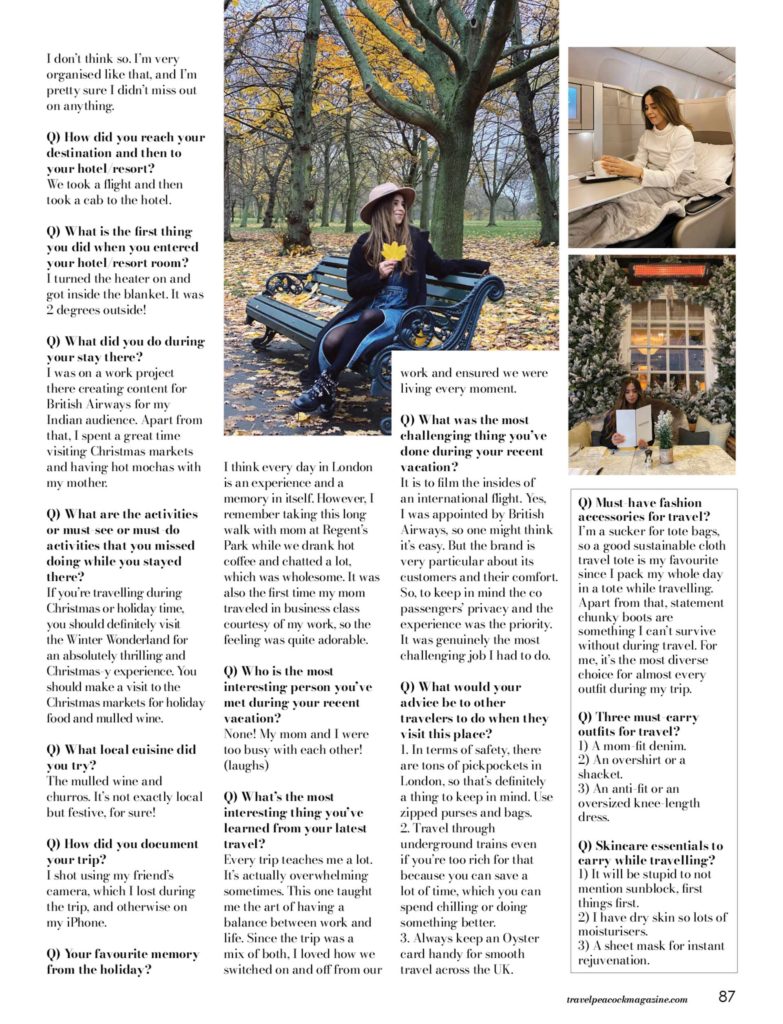 [Q] How did you reach your destination and then to your hotel/resort?
We took a flight and then took a cab to the hotel.
[Q] What is the first thing you did when you entered your hotel/resort room?
I turned the heater on and got inside the blanket. It was 2 degrees outside!
[Q] What did you do during your stay there?
I was on a work project there creating content for British Airways for my Indian audience. Apart from that, I spent a great time visiting Christmas markets and having hot mochas with my mother.
[Q] What are the activities or must-see or must-do activities that you missed doing while you stayed there?
If you're travelling during Christmas or holiday time, you should definitely visit the Winter Wonderland for an absolutely thrilling and Christmas-y experience. You should make a visit to the Christmas markets for holiday food and mulled wine.
[Q] What local cuisine did you try?
The mulled wine and churros. It's not exactly local but festive, for sure!
[Q] How did you document your trip?
I shot using my friend's camera, which I lost during the trip, and otherwise on my iPhone.
[Q] Your favourite memory from the holiday?
I think every day in London is an experience and a memory in itself. However, I remember taking this long walk with mom at Regent's Park while we drank hot coffee and chatted a lot, which was wholesome. It was also the first time my mom traveled in business class courtesy of my work, so the feeling was quite adorable.
[Q] Who is the most interesting person you've met during your recent vacation?
None! My mom and I were too busy with each other! (laughs)
[Q] What's the most interesting thing you've learned from your latest travel?
Every trip teaches me a lot. It's actually overwhelming sometimes. This one taught me the art of having a balance between work and life. Since the trip was a mix of both, I loved how we switched on and off from our work and ensured we were living every moment.
[Q] What was the most challenging thing you've done during your recent vacation?
It is to film the insides of an international flight. Yes, I was appointed by British Airways, so one might think it's easy. But the brand is very particular about its customers and their comfort. So, to keep in mind the co passengers' privacy and the experience was the priority. It was genuinely the most challenging job I had to do.
[Q] What would your advice be to other travelers to do when they visit this place?
1. In terms of safety, there are tons of pickpockets in London, so that's definitely a thing to keep in mind. Use zipped purses and bags.
2. Travel through underground trains even if you're too rich for that because you can save a lot of time, which you can spend chilling or doing something better.
3. Always keep an Oyster card handy for smooth travel across the UK.
[Q] Must-have fashion accessories for travel?
I'm a sucker for tote bags, so a good sustainable cloth travel tote is my favourite since I pack my whole day in a tote while travelling. Apart from that, statement chunky boots are something I can't survive without during travel. For me, it's the most diverse choice for almost every outfit during my trip.
[Q] Three must-carry outfits for travel?
1) A mom-fit denim.
2) An overshirt or a shacket.
3) An anti-fit or an oversized knee-length dress.
[Q] Skincare essentials to carry while travelling?
1) It will be stupid to not mention sunblock, first things first.
2) I have dry skin so lots of moisturisers.
3) A sheet mask for instant rejuvenation.
[Q] Do you call yourself a traveller or a tourist?
Traveller.
[Q] What kind of packer are you – light or heavy-duty?
Light. I hate cluttering my space where I live, so I always pack what I need. Nothing extra!
[Q] What are your travel essentials?
It's my earphones and a travel map because I'm mostly a solo traveler, so I love listening to my music and watching stuff while I travel.
[Q] How many gadgets do you carry while traveling?
It's mostly just my phone and earphones. I'm not a tech-savvy person. The one time I took a camera, someone stole it. Sigh!
[Q] What are your travelling pet peeves?
Way too many! (laughs)
1. Crowded, touristy places tops my list. I cannot stand that.
2. Standing up impatiently as soon as the flight lands.
3. Racist behaviour, obviously.
[Q] What has been the most useful travel item you've bought?
Universal adaptor.
[Q] What's the most reliable source of travel advice?
Travel blogs.
[Q] What's the most important thing that you've ever lost on any of your vacations?
Camera.
[Q] Do you prefer to walk, take public transport, or take private transport during a vacation?
I either walk or take public transport.
[Q] What's the best souvenir you've bought?
I am not a fan of souvenirs, it's too much of a touristy thing. But I do buy coffee cups from the places I travel to.
[Q] Would you rather see a lot of places or get to know one really well?
Get to know one really well! All my vacations are easily month-long and just one country because I really like to explore them better than jumping places.
[Q] What is your dream travelling experience?
It would be the ability to check into any hotel room in the country at any given point without any hesitance.
[Q] What, according to you, is that one most cliched thing to do when on a vacation?
Too many, but picking accents or adding geo locations in literally every story, post, or anything we upload.


Add to favorites