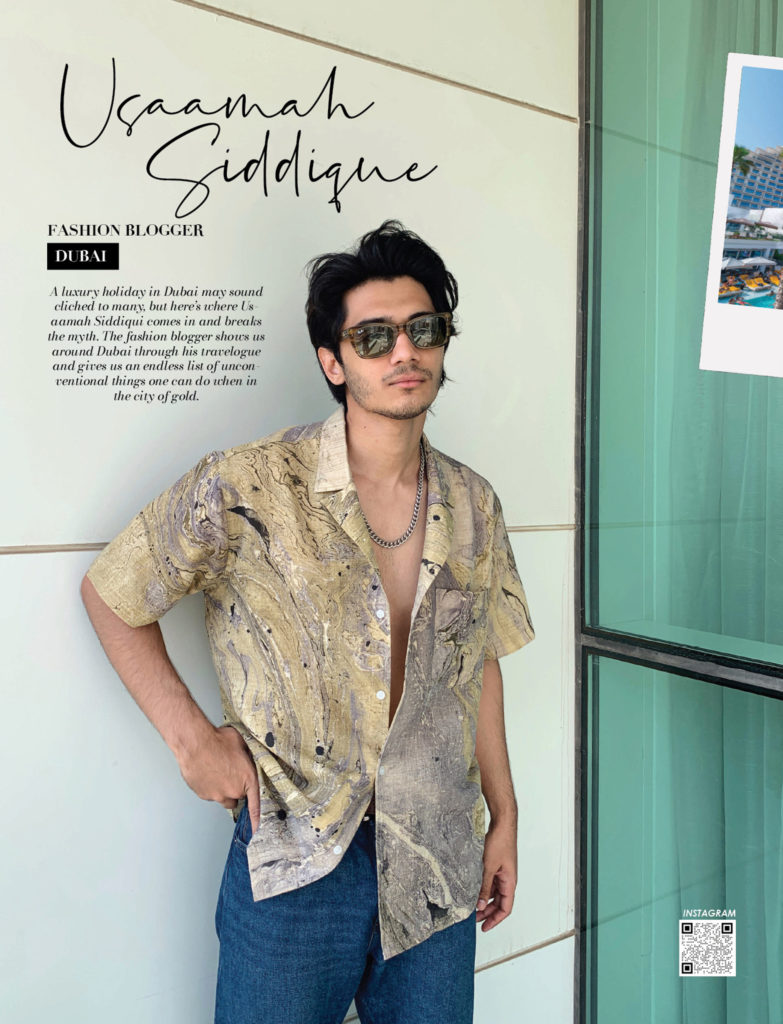 USAAMAH SIDDIQUE IN DUBAI – FASHION BLOGGER
CREDITS – All images sourced from Usaamah
A luxury holiday in Dubai may sound cliched to many, but here's where Usaamah Siddique comes in and breaks the myth. The fashion blogger shows us around Dubai through his travelogue and gives us an endless list of unconventional things one can do when in the city of gold.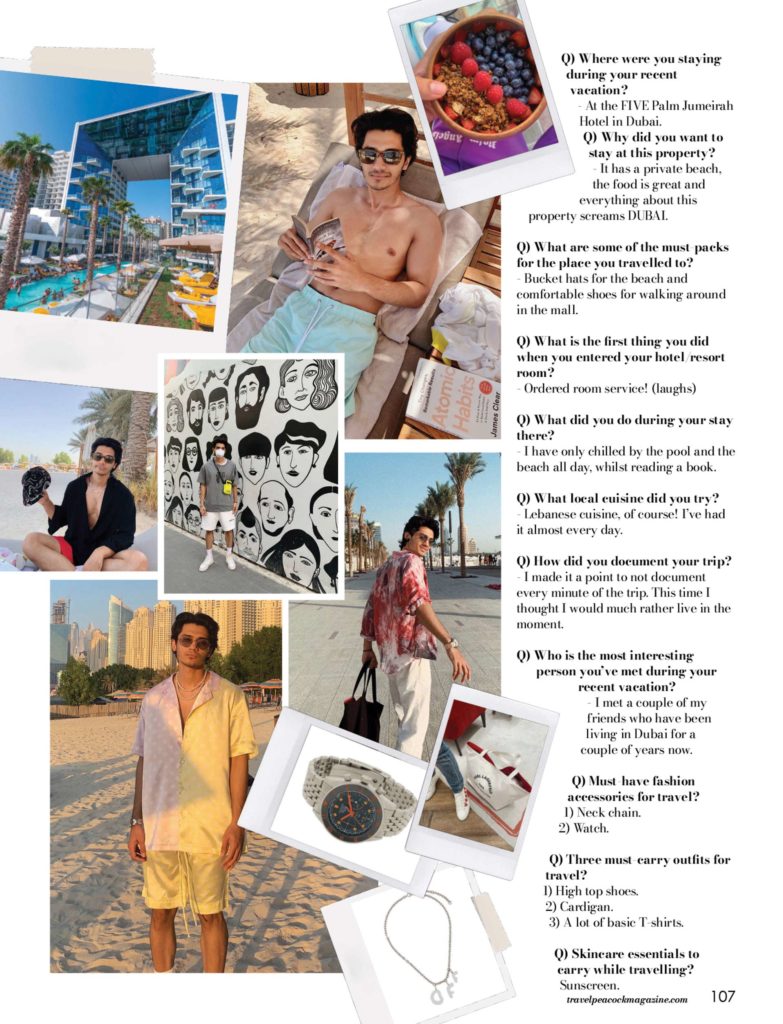 [Q] Where were you staying during your recent vacation?
– At the FIVE Palm Jumeirah Hotel in Dubai.
[Q] Why did you want to stay at this property?
– It has a private beach, the food is great and everything about this property screams DUBAI.
[Q] What are some of the must-packs for the place you travelled to?
– Bucket hats for the beach and comfortable shoes for walking around in the mall.
[Q] What is the first thing you did when you entered your hotel/resort room?
– Ordered room service! (laughs)
[Q] What did you do during your stay there?
– I have only chilled by the pool and the beach all day, whilst reading a book.
[Q] What local cuisine did you try?
– Lebanese cuisine, of course! I've had it almost every day.
[Q] How did you document your trip?
– I made it a point to not document every minute of the trip. This time I thought I would much rather live in the moment.
[Q] Who is the most interesting person you've met during your recent vacation?
– I met a couple of my friends who have been living in Dubai for a couple of years now.
[Q] Must-have fashion accessories for travel?
1) Neck chain.
2) Watch.
[Q] Three must-carry outfits for travel?
1) High top shoes.
2) Cardigan.
3) A lot of basic T-shirts.
[Q] Skincare essentials to carry while travelling?
Sunscreen.
[Q] Do you call yourself a traveller or a tourist?
– Perhaps a bit of both.
[Q] What kind of packer are you – light or heavy-duty?
– I pack light but come back with heavy luggage.
[Q] What are your travel essentials?
– A pair of extremely comfortable shoes and some cash in hand.
[Q] How many gadgets do you carry while traveling?
– Just two – My laptop and my phone.
[Q] What are your travelling pet peeves?
– Morning flights!
[Q] What's the most reliable source of travel advice?
– I think real people who travel to these places and people you relate to. I also trust the internet.
[Q] What's the most important thing that you've ever lost on any of your vacations?
– A phone call during one of my return flights.
[Q] Do you prefer to walk, take public transport, or take private transportation during a vacation?
– I either prefer to walk or take public transport. But it's mostly walking.
[Q] Would you rather see a lot of places or get to know one really well?
– I would rather see a lot of places than the latter.
[Q] What is your dream traveling experience?
– Euro trip with Contiki!
[Q] What, according to you, is that one most cliched thing to do when on a vacation?
– Post captions in the local language! I've done it a lot, to be honest!