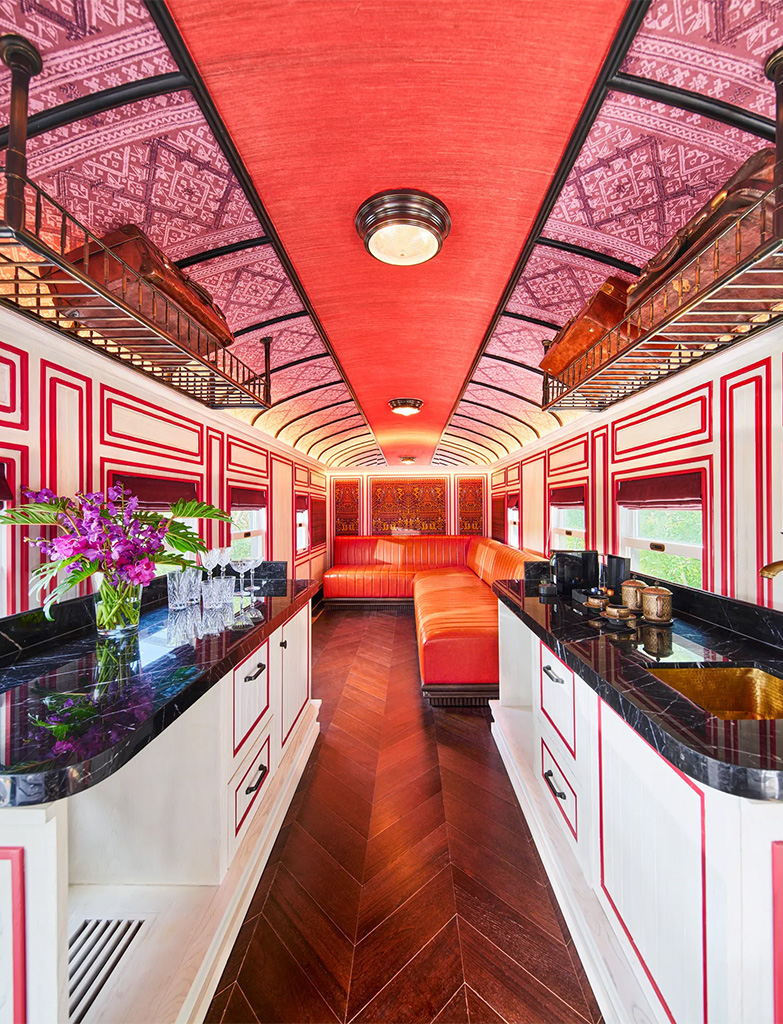 We may be partial, but we believe a train journey offers one of the comfiest and most generous ways to explore the world. While it's particularly tough to reminisce about an average Monday morning work commute, the grandeur and romance of traveling in trains is no longer a thing of the past. There exist plenty of luxury trains functioning all across the world, offering short retreats with a cost equivalent to a week-long stay in a five-star hotel. Well, they do provide you with quite an extravagant setup. The beautiful train cabins assure a luxurious stay providing all the plush amenities from designer furnishings, deluxe bathtubs and walk-in showers to heated floors and butlers at your service. With silver polished dining cabins and cozy private sleeping cabins, these luxury trains play the role of a swanky five-star hotel on the go and are unparalleled in contrary to standard train cabins. In addition, some of these manage to whisk you away to some of the most enchanting locations on Earth. So, if on the lookout for a mythical train experience then come aboard and embark on a stunning experience in one of these beautiful train cabins with all the train cliches!
VENICE SIMPLON-ORIENT-EXPRESS CABINS – BELMOND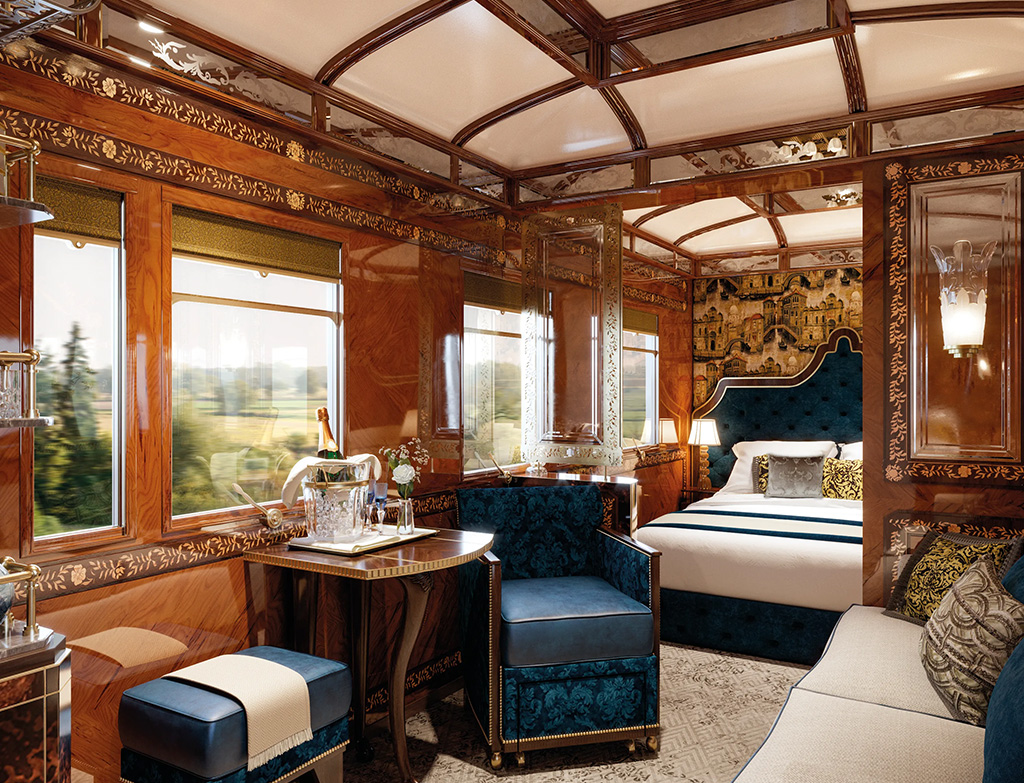 Credits –https://www.vogue.com
The Venice Simplon-Orient-Express takes its travelers for an enchanting odyssey with its Art Deco luxuriance and belle epoque glamour. The Belmond luxury train flaunts grandiose suites and cabins housed in remodeled cars from the original Orient Express train launched in 1883. The regally restored 1920 cabins exude a magnificent ambiance adorned with handcrafted interiors, plush furnishings, exquisite marquetry and artifacts. Whether it's lounging as the European landscape passes your window or retreating for the night after a lively evening in the bar, the train's plush and cozy cabin will make even the crankiest soul melt in its warmth. Big news! This luxury train will embark on a whimsical journey from Paris to the snow-clad Alps for the first time ever, in accordance with its newly launched winter route.


INTERCONTINENTAL KHAO YAI – HERITAGE RAILCAR SUITES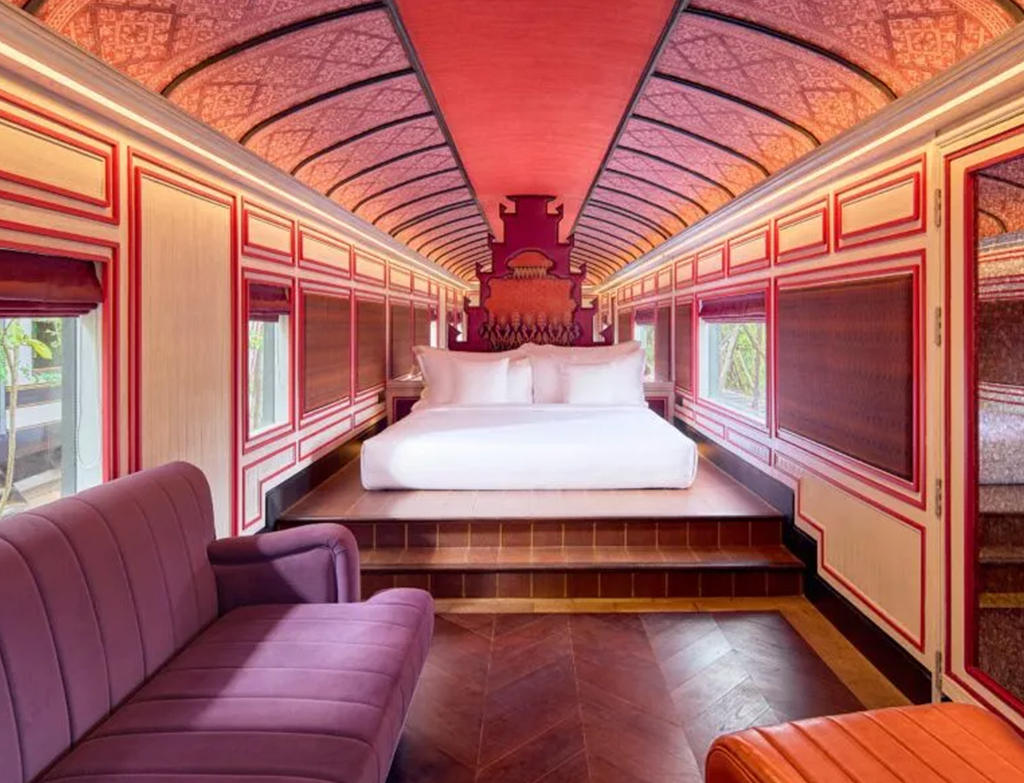 Credits –https://khaoyai.intercontinental.com
Although the plush new InterContinental Khao Yai Resort of Thailand isn't an actual moving train, the resort's heritage evidently depicts the land's role as a functional rail getaway to northeast Thailand and beyond during the reign of King Rama V. in the 19th century. While the luxurious hotel is still in its debuting stages, it recently unveiled 19 grand suites housed in reformed heritage railcars. The newly revamped railcars have gained a newfound resurgence with the care of exquisite interiors and are adorned with Thai silk. Enjoy a luxurious ride of a bygone era in these suites boasting modern amenities while cooling off the travel heat in a Victorian-era bathtub and private plunge pools. Elegant and refined, these luxury train cabins will ensure you an unforgettable travel experience.


ORIENT EXPRESS – PRESIDENTIAL SUITE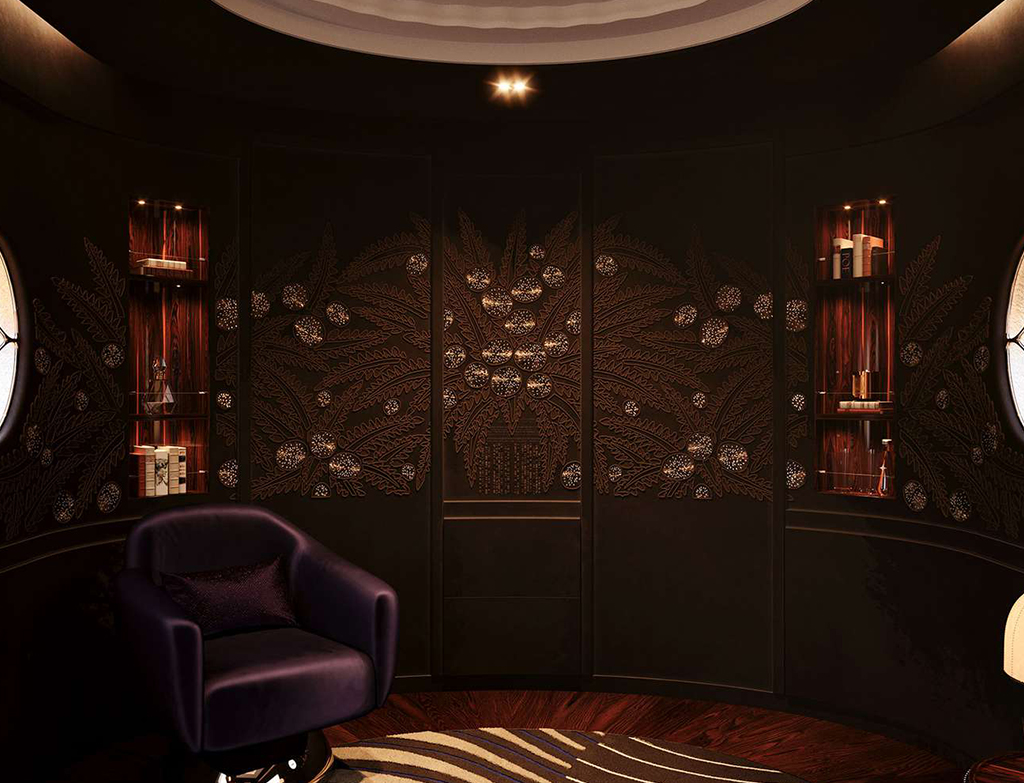 Credits –https://www.travelandleisure.com
A brand new super-swanky train is being restored and it recently unveiled its presidential suite. Managed by the Accor hospitality group, the iconic Orient Express will make its grand comeback on the rails in the year 2025 with 17 newly discovered railcars from the original train service. These historic railcars will take the magnificent form of luxury train suites and cabins, by undergoing a complete minimalist refashioning. Styled by Maxime d'Angeac, the Parisian interior and architecture design studio has worked its magic on the suite with jewel-hued velvets, glossy mahogany, skewed mirrors, glistening crystals and mother-of-pearl tones. The luxury train also features eccentric twists such as the press-for-champagne buttons placed in the bar cabin. While the train boasts lots of affluent amenities, the magnum opus has to be the Presidential Suite with a gas fireplace, Lalique glass panels and an exquisite 'Cabinet de l'Egoiste' for all the extravagant indulgences.


KRUGER SHALATI – CARRIAGE SUITES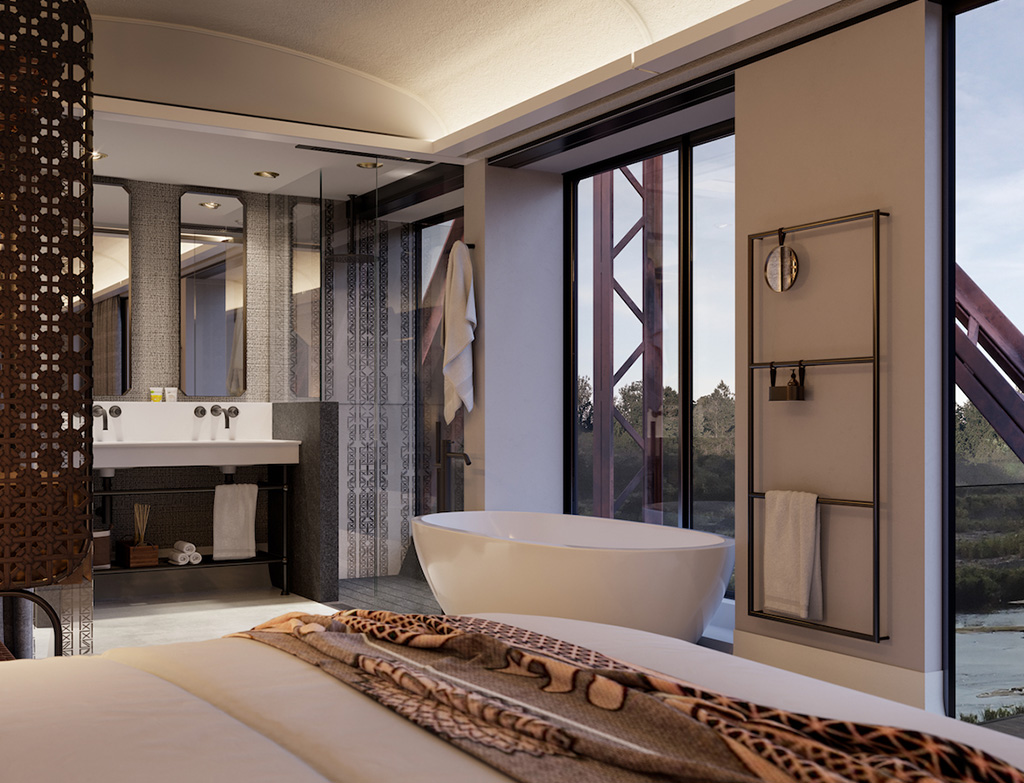 Credits –https://edition.cnn.com
The 31-room Kruger Shalati hotel offers a truly visceral experience of immense joy and comfort with its 24 train carriage suites and 7 bridge house suites. The luxury hotel belongs to the prolonged history of South Africa's most popular tourist safari destination, Kruger National Park. Located on the unoperational Selati Bridge, the hotel is a deluxe concoction of revamped train cars. While the seven base-level Bridge House Suites are equally magnificent, the 24 Carriage suites are a front-runner among rail enthusiasts. The carriage suites are beautifully cascaded with calming earthy tones, lavish soaking tubs and majestic windows offering views of the African wildlife over the riverbanks. The decor is chic and modern with plush amenities such as en-suite bathrooms with walk-in showers.


ANDEAN EXPLORER, A BELMOND TRAIN – SUITE CABINS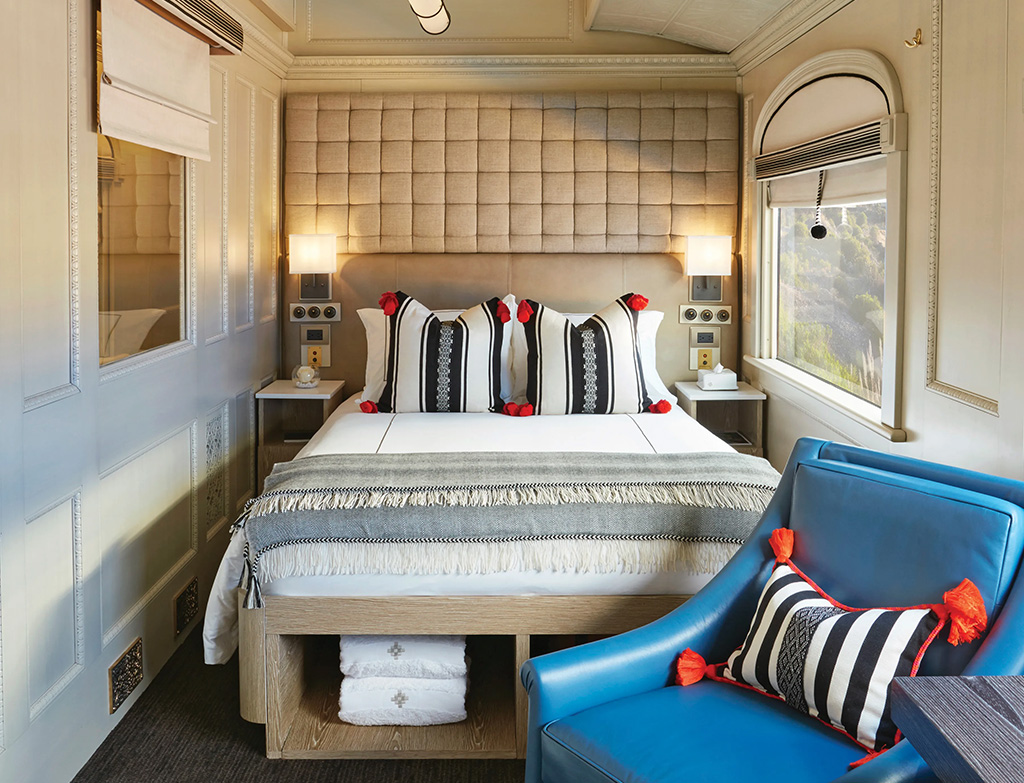 Credits –https://www.cntraveller.in
Steering one of the highest train rides in the world, the aqua-blue Andean Explorer – another contemporary masterpiece by Belmond, serves as a fashionable basecamp when riding the stunningly beautiful Peruvian Andes waves. The luxury train comes with plush accommodations including a double bed, a seating area, and a vintage-themed bathroom crafted from local Peruvian stones. The suite cabins are undoubtedly the pièce de résistance featuring exquisite design elements. You will come across lots of ambient wonders showcased throughout the train with high-quality wood finishings and beautiful hand-woven textiles. Also, all of the 35 sleeper cabins provide altitude-conscious pieces of equipment such as masks and built-in oxygen tanks to stave off altitude sickness.


TRAIN SUITE SHIKI SAMA – SHIKI SAMA SUITE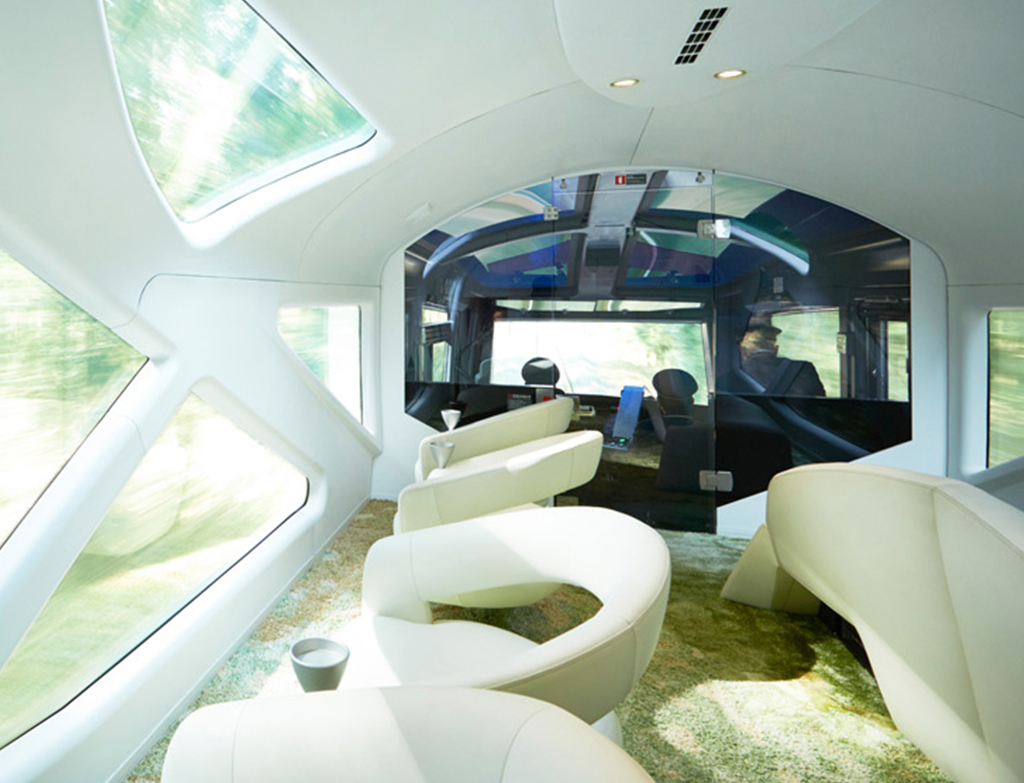 Credits –https://www.popsugar.com
This stylish Japanese train suite is an excellent example to prove that not all luxury trains draw creative inspiration from the past. The contemporary train exudes avant-garde, minimalistic design and takes its guests on various journeys around Tohoku and Hokkaido. The champagne-toned excursionist boasts 17 sleeper compartments, out of which the best are housed in car seven viz. Shiki Sama Suite. The luxury train cabin comprises two floors – a maisonette modus operandi with Japanese-style Tatami mats, Washi paper walls and a bathtub carved out of 300-year-old cypress wood from the Nagano prefecture. Car seven also hosts a single-level deluxe suite room featuring a fireplace.


Add to favorites